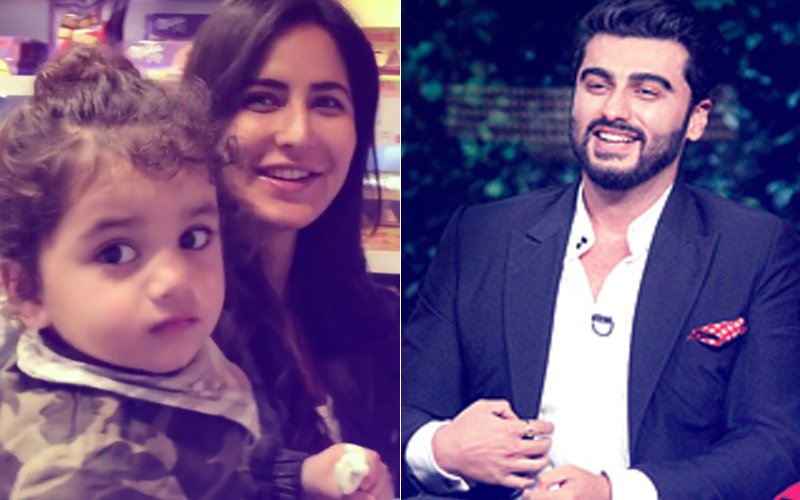 When Tiger Zinda Hai director Ali Abbas Zafar took to Instagram to post a video of Katrina Kaif with a little baby named Rocky at an airport toy store, he didn't think that it would offend Arjun Kapoor so much. Well, Katrina's antics in the video definitely invited some ire from Arjun.

Here's what happened: Katrina was showing the little baby toys from the rack. But when the baby tried to open up a toy out of it's packaging, Katrina sternly said, "If you open it, you have to pay for it." The little kid went ahead to reply cutely, "Chahiye (I want this only)."


As soon as the video was posted, Arjun went ahead to question Katrina, "Just buy them all why you discussing the price (sic)." Well, that was a valid point.

Katrina couldn't resist and went ahead to reply by saying, "Arey Arjun we have to instil vale of money money na (sic)."




Arjun Kapoor's Hilarious Comment On Katrina's Video

This funny banter between the two stars isn't something new. The two have been pulling each other's legs ever since they knew each other. Arjun spoke about this funny equation with Katrina during a recent event where he said that he used to pull Katrina's leg even when he was an AD on a Salman Khan-Katrina Kaif film.

Coming back to Ali's post, we couldn't help but pose the same question that he put out as the caption: "#tigerzindahai #dairies #airport @katrinakaif #baby rocky #who is cuter? (sic)."

What do you think folks? Who is cuter - Katrina or the little baby Rocky? Share your thoughts in the 'Comments' section below.


Image Source: instagram/aliabbaszafar & newsdog