Arpita Khan Sharma's Daughter Ayat's UNSEEN Pic With 'Nana' Salim Khan Is Oh-So-Adorable: 'Miss Our Nana's House Lunches'
Arpita Khan Sharma shared an unseen picture of her daughter Ayat along with Salim Khan, and it is the cutest thing on the Internet today! Arpita and Ayat are missing lunches at Salim Khan's house, take a look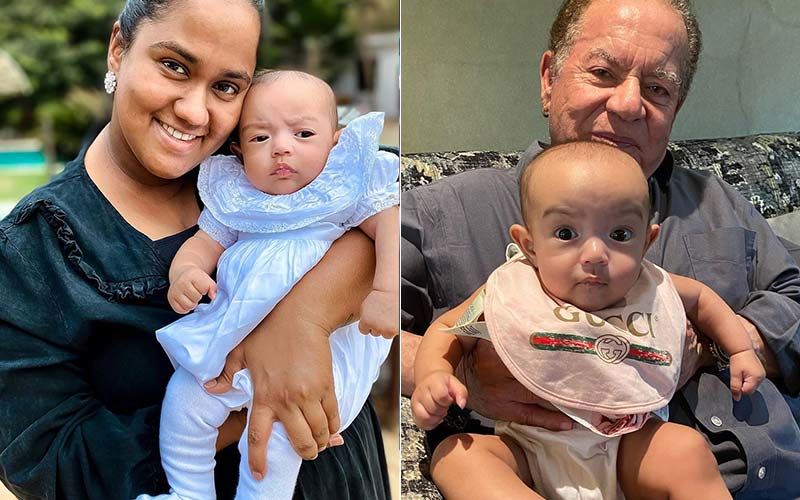 More than 2 months of lockdown has brought back all kinds of nostalgic feelings for people and especially with the presence of social media. The pandemic has not only been deadly throughout the world but has also forced a lot of people to stay away from their loved ones as they're stuck wherever they were at the start of the lockdown. Also, social distancing has meant that visiting your loved ones is a strict no. Something similar was shared by Arpita Khan Sharma via Instagram when she posted an unseen photo of her daughter Ayat with Salim Khan.
The post was captioned "Nana & Ayat ! Miss our Nana's house lunches love u dad ". Ayat can be seen sitting on her grandfather's lap in the picture and Ayat looks cute as a button! Salim Khan was all smiles as he held his granddaughter, and this picture is the most adorable thing you will find on social media today. While Salim Khan can be seen in a simple grey colored outfit, baby Ayat has a cute bib on. Fans couldn't help but gush at this adorable picture.
While one fan wrote, "Aaa so sweet and adorable god bless Ayat and Nana," another fan commented, "Awwwww so cute sab pyar ik tarf or nana ka pyar ik taraf sooo cute pic internet today." Take a look:
Arpita Khan Sharma and husband Aayush Sharma welcomed their second child, Aayat last year. Arpita is especially active on Instagram and very frequently shares pictures of both her children.
Image Source: Instagram/aaysharma/arpitakhansharma