Article 370 To Be Revoked In Jammu And Kashmir: Kangana Rananut's Sister, Rangoli, Calls PM Modi A Real Hero
Earlier this morning a decision to scrap Article 370 was taken in the Rajya Sabha. Sharing a post lauding PM Modi on her Twitter page, Kangana Ranaut's sister, Rangoli writes, "Filmi heroes wear capes and have super natural powers to fly but real heroes have super powers of vision, strength of character, will power, and decades of perseverance"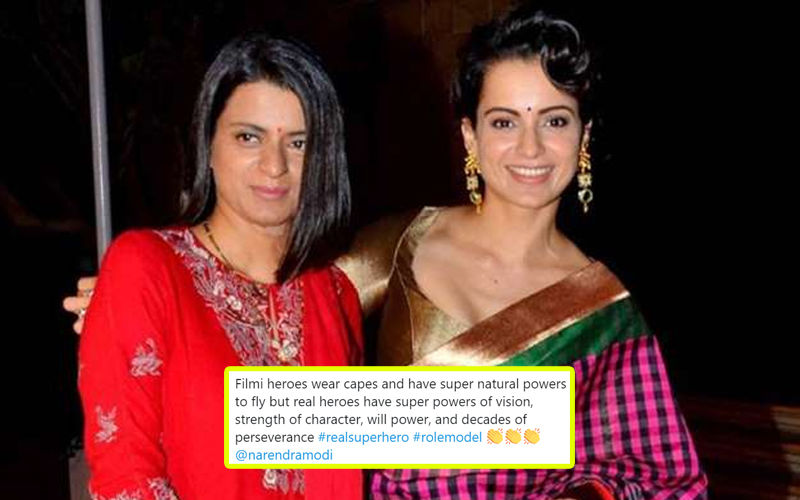 Earlier this morning a decision to scrap Article 370 was taken in the Rajya Sabha. Following the announcement by Amit Shah, popular celebrities from the film and glamour world took to social media to comment on the development. Kangana Ranaut's sister, Rangoli Chandel, vocal for her observations about Bollywood stars and trends, was one of them.

Sharing a post on her Twitter page, Rangoli wrote, "Filmi heroes wear capes and have super natural powers to fly but real heroes have super powers of vision, strength of character, will power, and decades of perseverance #realsuperhero #rolemodel
According to a report in Times Of India, "Article 370 which grants special status to the state of J&K will be removed, Union home minister announced. The decision comes as tensions prevailed across the state on the intertwining night of Sunday and Monday as several political leaders were placed under house arrest and communication links snapped across the state."
Meanwhile, celebrities have taken to Twitter to share their sentiment on the development. Chetan Bhagat wrote, "August 5, 2019. Kashmir is finally free. Free to grow, free to make a future. #Article370 goes. #OneCountryOneSystem." He shares a series of other tweets.
Kashmir has cost India so much - suffering in the state, terror all over, lakhs of crores in extra defense budget, soldiers losing their lives. Meanwhile, hundreds of fancy conferences pretending to solve the issue. Time it all stops. #OneCountryOneSystem #Article370

— Chetan Bhagat (@chetan_bhagat) August 5, 2019
Filmmaker Kunal Kohli, tweeted, "History unfolding in front of our eyes #Article370 #Article35A #kashmir." More reactions are coming in by the minute. We'll keep you abreast with the latest, stay tuned to SpotboyE.com.


Image Source:- twitter/Rangoli_A/chetan_bhagat