Bhuj: The Pride Of India Actor Sharad Kelkar Says, 'I Have Always Seen Myself In The Uniform In My Dreams And With Bhuj, I Could Relive My Dream On Camera' -EXCLUSIVE
Sharad Kelkar, who is seen alongside Ajay Devgn, Sanjay Dutt, Sonakshi Sinha, Ammy Virk and Nora Fatehi in Bhuj: The Pride Of India, gets candid about playing an army man, reuniting with Ajay and more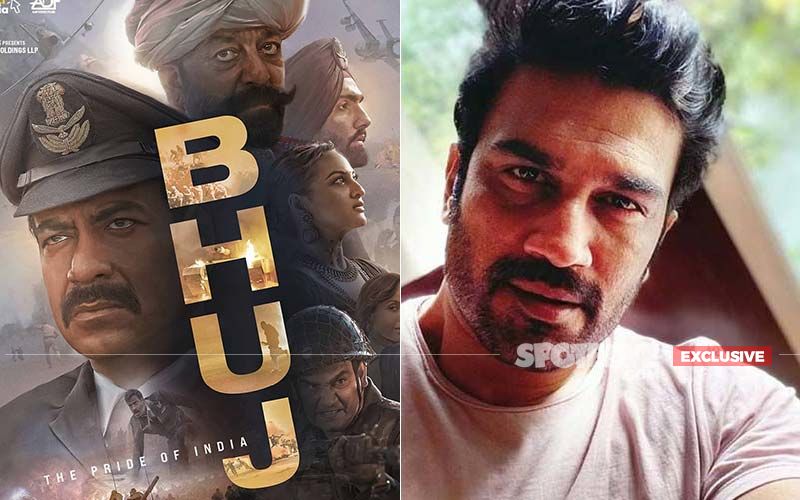 After playing supporting characters in films like Goliyon Ki Raasleela Ram-Leela, for several years, lately Sharad Kelkar has been getting the due for his impressive portrayals. The year 2020 was special for him as he gave two spellbinding performances as Chhatrapati Shivaji Maharaj in Ajay Devgn's Tanhaji: The Unsung Hero and then as the titular transgender woman in Akshay Kumar's Laxmii.
This year, he is ready to take that a notch higher as he is seen as a military officer in today's release Bhuj: The Pride Of India, also featuring Ajay, Sanjay Dutt, Sonakshi Sinha, Ammy Virk and Nora Fatehi.
In an exclusive conversation with SpotboyE.com, the actor gets candid about playing an army man, reuniting with Ajay and more. Read excerpts from the interview.
Sharad, how does it feel to be part of a film that depicts a story that has been with every Indian since it happened in 1971?
I have always wanted to be a part of a patriotic film. It's a matter of pride for me and also one of the first films where I am one of the four-five leads in the film.
The film has an ensemble cast but you were a late addition to it. Was it difficult for you to adjust initially since some of the shoot had already taken place by the time you entered?
The whole film is divided into different sections. One is about Sonakshi and how she helped in recreating the whole airstrip, one portion is of Ammy, the third was Nora's spy portion that is shown in Pakistan and one part was the border where the Pakistan army is attacking and how this Indian army officer is defending it. So, only Ajay sir's and my tracks were interconnected, so it didn't affect me much. Abhishek sir was also clear of what and how he wanted to shoot. It wasn't a difficult one.
Ajay sir and you have had a great track record. You come with the huge success of Tanhaji behind you. This is your third film together, so did it make the film more special with his presence in it?
Obviously, with Ajay sir every film is special. He is one of the sweetest guys. He is a great human being, always helpful. He is very transparent, so if he likes you, he likes you. He is not a show-off guy but a simple man. He knows everything about filmmaking and to just interact with him is a great learning. He knows a lot of arsenals as he directs, he writes, he does editing, VFX and everything else including obviously, acting. He is a complete package of filmmaking. It's a wonderful thing to be in his company.
Fortunately, our last film together did pretty well, it was one of the blockbusters last year and one of the greatest films we have made. We are feeling lucky to be reuniting again and making something big.
How was it recreating and reliving an incident that has shaped the history of this country?
It was a great incident to know about and a matter of pride for me that I get to tell it to the next generation. They need to know what happened and how much sacrifice has gone towards building this nation. This is a story of bravery, sacrifice and beauty. There are people who are hardly interested in the past, and that's why we do films like Tanhaji and Bhuj, for people to feel inclined towards defence services. These stories are a great inspiration.
Your daughter must also feel inspired by such stories…
Obviously, but she knows that I am an actor and I am acting. But there are a few films of mine that I do want to show her, Tanhaji and Bhuj are two of them, so that she can understand what sacrifices have been made for this country.
How was it preparing for the character of an army officer and getting their personality right for you?
I was shooting in Bhopal for the first schedule and Major Abhijeet was posted in the unit in Bhopal and he was helping us there. He told us how to get into the zone of an army guy from that period. Things have changed quite a lot since then and it's more modern now. Back in 1971, things were more contemporary and he was there to guide me through it all. From the hairstyle to the uniforms, the slogans and the salute and the language as well sounds very old, he helped me a lot. A lot of people are saying that we are taking them into that era.
The uniform comes with a sense of responsibility with it, so how did you deal with it?
Once you wear the uniform, sincerity automatically comes with it if you are honest with your work. With me at least, this happens. My costumes and my get-up give me the sense of my character. When I wore the attire of Chhatrapati Shivaji Maharaj, I could feel the essence of it go through me. In Laxmii, when I wore that attire, half of my job was done as I could feel that I was Laxmii. Same way, it happened with Colonel RK Nayak. That confidence needs to be there and the uniform gives that to you. I have always seen myself in the uniform in my dreams and with this film, I could relive my dream on camera.
What skills did you have to learn for your part in the film?
The big machine guns and all I have fired before and was aware of, but here I learnt the discipline, the parade and the stance that military people have, that shows their discipline.
Lately you have started receiving offers for leading roles as well. So, has that changed your approach in choosing your scripts?
Not really. If the script is good and the filmmakers have the faith in me to do justice to it, that is what is important to me. Everything else comes later. The importance of my character to the story and what I can give to it is more important for me than its length. Although, after working so many years in the industry, seeing myself on the poster of a film is a different high altogether that also motivates you to work harder. If the makers are showing that faith in me, I am really happy about it and I promise to deliver.
So, what does your future line-up look like?Bhuj: The Pride Of India
There are three to four releases now. One is Déjà vu, the other is the Tamil film Ayaalan that should be ready by Diwali. There is one Marathi film that I have finished and just the patchwork is remaining. Also, if people want to enjoy more of my work meanwhile, they can watch Legends of Hanuman where I am the narrator. It's a beautiful series and all parents should show it to their kids. I don't call it mythology but factology, as I believe in that. My daughter hasn't seen it yet, but I intend to show it to her one episode at a time.
Image source: Instagram/sharadkelkar