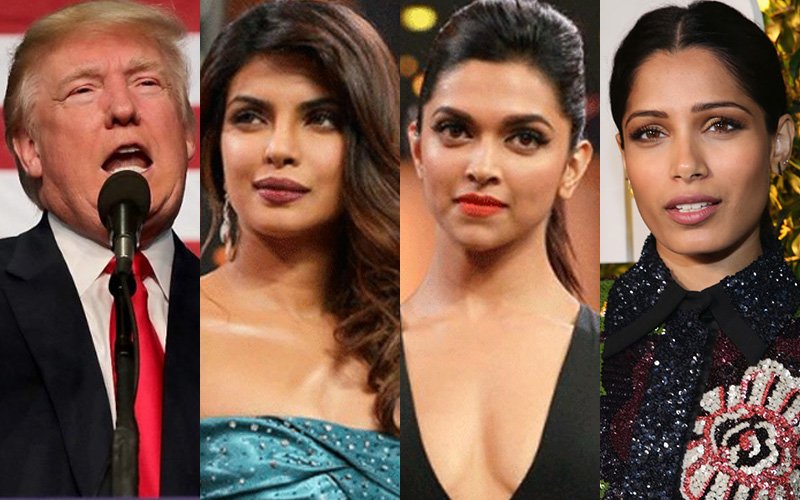 Your browser does not support the video tag.
Silence is golden but not today. The entire world is on social media, either mourning Hillary Clinton's defeat or Donald Trump's win. Given that most of Hollywood's A-list had campaigned for Hillary, their tweets were full of sad faced emojis or just plain anger.
(
US Presidential Election 2016: Donald Trump Might Just Be The Next President And Hollywood Is Losing It, Nov 9
)
But the Indian exports to Hollywood have surprisingly kept silent.
Quantico star Priyanka Chopra who had just a day ago posted a video, urging her fans to vote. The actress, who had hobnobbed with the Obamas at this year's annual White House Correspondents' Dinner had claimed that she has a stake in the elections because she is a "global citizen". But on results day there was nothing but silence from her side.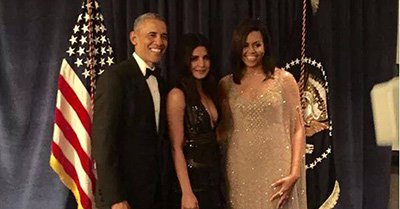 Image Source: manoramaonline
Then there is Deepika Padukone who usually floods our Instagram feeds with pictures of her hanging out with her American co-stars from xXx: Return Of Xander Cage. Today, there was radio silence from her too.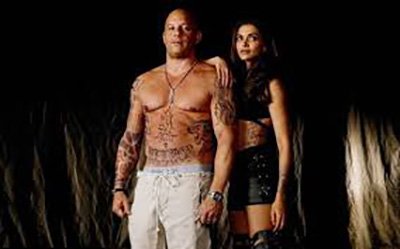 Image Source: mashable
We also expected to hear from Freida Pinto who went from an unknown face in Mumbai to global fame with Slumdog Millionaire. She is an outspoken feminist and philantrophist who has also been associated with The Clinton Foundation, but Freida too has decided to restrain from commenting on the hot topic of the day.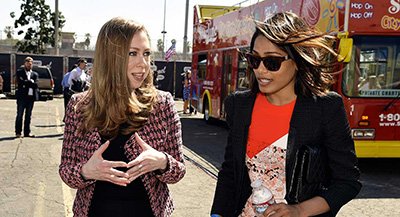 Image Source: politico

Mallika Sherawat who once claimed to be BFFs with the Obamas and tweeted in support of Hillary, was MIA on Twitter today while other members of the desi contingent in Hollywood like Nimrat Kaur, Irrfan Khan, Rahul Khanna and Nargis Fakhri too have chosen pindrop silence as their response to Trump.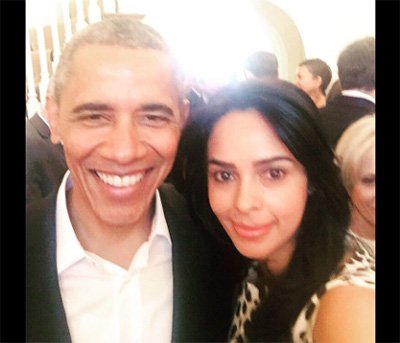 Image Source: twitter/@mallikasherawat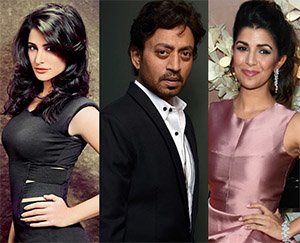 Image Source: twitter/@NargisFakri, movified and ajaybharat
Given that Donald Trump, a controversial candidate with a history replete with allegations of racism and sexism has won the US elections, one would expect these otherwise outspoken celebs to respond. Especially as the crux of his campaign was his promise to keep out immigrants, like Priyanka and Deepika, from America.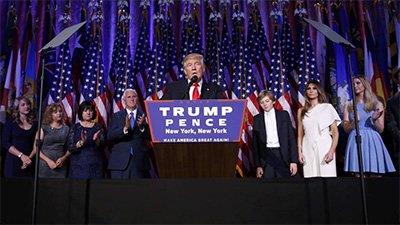 Image Source: aljazeera
But it is obvious that the stars would rather play safe than take a stand.
Others might keep quiet but trust Mahesh Bhatt to speak up. The filmmaker has been busy on Twitter since the early hours today and when SpotboyE.com asked him about the surprising silence on Trump from the Bollywood exports, he retorted, "How would I know why Priyanka or Deepika are not tweeting. I have not worked with them. But Vidya (Balan) tweeted to me today, telling me that she is heartbroken."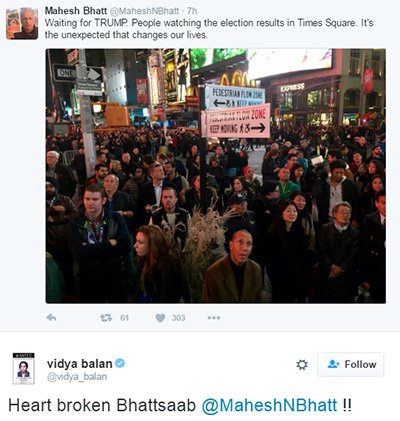 "My friends in Hollywood actually cried when they found out. A lot of them are considering migrating to Canada. America has entered its worst chapter," he added.
With Trump as President of the United States, will Indian artists looking for work in Hollywood find their path made tougher, we wondered.

Mahesh dismissed the fears with this quip: "Americans are self-obsessed. We do not matter in their scheme of things. if we think we do, we are simply delusional."

So will we hear from Priyanka, Deepika, Freida and Nimrat now?


Thumbnail Image Source: newsclip, lalagroup and bloglovin