Cancer-Stricken Nafisa Ali Cries As Her Hair Starts Falling; Lets Grandchildren Cut Her Hair
Veteran actress Nafisa Ali had shared the sad news of being diagnosed with Stage 3 cancer on social media. Now, she charts her chemotherapy sessions and our heart melts to see the pictures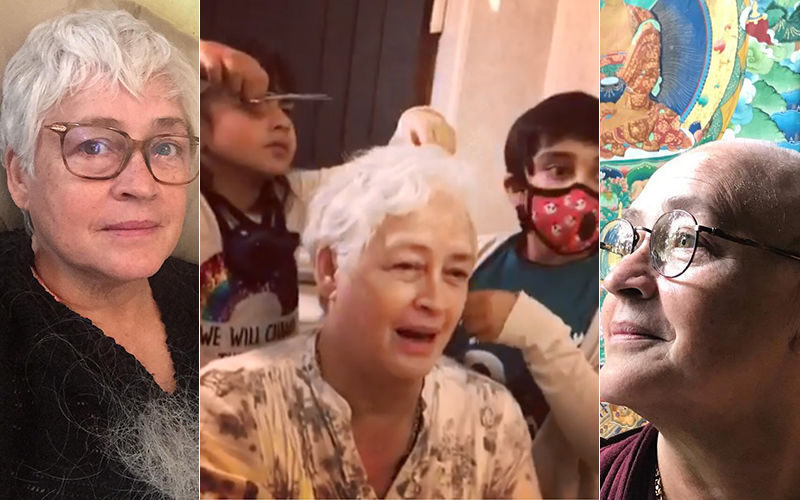 A few weeks back,
Nafisa Ali shared the distressing news of being diagnosed with Stage 3 cancer
. The actress received a lot of love and support from fans all over on her Instagram post. Now, she has been charting her journey of chemotherapy on social media.
Nafisa has been sharing pictures since last evening about how she was losing her hair and how she let her grandchildren cut her hair off. The first picture she captioned as, "My hair has started falling out in heaps, it made me cry, not for vanity but the reality that I have cancer and that Chemotherapy is working finally sank in . I will shave my hair off tomorrow (sic)."
She shared a picture of getting a hug from her son, Ajit Sodhi. She captioned it as, "Nothing better than a hug (sic)."
Next, she shared an emotional video of her grandchildren cutting her hair. She writes along with the video, "Asked my grandchildren to cut my hair as then they will not realise that I am going through Chemo .We had fun ! #beinghuman #peritonealcancer #chemotherapy#family#love (sic)."
Nafisa went on to share a picture with her daughter Armana Sodhi. Her shaved head can be seen in this picture. She captioned the picture as, "Armana - I love you (sic)."
She finally gave a clear view of her shaved head. She captioned the photo as, "All done ✅ (sic)."
Lastly, she shared a picture of her daughter Pia Sodhi with husband Kshitij. SHe captioned the picture as, "With Pia & Kshitij for lunch ... Pia is back from her 1st Anniversary holiday (sic)."
These pictures of Nafisa Ali charting her cancer treatment are heartwarming. We wish her a speedy recovery. Get well soon Nafisa.


Image Source:- Instagram/nafisaalisodhi