Chehre Trailer Review: Amitabh Bachchan-Emraan Hashmi Starrer Looks To Be Intriguing, And It Has Rhea Chakraborty In It
The trailer of much awaited film, Chehre, starring Amitabh Bachchan, Emraan Hashmi and Rhea Chakraborty released online sometime back and here is what we thought about it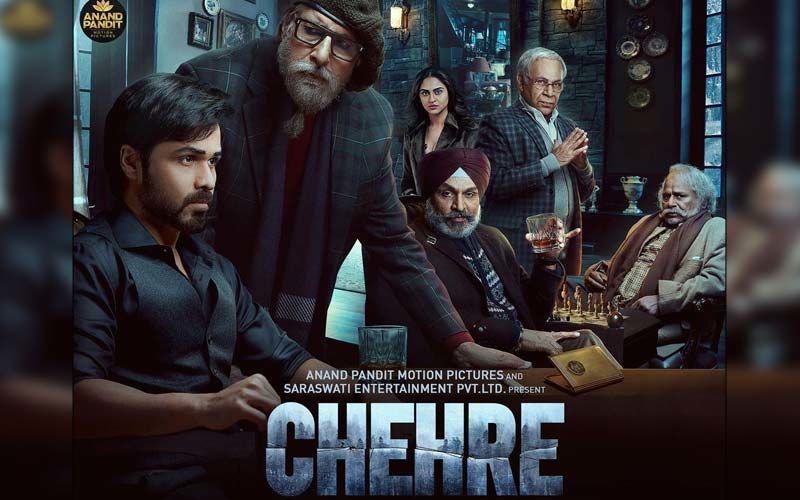 Finally Rhea Chakraborty shows up in the publicity of Chehre. She has just one shot in the slickly edited trailer. Albeit a striking shot where she looks pretty. It's clear that she plays Emraan Hashmi's girlfriend as he seems frightened to death by a group of aging men led by Amitabh Bachchan, who seem to have nothing better to do than play deathly games with unsuspecting murder suspects.
The film seems to be shot in a minimalist environment without song breaks or other diversions. Mr Bachchan holds centre stage as a snarky old man in a menacing get-up who seems to know more about Emraan Hashmi's (dubious) character than is healthy for Hashmi. The two actors work well together. The trailer shows them at as antagonists in what looks like a game of life and death.
If the suspense is as well-maintained as trailer suggests we can be sure that this is one helluva rollercoaster ride in the tradition of Sujoy Ghosh's Badlaa which too had featured Mr B in an intriguing role. I would have liked to see more of the talented supporting cast in the trailer. There is very little of the versatile Dhritiman Chatterjee or Annu Kapoor. The entire focus of the cat-and-game mouse seems to be on Mr B and his poor victim (the erstwhile serial kisser) who claims his life is an open book.
"Oh I love reading those kinds of books," Mr B drawls.
So do we, provided the chapters are well written. The writing is clear on the wall. Chehre is poised to be an edge-of-the-seat experience, on your 'mask', get set go!
Image source: IMDb