The dynamic duo of Taapsee Pannu and Swara Bhaskar have come together for the first time to share an insightful thought about the cleavage. Yes you heard us right, we said 'cleavage'!

The latest video features the Pink actress Taapsee and the Anaarkali of Araah, Swara Bhaskar as Cleavage Managers.
The 3 minutes 23 seconds clip starts off with "How much coverage is good coverage" where the actresses provides helpful tips on how to look after an unwanted cleavage show at places like office, gym, markets, clubs and also weddings.
Often women face stares and unwanted attention from men on their cleavage area. To safeguard women, Taapsee and Swara make some suggestions in the video- to begin with. Most of it involves covering the neck or the chest area for example, wearing a high-collar long neck at office, safari neck t-shirts at gym, polo neck for the crowded place, scarves and shawl for the night club, and lots more.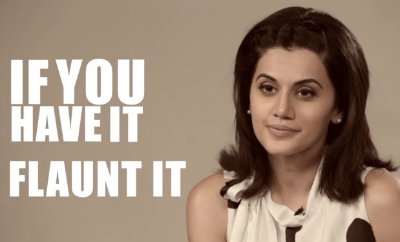 Image Source: youtube/bookmystyle


In the last 1 minute, Taapsee and Swara finally drops the sarcasm and hit at the individuals who would follow such a stupid protocol. The duo pauses for a moment and start with a strong message: "If you've forgotten, then let's remind you that, we are women and we are born with it! If you have it, flaunt it! It's my body!"
Encouraging the most important message in the end- they motivate women all across the globe to be proud of their bodies and for what they have, big or small, to even celebrate it.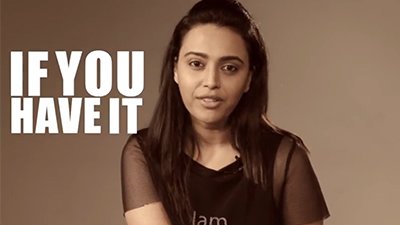 Image Source: youtube/bookmystyle

The video is truly a slap on the norms of the society which end up imposing restrictions on women owning beautiful bodies. And while it ends with a strong note (IT'S A MUST THAT YOU SEE IT), we applaud these two divas from Bollywood for their amazing efforts.


Thumbnail Image Source: pagalparrot & hotactresslook