While netizens have started opening up to the idea of public display of affection between friends in the entertainment industry, there was a time when they weren't as lenient. There was a time when the slightest bit of affection between co-stars caused a huge uproar amidst the audiences. From the controversial lip-locks between Pooja Bhatt-Mahesh Bhatt and Rakhi Sawant-Mika Singh to Richard Gere pecking Shilpa Shetty on the cheeks during an AIDS awareness program, here's a list of some of the most controversial kisses in Bollywood.
Rekha and Hrithik Roshan: Having played the role of mother-son in Koi... Mil Gaya (2003), the actors were caught in an awkward moment which had gone viral in no time. Elated to see each other at an award function, the actors hugged each other. As the actress tried to kiss him on his cheek, the camera's captured the moment where it looked like she was kissing him just below his lips.
Bipasha Basu and Cristiano Ronaldo: It was in 2007, when Cristiano accompanied the actress to attend an event at the Luz Stadium in Lisbon, Portugal. If reports are to be believed, the duo shared quite a few intimate moments during the party and ended up at a nightclub where they were spotted locking lips. As their incident went viral, it invited a lot of harsh criticism against Bipasha.
Deepika Padukone and Siddharth Mallya: The ex-couple were caught locking-lips in 2013, when they were attending the Indian Premier League (IPL) match between Royal Challengers Bangalore (RCB) and Kolkata Knight Riders (KKR). As RCB won against KKR by nine wickets at the Eden Gardens in Kolkata, an elated Siddharth planted a big smooch on Deepika's lips.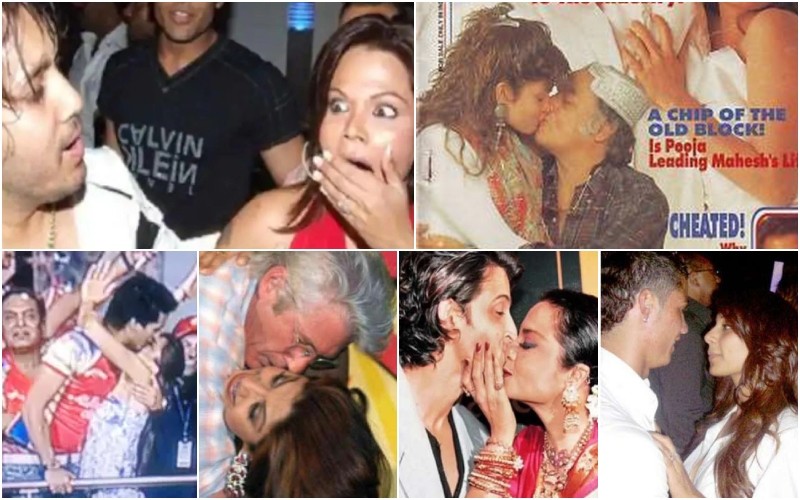 Pooja Bhatt and Mahesh Bhatt: The father-daughter duo share an amazing bond, however, they had caused quite the stir when they decided to lock lips for a magazine cover. While he had gone on to hold a press conference after the magazines had hit the stands, he made matters worse by confessing that he would have loved to marry her had she not been his daughter.
Rakhi Sawant and Mika Singh: One of the most talked about kisses in Bollywood include controversial figures Rakhi and Mika. It was during 2006 during his birthday bash, when the singer had forcibly kissed her in front of the cameras without her consent. Well, he claimed that he had done so to teach her a lesson as she wouldn't stop putting cake on his face, which he had warned her not to do. Stunned by this, Rakhi had gone on to press charges against him and Mika was arrested for molestation.
Shilpa Shetty and Richard Gere: The veteran Hollywood actor had made the headlines when he had planted a platonic kiss on Shilpa's cheeks during an AIDS awareness programme in Rajasthan. Not only was the public angry at their indecency, a case was registered against them under various sections of the Indian Penal Code (IPC). It took almost 15 years for them to resolve the matter.