Coronavirus Lockdown: Alia Bhatt Is Staying With Ranbir Kapoor, His Two Dogs And Her Cat; All Together During Quarantine
Taking to Insta, Alia Bhatt started her Saturday on some pawsome note. She shared a couple of pictures of her and Ranbir's pets and showed off her photography skills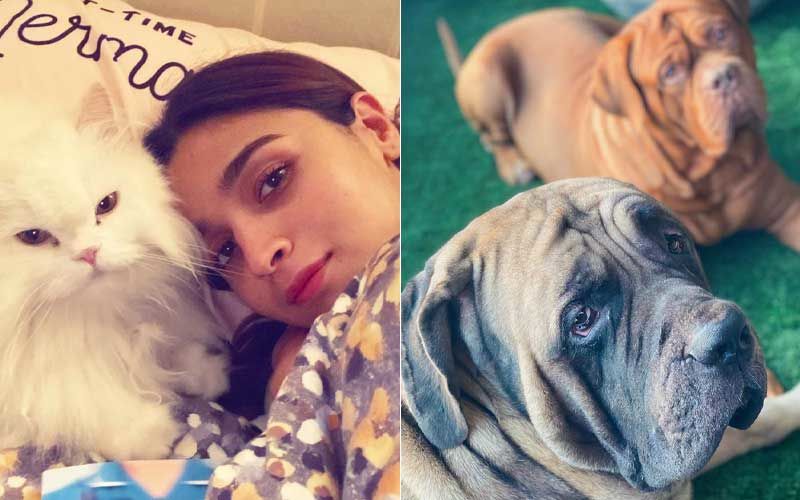 You, with your love and your pets, what else do you need when in quarantine? Well, that's what Alia Bhatt is exactly doing. What makes us think that the Raazi actress is quarantined with Ranbir Kapoor and their pets? Well, it's her latest Insta pictures that make us believe so. Bollywood celebs have been making the utmost use of their free time by reading books, watching movies, learning a new skill, cleaning and working out, Alia Bhatt is giving her time to her cat Edward and Beau Ranbir's pooches.
Since Ranbir Kapoor is not on Instagram, people hardly know about his pets. Ranbir is the owner of an English Mastiff and a French one and has named them Lionel and Nido. Recently, Alia Bhatt shared a couple of pictures of her and Ranbir's pets and showed off her photography skills. Sharing the first pic of Lionel and Nido, she captioned it, "Time to show off some photography.. Ufff! #lovethypet," while sharing her furry friend's pic, she wrote, "Look at that face! #lovethypet." Sharing the last picture, she simply called him 'Love'.
Meanwhile owning to Coronavirus scare, many people abandoned their pets believing that they are the carriers of the virus. Alia Bhatt and Anushka Sharma then came forward to create awareness and ask their followers to not abandon their pets.
Images Source: instagram/aliabhatt