By now, the Coronavirus lockdown has got us running out of activities to keep ourselves occupied, isn't it? Well, something similar seems to be the case of lovebirds Shahid Kapoor and Mira Rajput. Well, the couple is finding some of the other ways to kill time and also keeping us updated with all their happenings. After sharing her skin-care routine, recipe cooked by Shahid and eyebrow problems; Mira has now taken to her Instagram story to troll the Kabir Singh actor.
It appears that Shahid Kapoor is very much dependent on Alexa these days, and making fun of the same, Mira Rajput shared a dialogue that Shahid supposedly says every time. Along with posting a GIF of a frustrated person, who seems to be pulling his hair, Mira teased hubby Shahid by revealing that it is how he looks at his phone while calling Alexa. "Shahid Kapoor looking at his phone, 'How do I call Alexa?' #quafucked," read her caption. LOL!
Yesterday, Mira took to her social media and gave fans an update on her eyebrows, which haven't been done for quite a few days. She revealed how they are still in shape; however, that isn't the case with most of us. Sigh.
Check out her posts below: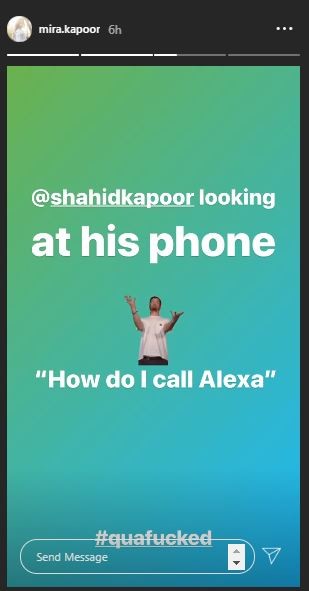 Well, it won't be wrong to say that the quarantine phase has given the Kapoors a chance to spend some quality time with each other and they are making the best out of it. All we can say is, keep those sweet updates coming, Mira!
image source: instagram/mira.kapoor