Coronavirus Pandemic: Arjun Kapoor Happily Trolls Girlfriend Malaika Arora's Sleepy Picture With Kareena, Karisma And Amruta
In the wake of Coronavirus, celebs are practising social-distancing. Malaika Arora posted a collage picture which sees her BFFs Kareena Kapoor Khan, Karisma Kapoor, sister Amrita Arora but BF Arjun Kapoor's comment is what got our attention.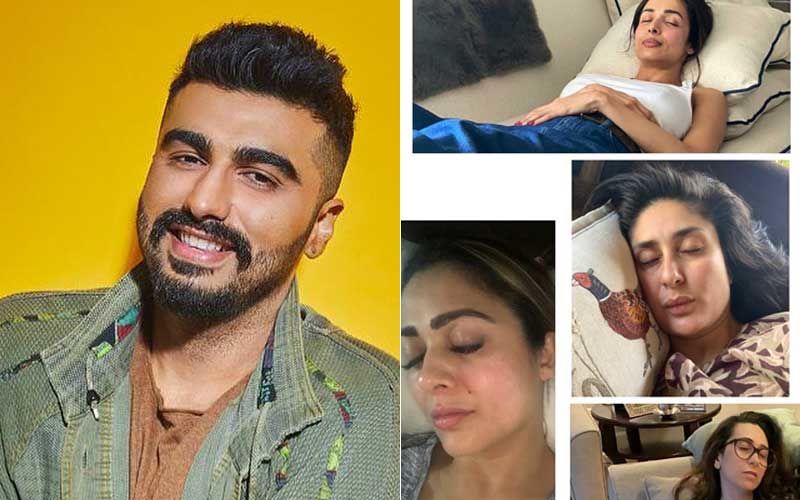 Malaika Arora, who is a complete fitness freak and loves to show her hot bod during awards shows or different events in Bollywood, is spending her quarantine time by getting her beauty sleep. Malaika was recently spotted clapping with her boyfriend Arjun Kapoor in support of Janata Curfew on March 22, 2020. The Chaiyya Chaiyya girl is seen making the most of her self-quarantine time by taking power naps too.
A while back, Malaika posted a cute collage of her girl gang where all are seen taking a beauty nap. Malaika took to her Instagram account and posted a collage that sees her besties- Kareena Kapoor Khan, Karisma Kapoor, sister Amrita Arora Ladak and her make-up artist Mallika Bhatt taking a power nap. Malaika Arora backed this beautiful collage with a cute caption, "Friends that nap together, stay forever r#napsinthetimeofquarantine #stayhome"
But what caught our attention was Malaika Arora's Boo Arjun Kapoor's funny comment on this post. He commented saying, "But you are smiling in ur nap also waah" Replying to her boyfriend, Malaika wrote, "Arjun Kapoor but you know I smile in my sleep."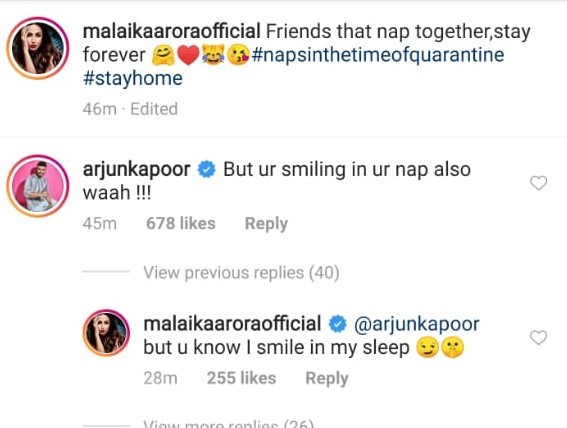 As seen in the collage pic, Malaika Arora is wearing a white sleeveless top, denim pants and looks her best, whereas Kareena Kapoor Khan, Amrita Arora Ladak, Karisma Kapoor and makeup artiste Mallika Bhatt are seen taking a quick nap during this the unfortunate outbreak of coronavirus in India.
Images Source: instagram/arjunkapoor/malaikaarora