Coronavirus Shut Down: Janhvi Kapoor Shows Off Her Artistic Side, Khushi Kapoor Gets Eyebrows Done With Lipstick - VIDEOS
Looks like sisters Janhvi Kapoor and Khushi Kapoor are making the most of this Coronavirus shut down phase by spending quality time together. Well, when we say quality, we mean goofy here. The latest videos of the siblings have left us in splits.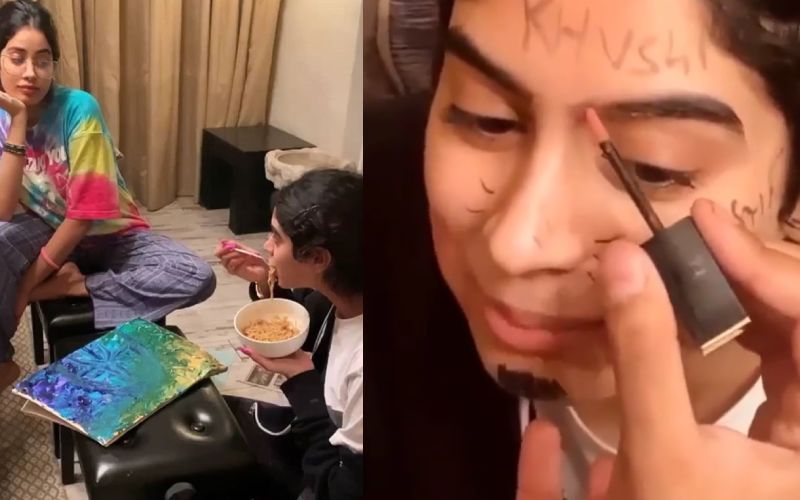 Everyone is under house arrest thanks to the spread of Coronavirus. The pandemic has brought many industries to a standstill including the film industry. The shooting of movies, ads, TV shows and web-shows have come to a halt in order to ensure the safety of people. Our Bollywood stars too are observing self-isolation. Well, must say, stars are putting this free time to good use. From Salman Khan sketching to Katrina Kaif learning guitar, stars are being productive during the quarantine. Sisters Khushi Kapoor and Janhvi Kapoor too are having a good time amidst Coronavirus chaos.
Thanks to social media, we have got an update on how these sisters are spending their time when locked up in their home. From painting, being goofy to gobbling noodles - Khushi and Janhvi are indeed having a gala time together. In the videoes made it to the internet, we see Janhvi Kapoor showing off her artistic side and painting a beautiful abstract piece. In the video we see Janhvi holding the brush while Khushi is busy eating her food.
The next video is downright hilarious. It has Khushi getting her face painted. On her forehead, we see Khushi written in black while someone is painting her eyebrows with a lipstick. Watch the video and you'll have a good laugh. Well, that's the best thing one can do when in quarantine. Spend time with family and have fun.
Meanwhile, another Kapoor, Kareena Kapoor Khan, too is observing self-isolation, however, she is still in touch with her gal pals via video chat.
Image Source: Instagram/janhvikapoor