The Indian Meteorological Department has issued a warning that Cyclone Tauktae is expected to intensify into a very severe cyclonic storm. It is expected to pass close to Mumbai, causing heavy rainfall in the city. Mumbaikars are being advised to stay at home, and especially avoid venturing near the coast, as the wind speed is expected to increase. Now, Kareena Kapoor Khan has shared an important update by the BMC, and has informed fans that considering the warning, the COVID-19 vaccination program has been canceled for today.
Amid the COVID-19 crisis, Kareena Kapoor Khan has been using her social media platform to share important updates. She now took to her Instagram stories, and urged people to stay at home, while sharing the tweet from BMC that mentions about vaccination program being canceled for Monday. The tweet by BMC read, "In view of the warning of high intensity cyclone issued by IMD, the vaccination program scheduled on Monday (17th May) stands cancelled at all MCGM & public vaccination centres. We request Mumbaikars to stay indoors and stay safe #MyBMCVaccinationUpdate #CycloneTauktae."
Meanwhile, BMC also informed Mumbaikars that Bandra-Worli sealink will be closed, owing to Cyclone Tauktae. "Dear Mumbaikars, Bandra-Worli sea link will be closed to commute till further update. Please take alternate routes if at all you plan to move out. The best plan however is to stay indoors today unless it's absolutely unavoidable #CycloneTauktae," tweeted BMC.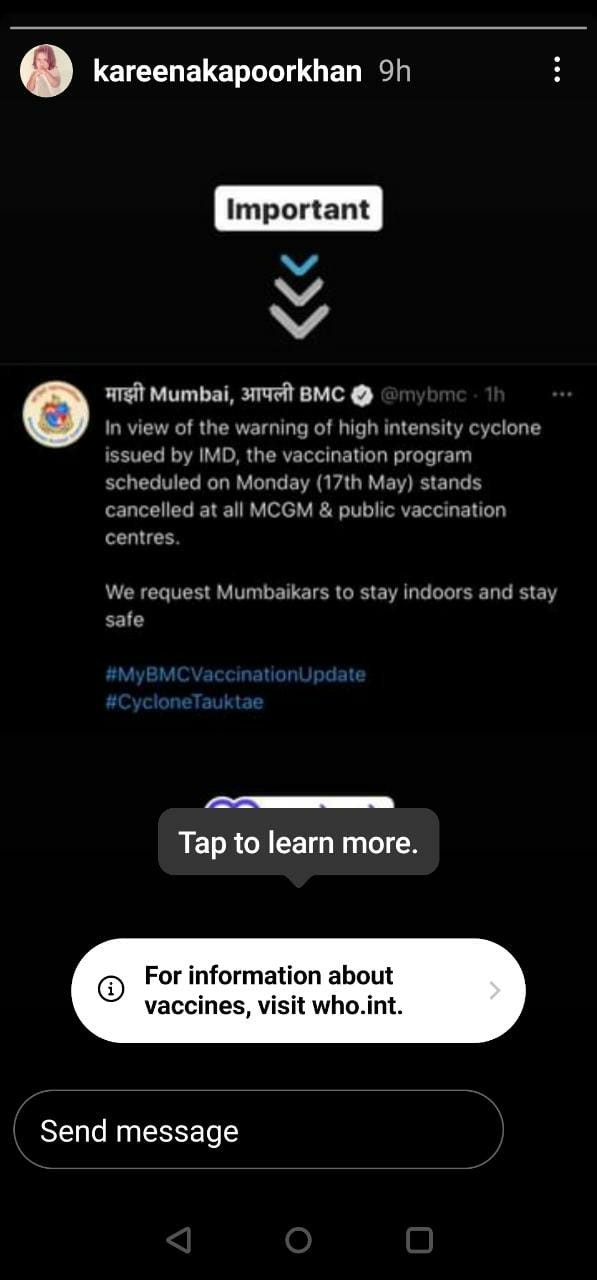 Image Source: SpotboyE Achive