Don't we all hate spoilers? Friendships have crumbled, lovers have broken-up, and wars started because of Game Of Thrones spoilers. Okay, maybe not the last one.
But the point being Bollywood stars have now taken onto social media to express how much they hate spoilers as they all pledge to not tell the secret behind the coming week's release Ittefaq.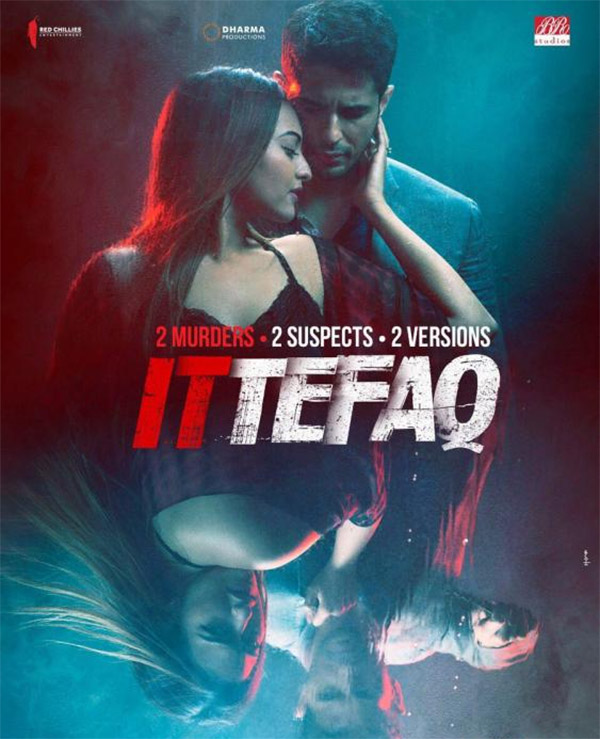 Ittefaq Poster


The Sidharth Malhotra, Sonakshi Sinha and Akshaye Khanna starrer murder mystery is based around the single point: 'Who is the killer?'. And obviously, if people start revealing it everywhere, the interest in the film will die. So the makers have started trending #SayNoToSpoilers.
It was begun by the stars of the film first.
Sidharth took to Instagram saying, "I'm not the killer, I've never killed anyone's excitement by revealing spoilers! #SayNoToSpoilers #IttefaqThisFriday (sic)."


Sonakshi too reiterated the same thought. She said, "‪I love social media but that doesn't make me a culprit! I WILL ALWAYS #SayNoToSpoilers!🙅#IttefaqThisFriday #IttefaqNov3 (sic)."

Then it was the turn of the producers. First up was Shah Rukh Khan. He posted a video saying, "When you give out a spoiler, you become one! #SayNoToSpoilers and watch #IttefaqThisFriday (sic)."
Karan Johar too posted a video with the same thought. He said, "He's all about the latest news but never about the spoilers! @karanjohar believes in #SayNoToSpoilers, do you? #Ittefaq (sic)."
Now it's the turn of the other B-Townies to say the same.

Akshay went to post a video on the same. The post was shared by his good friend KJo who said, "Thanks a ton @akshaykumar for doing this! For requesting everyone to NOT reveal the spoilers!!! Thank you my friend....#IttefaqThisFriday (sic)."
Anushka Sharma said, "Revealing the suspense is so not cool! Watch #IttefaqThisFriday in cinemas near you & please #SayNoToSpoilers! (sic)."
Arjun Kapoor said, "Picture dekho enjoy Karo lekin don't ruin it for everyone else !!! @karanjohar @abhayrchopra @junochopra #IttefaqThisFriday #SayNoToSpoilers (sic)."
Irrfan Khan said, "Kahaani apne #QaribQarib rakhna, #Ittefaq se bhi mat bataana.. #SayNoToSpoilers @iamsrk @karanjohar @S1dharthM @sonakshisinha #Parvathy (sic)."
Kriti Sanon said, "Don't we all hate it when someone reveals the end? I have my plan ready for such spoilers! 👊🏻Watch #IttefaqThisFriday & #SayNoToSpoilers 💃🏻 (sic)."
Aanand L Rai said, "A lot of hard work goes into making a film.Don't b a http://spoiler.Watch @sonakshisinha @S1dharthM #IttefaqThisFriday #SayNoToSpoilers (sic)."
So now you know who all will be upset if you give out any spoilers of Ittefaq.

SpotboyE too stands by #SayNoToSpoilers.



Image Source: instagram/redchillies & instageram/dharma