Deepika Padukone, Priyanka Chopra, Katrina Kaif Dominate The Top Actress' Spot, While Salman Khan- Akshay Rule The Recent Poll
India Today's Mood Of The Nation polls from the year 2016 to 2020 show how outsider actress like Deepika Padukone, Priyanka Chopra, Anushka Sharma and Katrina Kaif have ruled the B-town. As for their male counterparts, Salman Khan has been consistently number 1.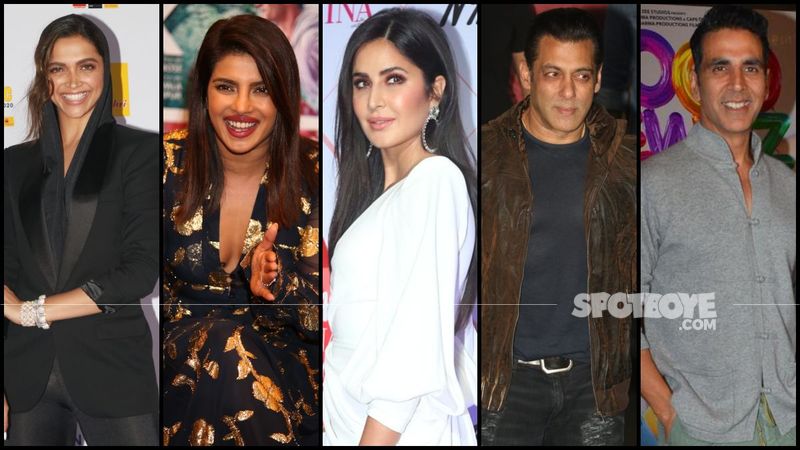 The debate surrounding nepotism and insiders vs outsiders in Bollywood has been constantly there but Sushant Singh Rajput's demise has added fuel to the fire of sorts. It is being widely discussed that actors with no filmy background never get to climb the ladder of success, while star kids have it easy. Well,
India Today's
Mood Of The Nation polls from the year 2016 to 2020 hints at otherwise. As per it, outsider actresses like Deepika Padukone, Katrina Kaif, Priyanka Chopra and Anushka Sharma among others are pretty much dominating the Bollywood. While Deepika remains on the top spot, the rest of them keep switching, depending on their box-office performances, popularity and social media presence.
As for their male counterparts, superstar Salman Khan has been mostly on the number one spot, while the remaining slots are claimed by his contemporaries like Shah Rukh Khan, Amitabh Bachchan, Akshay Kumar and Aamir Khan among others. "So, is it possible that the janta accepts outsider actresses better than the men in Bollywood?" questions India Today. The rest of their list, too, is dominated mostly by the outsiders. August 20's list shows Kangana Ranaut at 7, Sushmita Sen at 12, Kriti Sanon at No, Disha Patani at 14, Bhumi Pednekar at 16, and Taapsee Pannu at 18.
India Today reports how that's a majority of outsiders with only 8 slots for star kids like Alia Bhatt, Ananya Panday and Sara Ali Khan among others. Well, these ladies have proved their mettle too, didn't they?
Further, while the Dabangg actor has remained on No 1 position from 2016-19, this year, Akshay Kumar beat him to get at that spot. Salman Khan went down at 4, while Big B and SRK were on 2 and 3 respectively.
However, one can't guarantee how things will work after Sushant's death and all the outrage over nepotism. Let's wait and watch? *winks*
image source: SpotboyE Archives