Johnny Depp needs no introduction and the actor has come a long way since his legal battle with ex-wife Amber Heard. Now, the critically acclaimed star is back on his feet and he has returned to the movie biz with the Maïwenn-directed French movie Jeanne du Barry. The actor is known to have a global fan following and even Bollywood stars admire him.

Amid all the hype and anticipation, Bollywood star Deepika Padukone has shown her appreciation towards Hollywood legend Johnny Depp by liking a video by Variety on Instagram. This act by the 37-year-old actress has drawn mixed reactions on social media.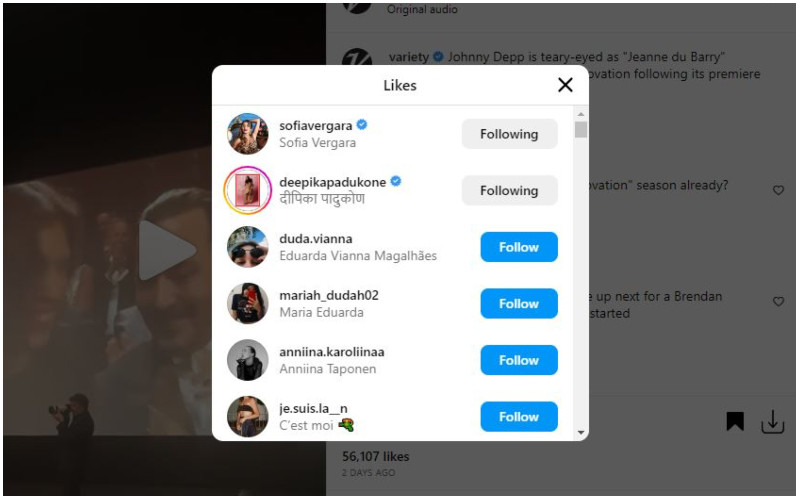 To note, Johnny Depp and the Jeanne du Barry team received a seven-minute standing ovation for his performance as Louis XV at the ongoing Cannes 2023 or the 76th Cannes Film Festival.
A clip capturing Johnny Depp's heartfelt expressions as he received much appreciation from his peers and fans was shared by Variety. The Indian actress on Instagram liked the video and it has sparked a debate on social media. Apart from Deepika, Modern Family star Sofia Vergara too liked the clip.
The internet has been divided with many standing by the Pirates of The Caribbean star after seeing his side of the story. However, a few even believe Amber Heard's allegations against her ex-husband.
As per recent reports, Johnny Depp's recent appearance at the 2023 Cannes Film Festival wasn't well received by his die-hard fans who were shocked to see what they labelled as "rotting teeth". A slew of pictures of Depp went viral on social media and fans argued that his habit of drinking and smoking could be attributed to the bad state of his teeth.
Image Source: Instagram