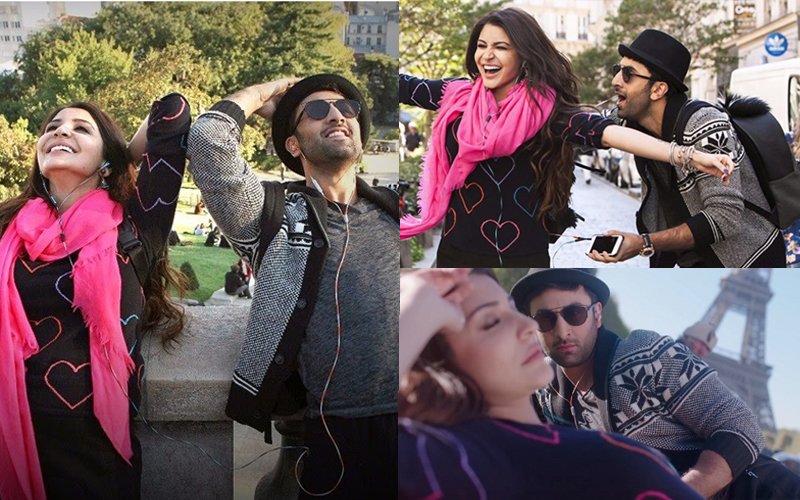 This was a fun evening which Anushka and Ranbir enjoyed in Paris. Unfortunately it got chopped from the final cut of the film. But relax, it had nothing to do with the Censor Board.

Guess it was the makers call to keep the duration of the film tight that they dropped this old Mohammad Rafi number from the film. The song is the original track- 'An Evening In Paris' which Ranbir and Anushka are listening to on their headphones while exploring the streets of Paris.

The two are looking absolutely adorable in the song, especially Anushka Sharma. Their energy and spirit is amazing. We must say it's a great tribute to the original stars of the song- Shammi Kapoor and Sharmila Tagore. Ranbir apes uncle Shammi Kapoor so adorably in the film in a lot of scenes.

Besides this old track, there are a number of classic songs which Karan Johar has incorporated in the film like Rishi Kapoor and Sridevi starrer Chandani's 'Tere Mere Hothon Pe', the classic Ghazal- 'Aaj Jaane Ki Zidd Na Karo', Hum Kisi Si Kum Nahi(1977) track- 'Mil Gaya Humko Saathi Mil Gaya', and of course the cult number 'Lag Jaa Gale' in Arijit Singh's soulful voice.




Karan Johar has beautifully weaved in all these oldies in a perfect way throughout the story.

Although there is a version of 'An Evening In Paris' in the film but that's in Arijit's voice. Nonetheless, those who missed seeing a little bit more of Paris- Go and click on the video again to enjoy an evening in Paris-the Ranbir-Anushka style!
Thumbnail Image Source: moviefied