Did Ranbir Kapoor & Arjun Kapoor Really Ruin Anushka Sharma & Varun Dhawan's Friendship? Here's The Truth...
Unchecked online reports create only fake news. Haste is not excellence. An interview of Anushka Sharma and Varun Dhawan doing the rounds indicates that Ranbir Kapoor and Arjun Kapoor played spoilsport in their friendship which otherwise would have cemented much before Sui Dhaga. What's the reality?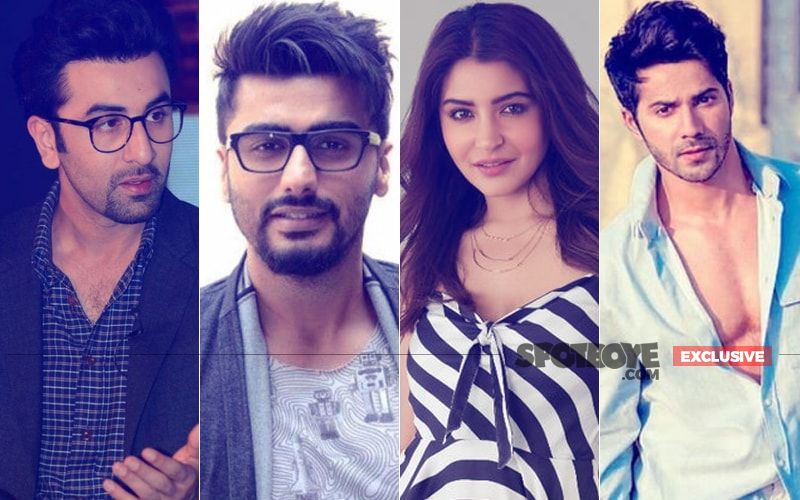 Sharat Kataria's Sui Dhaaga, produced by Yash Raj Films, whose trailer was dropped online lately, has created immense buzz before its release which is slated for next month. What is generating a lot of curiosity is how will Anushka Sharma and Varun Dhawan pairing turn out to be. The two have been around for quite a few years now, but never worked in a film together.

Equally intriguing is what the two revealed during a promotional event of Sui Dhaga because it could not be ascertained if it was said in jest or real. Or we would rather say that the facts should have been checked if such news, err, big news, is indeed true. Lekin nahin, as the Internet makes the world spin and run like headless chickens, the same holds true for this comment by Anushka.
Rewind: In an interview with India Today, Anushka had said, "I started to really respect and like Varun when he did Badlapur, which was very early on in his career and he had just done Student of the Year." Varun Dhawan interrupted and asked, "Before that?"

"Varun and me actually could have been the greatest friends in the history of film fraternity," added Anushka.

Then why their friendship didn't turn out to become the 'greatest friendship in the history of film fraternity'?

Anushka replied, "There are two actors who stood between us and in the middle of our friendship. One is Ranbir Kapoor and Arjun Kapoor. They knew we would become friends and change cinema history. They spread rumours about us – that we didn't like each other and all of that. They came in the path of our true friendship."
Uff, Anushka was JUST JOKING. Ditto for Varun. Anyway, like always, SpotboyE.com has given you the truth.


Image Source:- Instagram/@varundvn,dailyhunt