Bollywood actor Shahid Kapoor is adored for his charming looks in the industry. Interestingly, when he began his career in Bollywood, he was given the tag of 'chocolate boy' and was very popular amongst his female fans. His loyal fan base, particularly females would not mind going to any lengths for the actor. As we speak of Shahid's craze amongst women, we remember how once a Starkid was madly in love with Kapoor. Her love turned into an obsession as she started to stalk him.
Surprisingly, this fan was the daughter of the legendary late actor Raaj Kumar, Vastavikta Pandit. Yes, you read that right! As per media reports, Shahid and Vastavikta came in contact during the actor's pre-acting days. Both had enrolled in Shiamak Davar's dance classes. Vastavikta reportedly fell in love with Shahid during that time but when the feeling was not reciprocated from Shahid's side, she started stalking him. Vastavikta Pandit got so obsessed with the Jab We Met actor that she stalked him to movie sets, and obstructed him when he went outdoors. She even used to sit on his car's bonnet, telling him she was his biggest fan.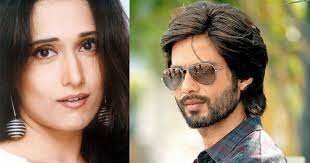 Despite being the daughter of the legendary actor, Vastavikta Pandit failed to make a name for herself in Bollywood. She debuted with a film in 1996, but the movie was a big flop at the box office. On the other hand, Shahid has established himself as the most talented actor in Hindi cinema with many blockbuster movies to his credit.