Don't Mess With Salman Khan's Sister! Arpita Shoots Down A Troll For Calling Ahil Polio Affected
When a troll tried to attack Salman Khan's sister, Arpita Khan Sharma's child, Ahil- she didn't take it lying down and immediately put the troll back in its place with a stern reply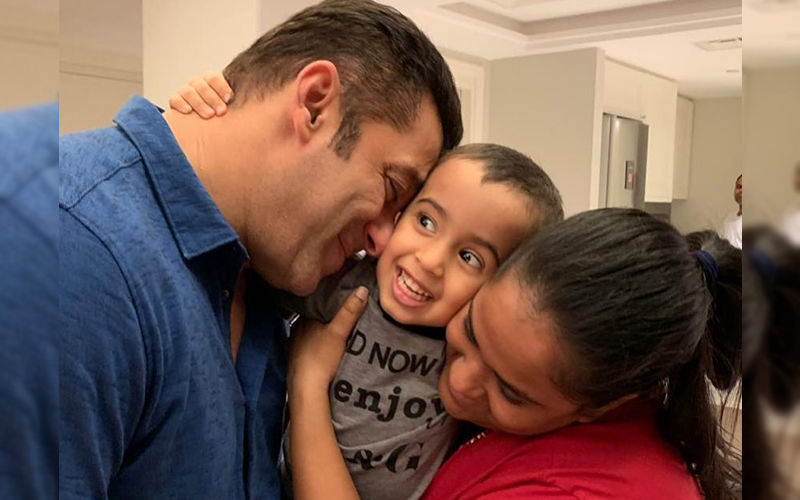 Salman Khan's sister Arpita Khan Sharma has always given it back to trolls, who often target her for different reasons. Sometimes body-shaming, sometimes for marrying Aayush Sharma and now for her son, Ahil.
Recently, the Khan-daan celebrated Ahil's 3rd birthday, and a cake cutting video from the party made way to the Internet. The video sees Salim Khan cutting Ahil's cake.
While many adored the moment, there was a troll who left a nasty comment on the timeline which read, "Yeh baccha poliye ka sikar lagta hay (sic)."
As soon as Arpita took notice of this mean comment, the furious mother didn't hold back her emotions to blast the troll. Arpita Khan replied to the user, reprimanding him. She wrote, "Guys, you are disgusting. At least spare children in your negative comments." However, Arpita deleted her comment later. Not only Arpita, netizens too called out that troll for spreading negativity.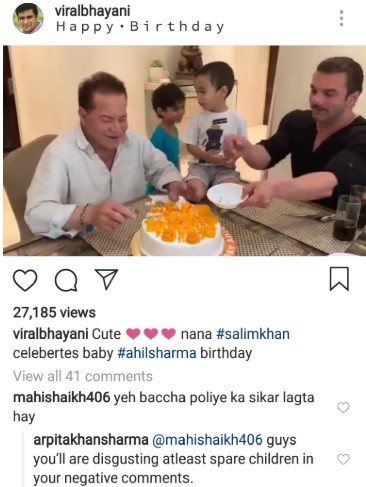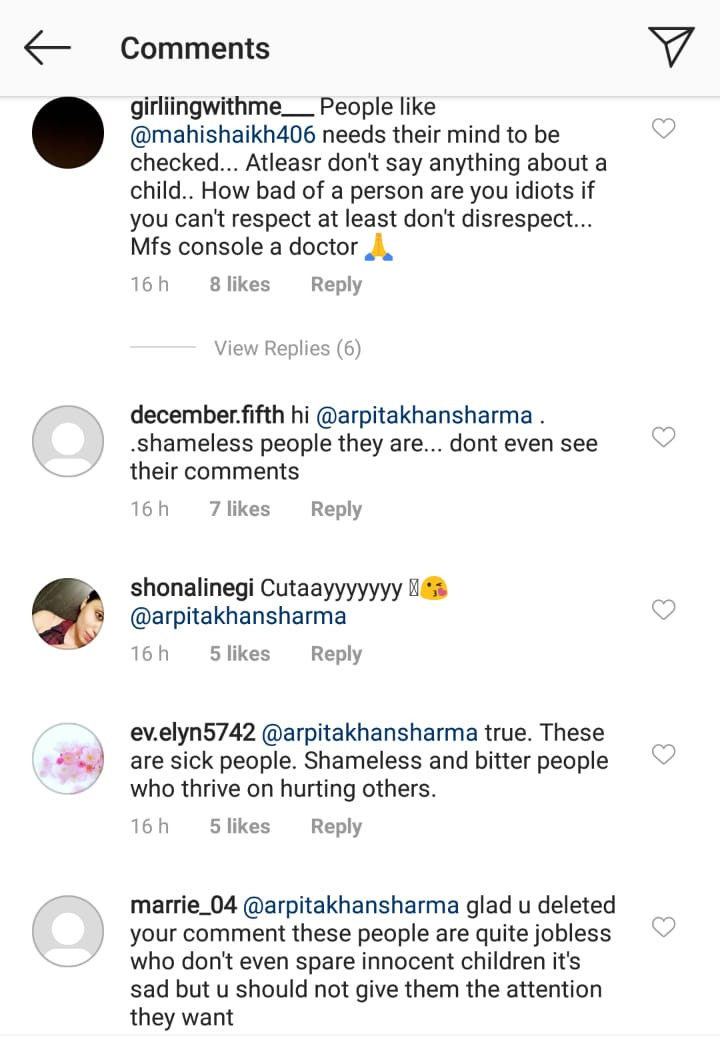 As we mentioned earlier, Arpita has always stood against these nasty trolls. In May 2016, Arpita had taken to social media to shut the trolls who were body-shaming her constantly. She captioned her open letter as, "Learn to live and let live" and wrote, "Hey, I would request all our well wishers not to waste their time by reacting to random, jobless, insecure, jealous people. Insecurities and jealousy can make you lose the plot at times. Just ignore them and move on. Don't react to their comments as then you are giving them more importance. And for all those people who have an issue with the following: my pictures, my family, my weight, my face, my colour, what I am doing with my baby boy and we are taking care of him and my husband and our lifestyle. I wonder how jobless or bored you are that you are busy following or visiting a profile you don't like and have so many issues with. Why don't you do something better with your times and life rather than stooping down to a level of barking dog and displaying a very low line character of yourself. Anyway, have a great day. God bless."
Image Source:-Instagram/arpitakhansharma