Ek Rishta: The Bond Of Love Turns 20: Unknown Facts About This Mammoth Multistarrer Featuring Amitabh Bachchan, Akshay Kumar, Karisma Kapoor, Raakhee Gulzar And More
As Ek Rishta: The Bond Of Love turns 20, here's looking back at some unknown facts about the multistarrer that featured Amitabh Bachchan , Raakhee Gulzar, Akshay Kumar, Karisma Kapoor, Mohnish Behl and Juhi Chawla among others.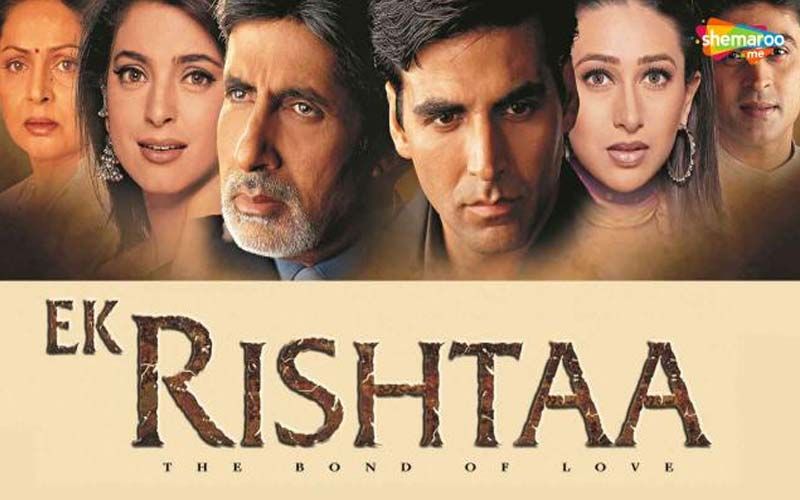 1. Released on May 18, 2001 Ek Rishta: The Bond Love was the mother of all multi-starrers and the last film to feature such a star-studded cast: Amitabh Bachchan , Raakhee Gulzar, Akshay Kumar, Karisma Kapoor, Mohnish Behl, Juhi Chawla. The era of multi-starrers ended with this film. Producer-director Suneel Darshan's goodwill in the film industry, of which he had been a part since 1988, helped him accrue this awe-inspiring cast. With Akshay and Karisma , Suneel shared a long-standing relationship, They starred in Suneel's Jaanwar in 1999 the film which put Akshay's career in the league of A-listers.
2. Surprisingly the most difficult actor to convince to come on board was the mercurial Raakhee Gulzar. I had to intervene to convince her. "What will I do in a film that stars half the film industry," she protested. You will be working with Mr Bachchan again, I argued. "I've already done 10 films with him," she protested. She finally relented, and enjoyed the experience thoroughly. Raakhee Gulzar is the only leading lady with whom Mr Bachchan speaks in Bengali. "And very fluent Bengali," says Raakheeji. "During shooting I shared a unique bond with him. I know him from the time when he did a role in Sunil Dutt Saab's Reshma Aur Shera.So my association with him began with one Sunil(dutt) and ended with another (Suneel Darshan) . I know the fun side of Amitabh which he keeps hidden from public view. He is a very funny guy, plays pranks and does a lot of masti. He was the same during Ek Rishta, although we had last worked together 19 years earlier in Bemisal and Shakti. Interestingly we were not a pair in either of those two. In Bemisal I was paired with Vinod Mehra . In Shakti I was Amitabh's mother. During shooting there was an unspoken bond with him.I admired Dilip Kumar and Rajesh Khanna as actors. But the kind of bonding I shared with Amitabh is unique to my career.I don't know what it was because to this day I don't know what acting is.We did more confrontational than romantic films together.Amitabh would rehearse his scenes secretly. That's because he was perpetually playing characters with personality traits that he did not possess. He played the Angry Young Man. But losing his temper was alien to him. On the other hand I am very short-tempered and do angry roles easily.But if I was asked to sing dance and do romantic scenes I was petrified."
3. Akshay Kumar who co-starred with Mr Bachchan for the first time in Ek Rishtaa was petrified . "What would it be like to face the camera with the God Of Acting?" Akshay kept asking me. I told him he would have to ask God that. The good thing about the hero-worship was that in the film Akshay plays a son who is so much in awe of his father that he couldn't even look him in the eye. Since that's exactly how Akshay felt about 'God' it was easy to do the scenes. "Imagine if we had to play a buddy-buddy father-son pair, like Shashi Kapoor and Rishi Kapoor in Kabhi Kabhie," Akshay wondered with terror writ large in his voice.
4. Juhi Chawla was most reluctant to play Amitabh Bachchan and Raakhee Gulzar's daughter. No, she had no problem with either. But playing their progeny meant she had to play Akshay Kumar's sister after playing his leading lady in a David Dhawan film. Juhi didn't want to be typecast as the hero's long-suffering behna.Also, while Karisma's leading man was Akshay, Juhi's leading man was Mohnish Behl . Though that shouldn't have been a problem. Tabu played Mohnish's wife in Sooraj Barjatya's Hum …Saath Saath Hain. Finally Juhi was convinced to do the role in Ek Rishta, though she never again played the sister.
5. Suneel Darshan did not have an easy time making this costly star-spangled family drama. At the silver jubilee celebration of the film Suneel took me aside and confided that there were elements in the film industry trying to sabotage the film. Suneel had said "Many Bombay trade people were in a hurry to write off the film from day one. A very strong lobby has been operating against me from the moment I signed on Mr Bachchan to play Akshay Kumar's father in Ek Rishtaa.I don't know what this lobby has against me. Maybe they don't like my bluntness. Also, there are very strong reactions from many sections of the industry against Akshay being cast in all of my brother and my films." Now Suneel looks back at the Ek Rishtaa experience with much affection: "Ek Rishtaa... is not just a movie.It goes much beyond and emulates life... family, friends, associates, opportunities and the footprints they leave back... It's not just about my experiences, but as much a story of most lives."
Image source: IMDb