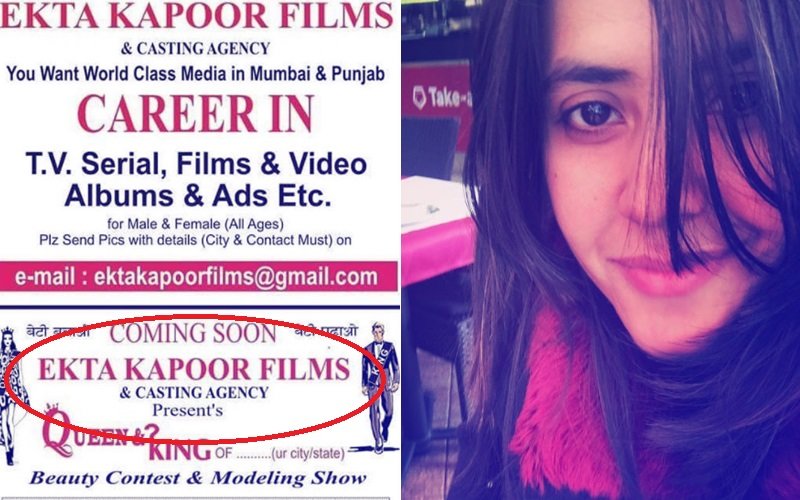 Your browser does not support the video tag.
Filmmaker and producer Ekta Kapoor has decided to lodge a police complaint against a man who claims to be a Balaji casting agent. Ekta shared a pic of the flyer the imposter has been using on her Instagram account and captioned it as, "Avoid all the fake casting calls !!! Loads of ppl used and the sycophants feeding on d need of Struggling actors beware!!! We will call d cop if u take advantage. Or abuse our company name." mid-day has reported that Ekta will be lodging a complaint with the cyber cell today in this matter.
A source informed the leading daily that the development came to light when an actor approached the studio, stating he had been selected by their casting agent for a role. "The so-called casting agent promised a small-time actor a role in one of her shows. When the actor directly got in touch with us to discuss further details, he realised that he was coordinating with a fake casting agent all along. That's when we got a whiff of these developments. The guy was blatantly promoting himself as the prime casting agent for Ekta's television shows. Ekta directed her marketing team to take up the matter with Facebook and they have already reported the page for the time being."
The imposter, who identifies himself as Yashpal Kapoor, has, however, denied any involvement with Balaji. "I have never used Balaji's name. I have a daughter whose name is Ekta Kapoor as well. She too is a television actor in Mumbai for the last 12 years. I have neither duped anyone nor have I extorted money from anyone. Balaji is defaming me unnecessarily," he claims.

It's trippy!