Entertainment News Round Up: Kangana Ranaut Calls India's Freedom 'BHEEK', Will Smith Scales 'Burj Khalifa' For 'Best Shape of My Life', Shilpa Shetty's Mother Sunanda Shetty Calls Vishal Kotian 'Snake' And More
Here's a quick round up of what happened in the Hindi film and TV industry yesterday - November 11.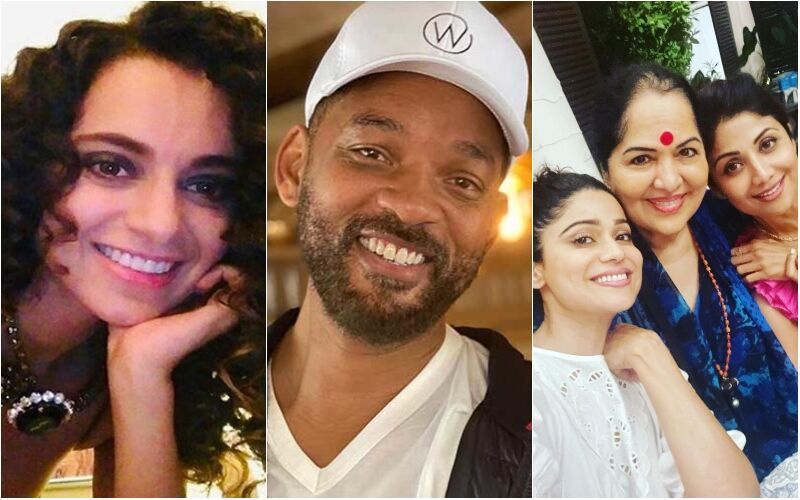 Kangana Ranaut's Controversial Statement On India's Freedom

Kangana Ranaut spoke about politics, films and love life at Times Now Summit 2021. Observed speaking in favour as well as slamming the influential figures on different occasions, during the summit she spoke about the country's freedom. The Thalaivii actress made a jolting statement on the Congress party, pertaining to the country's freedom and said, 'The Freedom We Got In 1947 Was A Bheek'
लकड़ी के घोड़े पर प्लास्टिक की तलवार लेकर वीरांगना बनने वाली सरकारी चाटुकार आजादी के सिपाहियों का अपमान कर रही है। हज़ारों कुर्बानियों के नतीजे को भीख बता रही है। pic.twitter.com/gH4JbOd4l9

— Rofl Gandhi 2.0 🚜🏹 (@RoflGandhi_) November 10, 2021
Will Smith Scales World's Tallest Building 'Burj Khalifa'
Will Smith has been taking over the internet for quite some time now. The multi-talented star has done it once again, and this time he is back with some mid-week motivation! Hollywood singer and actor recently stumped the world as he ticked off yet another milestone in the bucket list by scaling the world's tallest building, 'The Burj Khalifa' in Dubai.
Shilpa Shetty's Mother Sunanda Shetty Calls Vishal Kotian 'Snake'
Shilpa Shetty's mother, Sunanda Shetty has taken a dig at Bigg Boss 15 contestant Vishal Kotian who recently mocked Raqesh Bapat and Shamita Shetty's relationship. In a series of tweets, she called Vishal called out Kotian and said that he is a snake and 'most distrustful man'. She also went on to praise Rajeev Adatia for rendering Shamita support. READ MORE | Bigg Boss 15: Shilpa Shetty's Mother Sunanda Shetty Calls Vishal Kotian 'Snake' For Mocking Shamita Shetty and Raqesh Bapat's Relationship
Twitterati Go Creative With Memes Over 'Kissing Scene' In Marvel's Eternals
Marvel's much-anticipated release Eternals has been running in the theatres. However, the film does not seem to be doing well as expected. In one scene,
characters - Ikaris and Sersi are also shown to be getting married, and what's more - the duo do it in a seemingly traditional Hindu wedding. Fans are really confused that the duo has been shown to share a kiss after they are wed which doesn't really happen with desi weddings.
Bigg Boss 15 Lovebirds Ieshaan Sehgaal & Miesha Iyer Jet Off To Goa For A 'Romantic Vacation'
Bigg Boss 15's lovebirds Miesha Iyer and Ieshaan Sehgaal's on-screen chemistry has been one of the most discussed topics of the Salman Khan hosted the show. Well, Ieshaan Sehgaal and Miesha Iyer have already stated that their love was not fake, and the former also revealed that he will be going on a vacation with Miesha soon
Image Source: Instagram/kanganaranaut/WillSmith/shamitashetty_official