Entertainment News Round-Up: Ranbir Kapoor-Alia Bhatt To Host An Intimate Get-Together, Malaika Arora's FIRST Post After CAR Accident, Gol Maal Actress Manju Singh Dies And More
Here's a quick round-up of what happened in Bollywood, Hollywood, and TV industry yesterday – April 16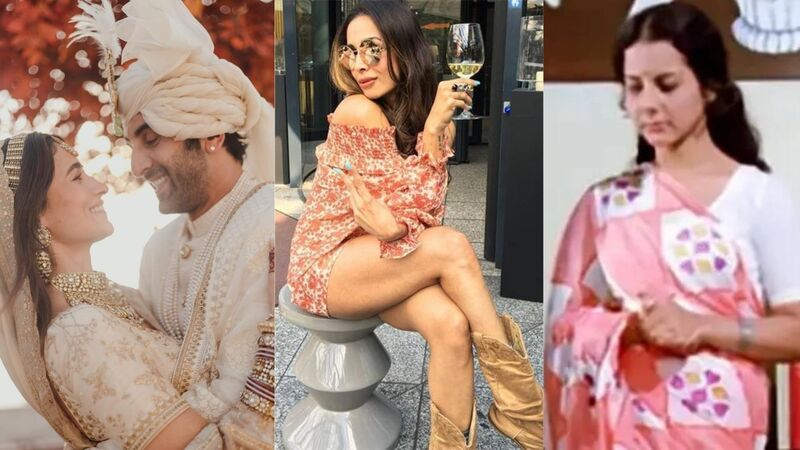 Ranbir- Alia to Host get -together for close friends and family
Now that the couple is finally married, According to the reports,
Alia Bhatt
and Ranbir Kapoor will be soon throwing a get-together party for their family members and close friends. The newly wedded couple will host the party at their Pali Hill residence Vastu. This special low-key function is likely to take place tomorrow.
Condom brands wish Alia Bhatt and Ranbir Kapoor in the most creative way!
Soon after Ranbir Kapoor and Alia Bhatt's wedding, a lot of brands took to their social media handles to wish the newly wedded couple creating moment marketing around this. Out of all, the most creative and hilarious were the condom brands Durex, Skore and Manforce. Durex shared a post that read, "Dear Ranbir and Alia, Mehfil mein tere, hum na rahein jo, FUN toh nahi hai." On the other hand, Skore condom brand followed suit and posted, "Hey Rockstar, we know Yeh Jawaani Hai Deewani, but remember us, when she's Raazi." Manforce wrote, "We don't attend weddings, we increase the fun later."
Actress Manju Singh Passes Away
Noted TV
Producer
and Gol Maal actress Manju Singh has passed away due to a cardiac arrest. The veteran actress was 73 years old, and was popularly known for producing shows like 'Adhika' 'Ek Kahani'and 'Samyaktva: True Insight'. She also acted in a few films including 'Golmaal', 'Hanky Panky', 'Ladies Tailor' and more.
Malaika Arora shares first picture post her car accident
Recently, Malaika Arora took to her Instagram handle and posted her picture on IG story for the first time after her car accident. The actress was recently injured in a car accident on the Mumbai Pune Highway. She had inficted some minor injuries on her forehead and eye and was immediately rushed to Apollo hospital.
Ranbir Kapoor- Alia Bhatt Mehendi pictures out
Alia Bhatt on Saturday took her Instagram handle to share the adorable pictures from her Mehendi ceremony. In these pictures, Alia and Ranbir opted for pink matching outfits. The couple looked absolutely stunning in the shared pictures. In the ceremony, Ranbir also made sure to make his late father Rishi Kapoor's part of the ceremony by holding Rishi Kapoor's picture in his hand.
Kim Kardashian's son Saint came across his mother's controversial sex tape through an ad
In the recent episode of 'The Kardashians', Kim Kardashian cried out as her son Saint saw an ad that referred to Kardashian's controversial 2007 sex tape with her ex-boyfriend Ray J. Saint was playing Roblox on his iPad when he saw across Kim's popular crying meme which had led some new unreleased scenes from the controversial sex tape that had been released.
Chhavi Mittal reveals she has been diagnosed with breast cancer
Television actress Chhavi Mittal recently revealed that she has been diagnosed with breast cancer. Sharing the same, the actress wrote an emotional note on Instagram. Chhavi also conveyed a sweet shout-out to all breast cancer survivors saying today she draws much inspiration from them.