Esha Deol Takhtani INTERVIEW: 'When I Started At 18, I Did All Glamorous Roles, But Today My Choices Are Different Because Of How And Where I Am In Life'-EXCLUSIVE VIDEO
Esha Deol Takhtani, who made her production debut yesterday with Ek Duaa in the Voot Select Film Fest, talks about her new innings in showbiz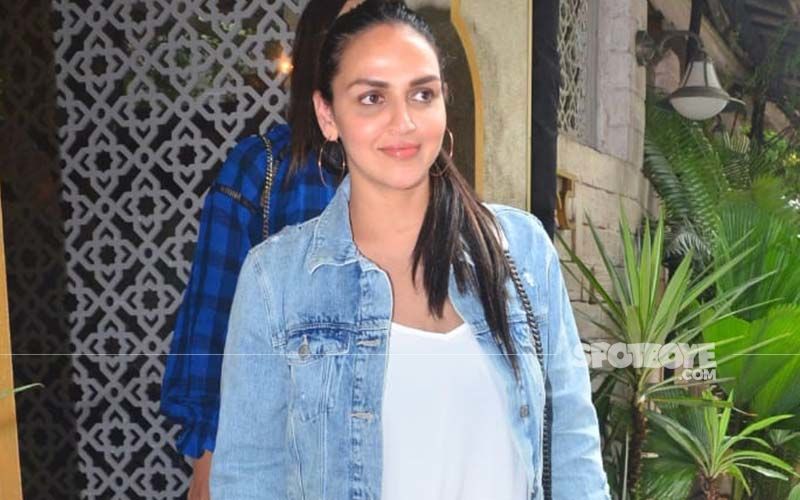 Yesterday, Esha Deol Takhtani made her debut into production with her company Bharat Esha Films, which released its first venture Ek Duaa in the Voot Select Film Fest. Not just production, but the film also marks Esha's return to acting as well, and in an exclusive conversation with Spotboye.com, the actress gets candid about this new phase of her career, her mother Hema Malini's influence on her, her daughters and more. Read excerpts from the interview:

How excited are you about this new innings of your career?
I am really excited and I am looking forward to everyone watching the film. Ek Duaa is a must watch with a beautiful story and a message to convey to people.

How different did the first day on set feel as a producer?
Of course, it felt different. I am used to walking on set as an actor, but here I was also a producer, so I had to be more aware about so many other things. I had to keep everyone content and make sure that they were getting their requirements for the day. I also had to make sure that everyone from the actors to the spot boys are fed well and are happily working on the film as a happy family. So, it was a different level of responsibility on my shoulders.

From the trailer we can gauge that Ek Duaa tackles gender inequality, but what else do you think the audience needs to know before they start streaming the film?
Definitely it touches upon the topic of gender inequality, which is an issue we have even today and that is unfortunate. There is a lot more to the film that you will realise when you see it. It's a simple story of a mother and a mother's voice is universal. So, people watching it will definitely identify with the character in a universal way.

Having experienced motherhood in real life, did it make you more empathetic towards portraying a mother on screen?
Absolutely. The fact that I was so touched by a script like this has a lot to do with the fact that I am myself a mother to two daughters. That was something that moved me and I really felt connected to it. I felt that this was something that must be told. When I was offered Ek Duaa, it was just for me to act in, but I wanted to contribute more to a film like this and that's when Bharat Esha Films was formed and we chose it as our first production.

Not just production, but Ek Duaa also marks your comeback to acting. Is there any change in your approach towards your work this time around?
As an actor, it's just about the role you are playing and automatically your approach is different. When I started as a teenager at the age of 18, I did all these glamorous roles, but today all my choices are different because of how and where I am in life. That affects what I want to go out and do in life.

Your mother, Hema Malini, had a successful journey in films after you and your sister were born. So, now when you were returning to work after motherhood, did you take any advice from her?
She is a constant inspiration at home for all of us. Just seeing the way she functions and her dedication and discipline in itself, offers so much to learn. We are very influenced by her and also my grandmother and other women I have grown up with at home. There is a strong female influence in my upbringing.

So, how did the production bug bite you?
It was the script that really moved me in a very deep way that made me realise that I wanted to be associated with it in a larger way and help to create an awareness towards a topic like this. I always thought if we ever produce a film, it should be on a subject like this. Now, I am looking at doing more films under our banner that will have a more positive impact on society. We already have so much stress in our lives, so we should see films that open up our mind towards subjects that need awareness or subjects that we feel good about. As a viewer, that is the kind of cinema I like to watch.

Now you have two more people who look up to you, your daughters Radhya and Miraya. What do you want them to take away from your journey?
Your parents have a big influence on you, like me and my sister had with both our mom and dad. So, both the parents play a huge role in how a child is groomed and there are many things that we were taught in life that have stayed with me and I want to pass them to my future generations as well.

How did your kids react to seeing you in the trailer?
My elder one has seen the trailer and she kept on asking me who that little baby was with me. She asked me where I did the shooting and was it here only. Her main concern was when did I leave her, go to work and come back.

They watch my other stuff but I haven't shown them my proper films yet. Although, Radhya has seen Na Tum Jaano Na Hum and both of them love the song Dilbara from Dhoom. You just have to play that song and they dance to it, and sometimes they even dance to Dhoom Machale.
And was your husband, Bharat Takhtani, as excited to see you get back to work?
Bharat is a very encouraging partner. He is himself very focused towards his work and he likes it that being a woman, I have continued working. He has always encouraged that.

The gap that you took from the silver screen, what has that taught you that you will now carry forward in your new innings in showbiz?
I believe that every experience and phase in life adds more of a dimension to your growth as a human being, more than an actor. How you evolve as a human being reflects in your choice of work too.

You are also reuniting with Ajay Devgn in Rudra. What made you say yes to making your digital debut with this series?
It's a great script and set up and working with Ajay is something that has always been so wonderful. He has been a great co-star to me, so everything fell into place there.



Image Source: Instagram/imeshadeol, spotboye archives