Even Prabhas Is DISAPPOINTED With Adipurush? Asks Om Raut To Come To His Room! Fans Suspect It To Be Actor's REAL Reaction: 'In The Room De Dana Dan'
Adipurush has gained serious traction for multiple reasons, even Bollywood celebrities and veteran stars are lashing out at the makers and calling Adipurush a big joke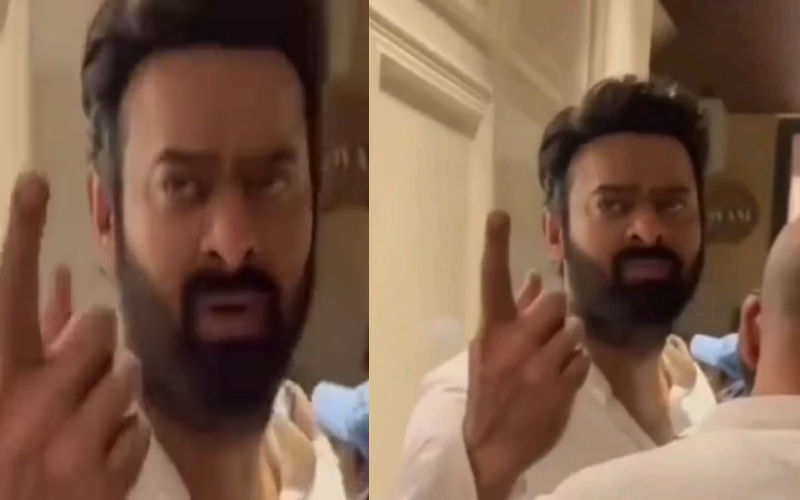 Adipurush has become the talk of the town for all the wrong reasons. While the movie might have managed to successfully mint great numbers at the box office, the audience coming out of the big screens does not seem to be impressed by Om Raut's output.

While the film has gained serious traction for multiple reasons, even Bollywood celebrities and veteran stars are lashing out at the makers and calling Adipurush a big joke.
For the time being, let us ignore all the other reviews and reactions from fans and celebrities; in fact, even the film's lead actor - Prabhas appears to be unhappy with the film. Now, a video of an angry Prabas calling Om Raut to his room has gone viral on the internet. Well, as usual netizens jumped to conclusions and suggested that Prabhas should beat the filmmaker after the release of Adipurush.
In the viral video, Prabhas looked furious and irked over something and he even asked director Om Raut to meet him in his room.
However, netizens were in no mood to spare Prabhas as well. While many opined that Adipursh tanked because of the poor direction, a section of social media users implied that the film was a collective failure.
As per the reports, the viral video is from the trailer launch of the film, and the fans are reacting to this video and claiming that this is Prabhas' real reaction after reading the film reviews.
One user wrote, "He's just legit a terrible actor . Knows zero expressions." Another wrote, "He got 0 looks, expression and dead eyes. Most overrated." One even compared Prabhas to Salman Khan and asserted, "He is Salman Khan of South India - just overrated."
A fourth user wrote, "Om raut to prabhas - tumne jo below average acting ki h uska kya😂" Another user wrote, "Prabhas can't even act. I don't understand the hype behind these glorified South actors."
A user speculated, "Pehle se hi pata tha ki movie ke naam par bawasir bana diya he to kya jarurat thi movie release karne ki inko 😢😢😢😢😢😢😢"
One user wrote, "In the room de dana dan 👊🤼😂"
Om Raut, Sita ma is not someone whom you can sexualise in your movie just to earn some money.

Sita ma is Jagat janani, she taught the meaning of courage, purity, dedication, loyalty, and sacrifice to everyone and you are doing this to her?

Shameful, Please apologise!! pic.twitter.com/UNrm9DNUc3

— Dr Nimo Yadav (@niiravmodi) June 19, 2023
As per trade experts and critics, the film has claimed that it is in 100 crore plus profit and has minted more than 340 crore globally.
The audience has strongly condemned Om Raut's vision for Adipurush as one of the user expressed his disappointment with the filmmaker for sexualising Sita Maa as they weren't happy with Kriti Sanon's outfit as Janaki.
Image Source: Instagram