Bollywood actor Ranveer Singh is all over the news after he was accused of driving his Aston Martin with expired insurance. It all started after a Twitter user claimed that Singh drove off his swanky car worth Rs 3.9 crore from the Mumbai airport with an expired insurance policy. And, in no time this fake news gained momentum and spread like a wildfire on the internet. However, all such reports and claims have turned out to be false as the actor's Aston Martin has a valid insurance policy.
And, we have got proof. SpotboyE got its hands on the screenshot of the valid insurance policy of Ranveer's wheels. And, thus this only proves that netizens claiming that the 83 actor drove the car with expired insurance are absolutely false. A few days ago, the Simmba actor was spotted at Mumbai airport returning from Delhi and on exiting the airport, he waved at the paparazzi and took Aston Martin- which he purchased around 3 years ago, for a ride.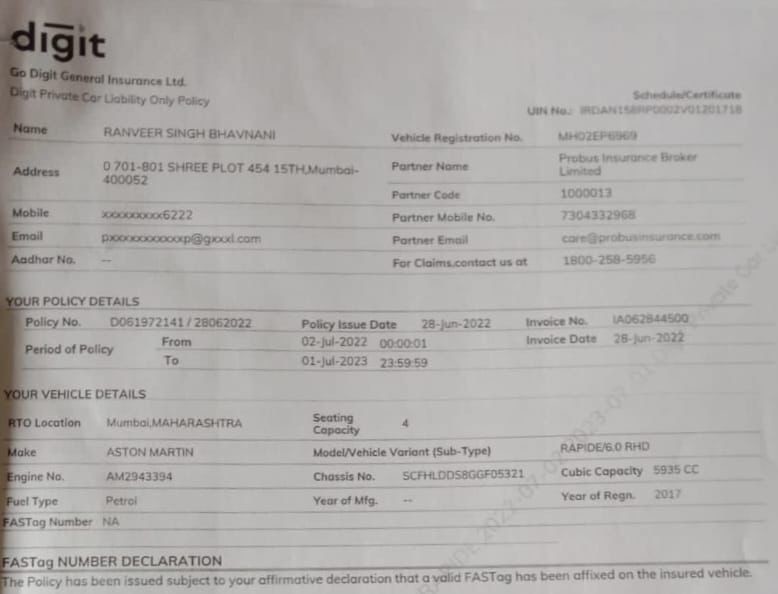 Notably, the 37-year-old Ranveer is very passionate about cars and owns many expensive sports wheels. He has Lamborghini Urus, Aston Martin, Mercedes Maybach S500, and Mercedes-Benz GLS 350d.