Fashion Designer Masaba Takes A SLY DIG At Sabyasachi
Ever since Sabyasachi Mukherjee expressed his opinion about Indian women who can't drape a saree, Twitterati lambasted the designer. Joining the bandwagon now is none other than Masaba Gupta who has slammed the ace designer. Read on to know more...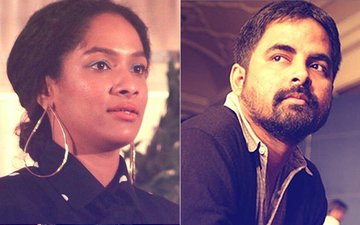 Sabyasachi has been at the receiving end ever since he slammed Indian women who can't wear saree. The incident happened while he was at the Harvard India Conference, a few days ago.
No sooner, he made the statement; people mercilessly trolled the ace designer. A now celebrity designer, Masaba Gupta, has taken a sly dig at Sabyasachi via a tweet. She wrote, "Can someone talk about how women should just wear/do/eat/drink what they like instead of constantly putting strange badges on them basis what they can't do.pls leave us alone,in our torn jeans,chugging beer,cackling away.. OR NOT! (sic)."
Can someone talk about how women should just wear/do/eat/drink what they like instead of constantly putting strange badges on them basis what they can't do.pls leave us alone,in our torn jeans,chugging beer,cackling away.. OR NOT!

— Masaba Mantena (@MasabaG) February 13, 2018
Back then Sabyasachi had said, "I think, if you tell me that you do not know how to wear a saree, I would say shame on you. It's a part of your culture, you need to buck up and stand up for it. It is the most wonderful dress in the world and people across the globe admire it," he said in reply to a question asked about the difficulties women face while wearing saris."
Sabyasachi further added that Indian women and men were becoming "socially insecure" and losing touch with their roots.
Although Masaba has not taken Sabyasachi's name in the tweet, it's quite clear from the content that it's directed towards the designer. Post getting trolled heavily, Sabysachi had to put out an open letter apologising for his comment. He wrote, "To begin, allow me to sincerely apologise for the words that I used while answering impromptu questions at a conference at Harvard. I am sorry that I used the word 'shame' in reference to some women's inability to wear a sari. I truly regret that the way in which I tried to make a point about the sari enabled it to be interpreted as misogynistic, patriarchal, and non-inclusive – this was certainly not my intention.
Let me provide some context for those of you who may not have listened to the speech I gave at Harvard. A woman had asked me to comment on the cultural taboo of young women wearing saris because, as she said, society tells them that it 'makes them look older'. 'What is your suggestion', she asked, 'for those young generations, to break that taboo and embrace the sari…' Unbeknownst to many, this is a question I field often with friends and customers. The ubiquity of such sentiments in our culture, evidenced by the fact that this question was posed to me at Harvard, of all places, was hard-hitting and triggered an unfortunate series of reactions on my part. Sometimes, when you are that invested in your craft, you become hypersensitive to the negativity surrounding that which you love."
"Now I have worked with the sari for 16 years. During this time, I have had countless open dialogues in various forums pan-India with women of all age groups and income brackets about the constant barrage of negativity surrounding it. Yet another question of ageism and the sari at Harvard triggered a lot of pent-up frustration that I have accrued for that segment of our society which constantly expresses disdain for this piece of Indian heritage. It is this frustration that I unfortunately generalised to Indian women in response to the question, when I now see that I should have framed it as a call to stop shaming the sari and whomever chooses to wear it. I am passionate about textiles and our heritage, and I am sorry that in the heat of that moment, I allowed this passion to be misplaced. I take full responsibility for this.
On the topic of the sari, I ask you today: how many times have you or someone you know encountered this issue?
Body shaming, attaching connotations of 'Auntie Ji', calling them sloppy; these are all ways that some men and women alike belittle the sari (and, more accurately, the wearer of the sari). These comments are laced with sarcasm and connotations of cultural repression and backwardness. Many women, young and old, are scared to have an outing in a sari because it is shrouded in so many layers of taboo and controversy, often citing inability to correctly drape a sari as an exit point.
We are a celebrity-obsessed country, and yes, it does affect consumption patterns and social behaviour at-large. Some consumers are being conditioned to believe that the sari ages women, and you will see the evidence of that clearly documented by so many social media trolls targeting celebrities online. Isn't that shaming, or shall we call it cyber-bullying? Yet we are often complicit in this, which may even be welcomed by some to encourage more traffic to a website/blog," he further wrote.
"Let's also talk about another subject that has arisen out of the fervent discussions occurring about me and my brand, and one that has always been a big topic on gender inequality and the patriarchy (which, according to some of you, I am ardently supporting): the pay gap. It is humiliating to have to defend yourself in public but sometimes a bitter medicine needs to be swallowed to drive home a hidden truth. I would like to bring to your notice, that the majority of my staff at Sabyasachi Couture are women. From pattern makers, to seamstresses, to designers, to publicists, to IT consultants, department heads, store managers, and core of management; women comprise the top earners on my payroll – and it is not because they are women, but because they've earned it by their merit. And every Friday, men and women alike at Sabyasachi wear Indian clothing to celebrate our love for textiles, with zero enforcement.
Mine is a women-oriented brand and I owe my complete success to them. I have always, and will continue to love and respect women irrespective of the labels recently assigned to me. It was in this spirit that I started my brand, and that is how it shall remain till the day we decide to shut its doors.
I once again apologise for the distress caused by the words I used, but not for the intent, which often takes a back seat when slammed by controversy. My intent was to call out those women who proudly proclaim that they don't wear saris and simultaneously shame others who wear saris by saying it makes them look older, backward, or culturally repressed.
My social media team takes extreme care that not a single negative comment written by you is censored, so that the world can make their own judgments and have a transparent view of the brand. Tomorrow, you can shame me further on twitter, make provocative headlines out of this letter, or choose to blacklist us as consumers. It is absolutely fair and understandable because it is your prerogative.
For us, for better or for worse, it will be business as usual," read the post.
Coming to Masaba's tweet, let's see if Sabyasachi gets the hint and has something to tell the celebrity designer in return.

Image Source:instagram/bollywoodupdates
They say the best things in life are free! India's favourite music channels 9XM, 9X Jalwa, 9X Jhakaas & 9X Tashan are available Free-To-Air. Make a request for these channels from your Cable, DTH or HITS operator.