Kalpana Lajmi is no more. The noted filmmaker, 64, breathed her last at 4.30 am this morning. Her last rites will reportedly take place at Oshiwara Crematorium at 1 pm. "She passed away at Kokilaben Dhirubhai Ambani Hospital at 4.30 am. She was suffering from a chronic kidney disease and liver failure. She was on dialysis. She has been in and out of the hospital for three years. The last rites will possibly be conducted today," her brother Dev Lajmi told PTI.
Soni Razdan took to Instagram to share a picture with Lajmi and wrote alongside, "My dear darling Kalpan has passed on into another world. I will miss her strong energetic voice, her incredible drive to create, even after she got so sick, her laughter that was always so full of real joy and her wonderful sense of humour. Most of all I will miss my movie partner. Almost every Friday or Saturday we would go see the latest film running in town. I can't believe you're gone Kalpana. RIP sweetheart."
Huma Qureshi wrote, "Deeply saddened... at around 4:30 am today morning #KalpanaLajmi passed away .. May she rest in peace." Lajmi last directed Chingari (2006) which starred Mithun Chakraborty, Sushmita Sen and Anuj Sawhney. She has also made films such as Rudaali, Darmiyaan: In Between and Daman: A Victim of Marital Violence.
SpotboyE.com was closely tracking her health. In April, when she had returned from the ICU at Kokilaben Dhirubhai Ambani hospital following a surgery for urine infection, we had got in touch with her and noticed that her voice had significantly changed. In November last year, she exclusively told us during an interview with SpotboyE.com Editor Vickey Lalwani that she had been undergoing dialysis 4 times a week. We reproduce her last interview to us here:
Can I speak to Kalpanaji?
Is this Devashish?
No, this is Vickey Lalwani. Can I talk to Kalpanaji?
This is Kalpana, Who's calling?
Ma'am, this is Vickey Lalwani.
Yes, Vickey. Tell me, how have you been?
Well, I am fine ma'am. How are you? There is talk that you are down with cancer in the kidneys..
That's not true. I was detected with cancer in the kidneys 3 years ago, but it was removed. However, both my kidneys are not functioning now.
Dialysis?
Yes, four times every week.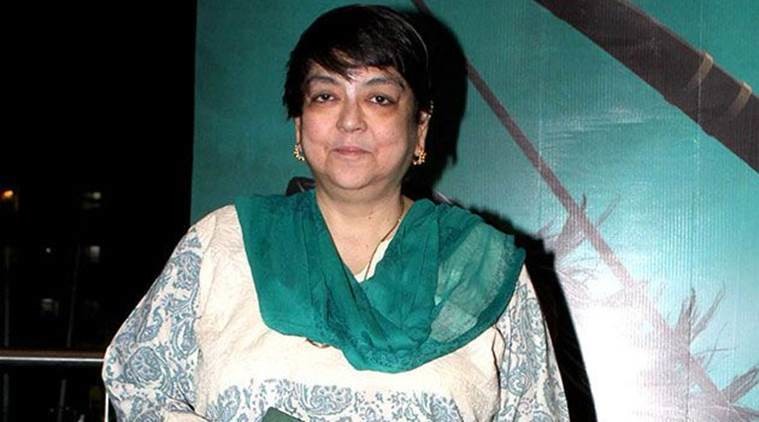 That must be terribly painful?
What to do? Life is like that.
Your voice has completely changed, I thought I was talking to someone else...
It hasn't changed; it has gone weak.
The medical bills must be enormous...
Yes, but Aamir Khan, Salman Khan, Karan Johar, Rohit Shetty, Mahesh Bhatt, Alia Bhatt, Soni Razdan, Ashoke Pandit, Neena Gupta, Vinta Nanda, Amit Khanna and Shyam Benegal have been doing a lot for me. They are pooling the money required for my treatment.
What happened suddenly that you had to be rushed to the hospital?
Well, I got up on Sunday and felt very weak. I knew my potassium levels must have dropped. I asked my driver to take me to the Emergency Room in Kokila Ambani Hospital. As we speak, my treatment is on.
Coming back to Bollywood. Have the personalities mentioned above met you personally?
Not all. Aamir and Kiran Rao had come along. Salman has been contributing through his Being Human. Soni Razdan is the fulcrum, I think it is mostly routed through her. I need about Rs 2.5 lakh per month. God bless these people. And of course, how can I forget my mother and brother who have constantly stood by my side?
How did your health problem begin?
I contracted diabetes, which we know is a killer. I should have looked after myself, but had no time. Bhupenda was unwell and he meant everything to me, I was looking after him all the time. Diabetes led to kidney problem and... (trails off).
Food restrictions?
Well, I have a cook, so it's not difficult to manage that part. But I have to eat mainly dahi, chaas and vegetables. I definitely can't eat everything. Caretaker bhi hai, driver bhi hai.
I miss being in the centre and making movies. Hope that I get back. I am very lonely.
Do you step out sometimes?
No, only for dialysis. Once in a way, rarely, I step out to chill with my school/college friends, and sometimes with my industry friends.
Anybody from Bhupenda's family has come forward?
No, not yet. I am in touch but with only one of my sister-in-law. Otherwise, I am not in touch with them after Bhupenda passed away.
You loved Bhupenda so much and his family...
(Interrupts) Yeah, but what to do? Life is like that too. Those whom you don't know come forward to give you a helping hand and those whom you know don't even bother to call and talk to you.
Image Source: instagram/filmymonkey