Gopi Kishan Completes 25 Years: Suneil Shetty Reveals His Daughter Athiya Shetty Stills Says 'Mere Do Do Baap'
We all remember the time Suniel Shetty's Gopi Kishan had released, the dialogue 'Mere Do Do Baap' gained iconic status and was nearly on everyone's lips. Well, his daughter Athiya Shetty is no exception and she in fact hasn't been able to get over it till date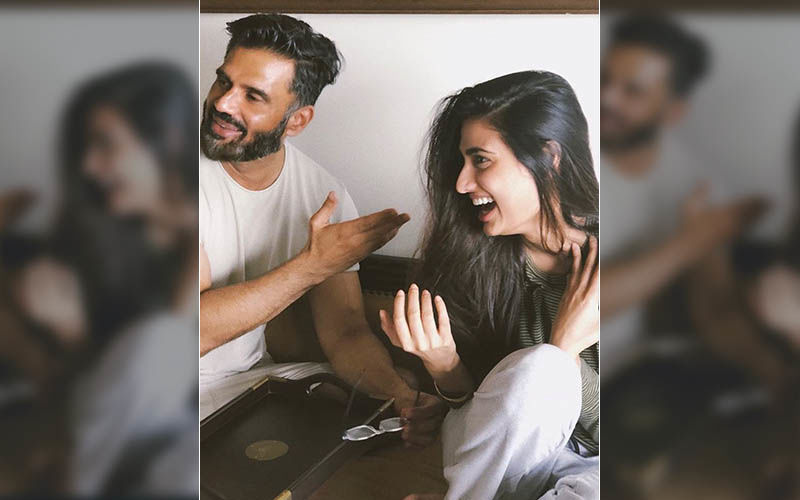 Time and again we have seen some scenes and dialogues that have attained a cult or iconic status in Hindi cinema. Be it Sholay's dialogues or Shah Rukh Khan's signature pose, there are some things that just unforgettable and well, 1994 Gopi Kishan is too one of them. Suniel Shetty starrer was also one of the most-loved films back. Recently, the film completed 25 years of its release and to mark its 25th anniversary, Shetty took to his Instagram story to share some behind-the-scenes moments regarding the film. From him flaunting an over-sized shirt to his funny dance moves and to his famous dialogue, 'Mere Do Do Baap,' the actor was remarkable in the dual roles.
However, talking about 'Mere Do Do Baap', it gained iconic status in the film industry. So much so, even his daughter Athiya Shetty couldn't get over it till date. After Gopi Kishan completed its 25 years of release, Suniel revealed to Hindustan Times that the famous dialogue is still being said by his daughter.
While talking to the portal, he was quoted saying, "I never imagined that such simple dialogues and situations would become so iconic. I wonder where the child actor is these days who shot to fame after that scene. He had a very naughty look but I don't remember his name," Suniel continues, "Whenever people would see me in public, they would say Mere Do Do Baap. Even Athiya, after watching the film, started calling me, "Mere Do Do Baap" and I used to keep telling her "No no Athiya… it is not funny". She just loved it and keeps repeating (laughs)."
Apart from this, he also shared some anecdotes of the film, how no one was willing to cast him for any comedy movies as he was known for his action stint. He revealed that when the director Deepak Shivdasani offered this role, he grabbed this opportunity immediately and since then he went on to do some comedy films, including Hera Pheri starring Akshay Kumar and Paresh Rawal.
Image source: Instagram/ suniel.shetty