Guess Who? Hint: This Little Girl Is All Grown Up, She's Currently Dating One Of Bollywood's Biggest Superstars
Look at this munchkin in the picture above. Doesn't she look adorable? Well, she is all grown up now and is one of the most promising actresses in Bollywood today. Her next is a superhero flick and she's acting in it opposite her current boyfriend. Read more to find out...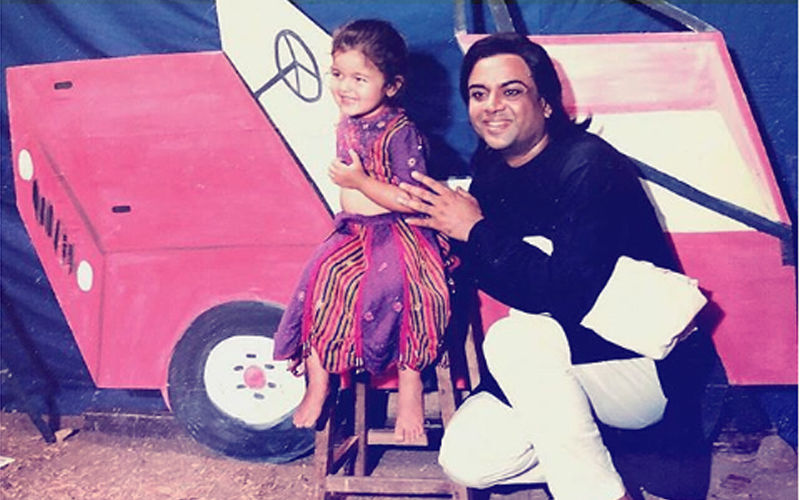 Can you take a wild guess as to who the little lady in the above picture is? We'll throw a few hints to help you. Hint No. 1: She's one of the most sought after heroines in Bollywood today. Hint No. 2: She's dating one of the biggest superstars in the Industry. Hint No. 3: The lady and her boyfriend feature in an upcoming superhero flick that is currently being shot abroad.

We're sure you guessed who it is. If not, here's another small hint – both the lady and her man belong to prominent film families.

It's Alia Bhatt we are talking about! This picture of her's shared by her mommy Soni Razdan is from the sets of Pooja Bhatt's debut production Tamanna. Alia played a bit role in the film.

Pooja Bhatt also took to Instagram to share the picture with an elaborate caption.
Pooja wrote, "Sister Act!! I was all of 24 when I produced my first film Tamanna-a true life story about a eunuch named Tikku,who during the holy month of Ramzan,found an infant abandoned in a garbage dump,her face half eaten by rats and brought her up as his very own. Tamanna dealt with the discomforting truth of female infanticide that plagues our country and proved that courage & largesse often are attributes of the truly marginalised-in this case a eunuch who gave Tamanna a new shot at life when her own father wanted her dead merely because she was born a girl. It was a dud at the box office but gave me great credibility as an actor and producer,even winning me my first national award. What most people don't know though is that both my sisters @aliaabhatt & @shaheenb were in it too. Alia played a younger me and Shaheen played Ashutosh Rana's daughter and even brought her own toys to the shoot which we used as props. So my father cast all three of his daughters in the same film... a fact that has been forgotten with time. I stumbled upon these photos today when I was continuing my obsessive,self assigned task of salvaging the tons of photo albums that lie discarded in a corner of our office. We are nothing but memories and these comprise some of the best!"

Well, for those of you who thought Student Of The Year was Alia Bhatt's first movie, now you know it was actually, Tamanna.