Happy Birthday Ekta Kapoor: Did You Know The Ace Producer Once Wanted To Be A Journalist?
Ekta Kapoor is celebrating her birthday today. I've seen her grow from a wannabe television producer operating her "office" from her dad's garage to a one-woman industry to a single mother. Here's a look at her journey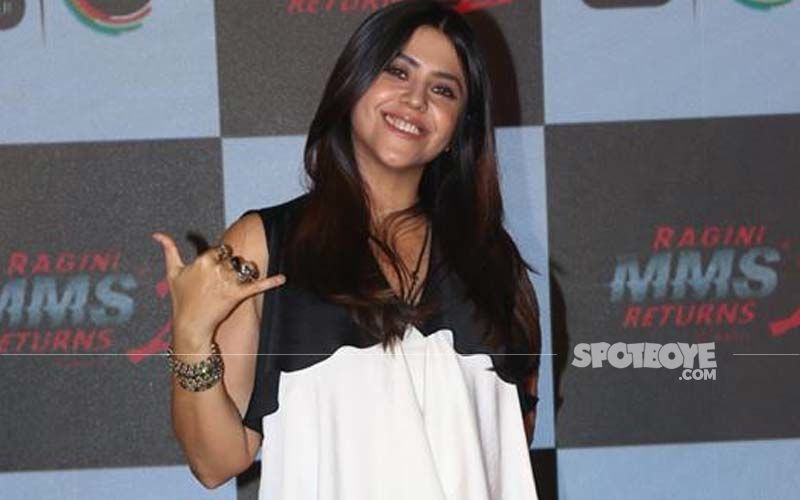 We once were close. She called me Bhai. And I've seen her grow from a wannabe television producer operating her "office" from her dad's garage to a one-woman industry to a single mother. I have seen her warm side. Then I've seen the cold.
"Sometimes I feel 60 years old," she had told me when she had turned 30. "Between casting and scripting, I had no time to take even the birthday calls, let alone celebrate. Sometimes when I look at my dad's worried face—Iss lakdi ka kya hoga?—I wonder if it's worth it. I've no time for the closest of friends, no time to develop relationships anywhere except in my soaps where, as you must have noticed, the family trees are getting really entangled."
And to think Ekta wanted to be a journalist! "All I wanted to become during childhood was a journalist. I used to do guest interviews for magazines with my Dad(actor Jeetendra) and his colleagues. I always wanted to express myself creatively. I suppose I'm still doing that. My father is very protective towards me. You know I am the most possessive daughter in the world. As a child, I once ran behind a woman with my shoe when she tried to kiss my father Nowadays my rivals run after me with their shoes," she had laughed loudly. She laughs a lot less now, I am told.

Television wasn't a conscious decision. "When I was 17, I suddenly realized I was doing nothing with my life. I took up a job in a company where I was doing practically nothing. Then my dad met Ketan Somaiya in London. He owned a TV channel called TV Asia. He suggested that my Dad make software for his channel. When Dad returned to India and made the suggestion, I was extremely wary."

At that point of time, Ekta didn't see a future for herself. "I was a chronic couch potato. I used to sit in front of television the whole day. It was an integral part of my life. Even now I don't miss my favourite programmes. If I'm working I get them recorded to watch later. So I guess working with what I enjoyed must have seemed like an okay idea. I made some pilots . But the deal with Ketan Somaiya fell through when his channel was sold to Zee. So there I was, a spoilt fat kid with several pilots made with my father's money, and with nothing to do. At this point, I began to believe I was good for nothing. I felt terrible about squandering my Dad's hard-earned money. Among my initial pilots there were the horror shows Mano Ya Na Mano and Captain House. Both clicked eventually."
Then Hum Paanch happened. "After all my initial efforts fell through I made the pilot of Hum Paanch with the little money I had. It was based on my own concept. I like throwing ideas around. I'm a storyteller. I remember when I went with my mother to one channel, which has now been closed down, the channel head offered me 10,000 rupees for Hum Paanch, saying it was enough for a girl. But it wasn't enough for this girl(laughs). Then I just dropped in to give the pilot tape of Hum Paanch to Zee. And they accepted it! I remember my ears turned red when they informed on the phone. I was in a state of shock. At that time Zee was the only happening channel. Not just Hum Paanch but a refurbished version of Mano Ya Na Mano also clicked. "

Since then, Ekta has never looked back. Maybe she should.

Image source: instagram/SpotboyEArchives