Happy Birthday, Manisha Koirala: When The Actress Boldly Commented On Her Alcoholism, 'I Don't Drink Everyday, Most Of My Colleagues Drink, Those Who Claim Not To Are The Ones Who Probably Drink The Hardest'
Here is recooleting some bold and interesting statements made by birthday lady Manisha Koirala over the years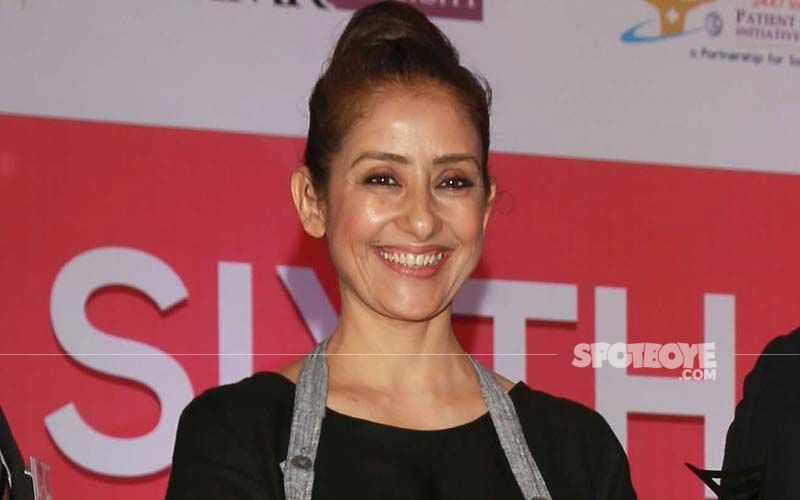 She is back smiling, laughing and enjoying life. Some years ago when reports of Manisha Koirala's ill-health filtered in, I prayed they were not true. One of the loveliest women I've ever met, Manisha came to my home once with her boyfriend, a kind considerate cultured man named Cecil. We all could see the love in his eyes for her.
Who wouldn't fall in love with Manisha? She carries a sense of cheerful bonhomie wherever she goes. I've heard stories of her moodiness and temper tantrums. But with me Manisha is always a doll. A dreamily beautiful woman with a smile that can light up the darkest night.
She has so far been singularly unlucky in love.
As an actress she was at one time way ahead of her colleagues and peers, regarded more resplendently than even the dazzling Tabu. From the time she came to Mumbai from Nepal in 1991, every major filmmaker in Mumbai wanted to work with Manisha .
Manisha had no idea how to tell a Mani Ratnam apart from an Indra Kumar. She just picked whatever came her way.
About her early-days in Bollywood Manisha once confided in me, "I was immature. I was so young when I came into the film industry. I had hardly watched a handful of Hindi films in my life. I had no choice but to do what other people said. A lot of people told me playing the role of a growing children's mother in Mani Ratnam's Bombay would be suicidal to my career. I wouldn't name them, but a lot of my colleagues criticized me for playing a mother, and that too in a South Indian film, blah blah blah. They were happy doing teenybopper roles. I didn't mind playing ANYTHING as long as I had something substantial to do in the plot. Fortunately I got the chance to work with the best directors in the country from Shekhar Kapur and Mansoor Khan to Mani Ratnam and Sanjay Bhansali. I learnt a lot from them."
Her career began to flounder and there were many failed relationships. But Manisha could actually laugh about her mistakes. "Experience is the best teacher. I feel I've evolved as a person. I've never followed the rules. I've made my own rules by trial and error. I'm not Ms Perfect. I do make mistakes. But I'm not ashamed of them.I got major bad-press even back then when I was just starting out. 5 –6 years back I was an outspoken girl. Today my beliefs haven't changed. But I've learnt to keep my mouth shut."
After her dream innings as an actress her career began to fall apart and so did her personal relationships. If doing the game-show Sawaal Dus Crore Ka was a blunder, so were some of the men in her life. Manisha turned down films with Deepa Mehta, Mira Nair and Shyam Benegal for the flimsiest of reasons.
When stories of her drinking became unbearable, I boldly broached the subject bracing myself for a taste of the infamous Koirala temper.
She took the accusation of alcoholism surprisingly well and said, "I do enjoy my drinks. But I'm not an alcoholic. I don't drink everyday. Most of my colleagues drink. Those who claim not to are the ones who probably drink the hardest."
A true realist she could stare unflinchingly at her own mistakes. Once when I lightly chided her about the wrong choices in matters of the heart Manisha turned around and said, "I don't think I would have been the person that I am if I hadn't been honest. If I had to hide any aspect of my life, I would look back and feel terribly guilty . I want to achieve my goals in life and career without playing lying games. If I have to lie to be successful, then I'd rather not have success. I would rather die than be dishonest about my basic values. Yes,I've had some bad relationships. My family and friends saw it. But I didn't. Even my brother is far cleverer about such things than I am. See, I've to fall before picking myself up. Luckily for me now things are okay."
I haven't seen any woman make such an effort to make her marriage work. In spite of those failed relationships she genuinely thought her marriage was for keeps because she wanted it to be.
"I really want it to work. Pray for me," she had pleaded. Failed marriage and a floundering career lately gravitated Manisha towards spiritualism.
Manisha told me, "All my life I've been a seeker . I've been trying to find inner peace through travel and books. The Oneness course solved all the questions on life and existence.I wanted to focus on other aspects of life. The Oneness course has changed my life completely. I've become so much calmer and more focused.
Manisha also intends to direct a film soon. Some years ago she went to New York University to learn editing and direction . "I know I have it in me. Some day soon I'll direct a film. But it has to be a natural process.I won't persuade myself to do anything I don't believe in. I never have.I've been approached by some responsible producers. And I just may take the plunge," she confided in me. This beautiful creature of caprice has many moons to conquer. There is no one quite like Manisha.
Stay well, my lovely one.



Image Source: Instagram/m_koirala, spotboye archives