Happy Birthday Mummyji Actor-Writer-Director Shefali Shah: 'I Want To Do Varied Roles; I'll Play An Alien Happily'-WATCH EXCLUSIVE VIDEO
Shefali Shah talks about her recently released second directorial, short film Happy Birthday Mummyji, how she juggled three roles on it, her approach towards her characters and more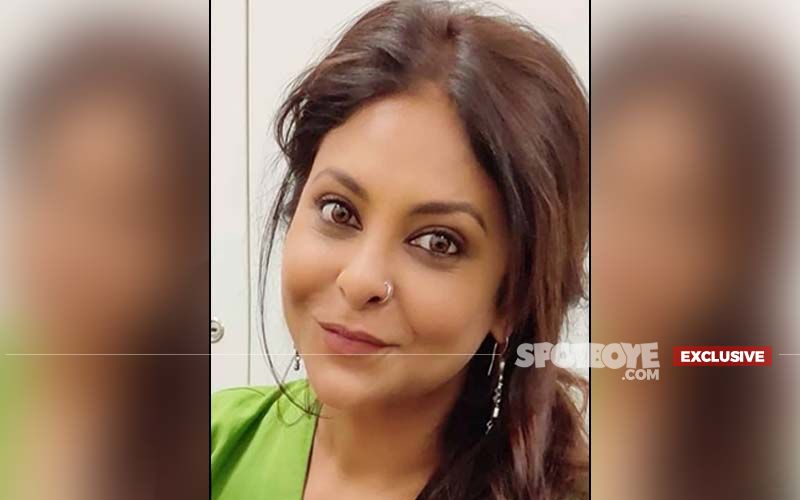 Shefali Shah is one of those versatile actors in the Hindi film industry who have shown their acting prowess in all possible capacities. This year, she even stepped into writing and direction as she released her first short film Someday. And just recently -- on July 23, she released her second directorial short film Happy Birthday Mummyji for Select Large Short Films platform. She also wrote and acted in the film.
In an exclusive conversation with Spotboye.com, the actress spoke about the idea behind the film, how she juggled three roles, her approach towards her onscreen characters and more. Excerpts from the interview:
Shefali, how did Happy Birthday Mummyji originate?
It's actually my story, as much as it is every woman's story that got highlighted during the lockdown. I am a working woman and at least have an escape to go to work, but a lot of women don't have that escape. All they do 24x7 is look after people, their home, children, husband, mother-in-law and others. At some point of time, everyone reaches a point where they just want to let go, and not just women but also men... When you just feel like you want to get rid of all responsibilities. That's where it came from.

My first film Someday and Happy Birthday Mummyji were both placed during the lockdown and one of the things that hit me the most during the lockdown was isolation, and both the films are based on that. But Happy Birthday Mummyji is a very different take on isolation. Normally, you look at it from a sad, depressing way but what if there was another way of looking at it? That's where this film comes in.
The beauty of short films is that they are open to interpretation of the viewers. Like what I got from the film is that it was about liberation. So, in real life too, did you look at the Covid induced lockdown from different perspectives?
I didn't have the chance of liberation or freedom during the lockdown as I was stuck in a full house. Initially, it was really sweet having the whole family together. But the honeymoon period doesn't last very long. So, after a point of time, it became too much as I had no help and was running the show all on my own, taking care of all these people who were in each other's faces and hair all the time. So, it was a little like I wanted a breather. I thought about what would be my dream fantasy and so, Happy Birthday Mummyji is my desire.

How was it juggling three roles on the set of Happy Birthday Mummyji?
Honestly, I did not focus on myself as an actor at all in this film. It was probably the first time I had done that. I was only focussed as a director. I even saw the shots through the eyes of a director. Did it work for the film? That is what mattered.

It's not easy because you lose time. You do a shot, check the monitor, make some tweaks then you go back to the shot, come back and check the monitor again and make some more tweaks. As an actor, I don't even check the monitor. The director or DOP will decide if I was right or wrong. If I realise, I am wrong, I just ask for another take. I never check the monitor as I find it a waste of time. But over here, I had no option but to do it.
The responsibility was so much and there was so much to do that I had no time to focus on what I was doing as a performer. Luckily for me, Suchi is my story. She is a counterpart of me and a lot of women, so it just came to me. It wasn't that difficult.
You have been an actor, a creative person for a long time. But how is this new-found love for writing and direction satiating your creative hunger?
I have been writing for quite some time. I have my blog and I write articles. I have written a couple of scripts and I have a manuscript ready too. So, I have been writing and I feel it is a fantastic creative outlet. It's like expressing whatever you feel, unabashedly, so I have been doing that.

As far as direction is concerned, I want to direct a feature. In fact, I want to direct my third short film but I don't have the time right now. Direction is addictive. Once you do it, you can't stop. You want to do it. It's your vision and you get a great team of people who walk with you, support you and just elevate your vision. To see it take form is really something special. So, I am really looking forward to getting the time to shoot my film.
Almost all your characters over the years have had one thing in common. They are always rooted in reality. Is it like a conscious choice for you to look out for such roles?
I don't search for such roles but I wouldn't know any other way of performing a part besides being completely honest, raw and make it emotional. I don't know any other way. For me, when someone says Shefali did that part well, it's not a compliment. When people say they identify with Manju or Suchi or they idolise Vartika or identify with the pain of Neelam Mehra, that is a compliment because they recognise me as my character. That cannot happen unless I feel and become the person.

Obviously, your personal experiences, understanding and perception of things seep in, but right now I have done the medical-thriller Humans, and it's a character I have never played, seen or even heard about. That is even the consensus all over in the team that we all have never seen or heard about a woman like that. That is completely out of the box for me, as me and that character have nothing in common. Even in Darlings, it's such a crazy, wicked and hilarious character but the soul is right. I want to do the most varied roles. I'll play an alien happily. That's the charm and exciting part of being an actor.
But throughout your career, did you ever want to do a full glam up role that we see in our commercial masala films?
I have never planned my career. Acting was never in my horizon, it just happened incidentally and then I started doing theatre, TV and films. I had thought of becoming an astronaut, doctor and air hostess, but acting was never in the plans. I never had a plan of action and I still don't. I did not have an agent or a manager and I did not approach people for work, it came to me. I have no hitch about playing glam roles and in Ajeeb Daastaans, I probably looked the most glamorous, the conventional Dharma heroine kind. But there has to be meat to such roles. I never saw myself doing something just because I want to be an accessory to it

Image Source: Instagram/shefalishahofficial