Happy Father's Day: Ranveer Singh, Anushka Sharma, Sara Ali Khan, Sanjay Dutt Have The Most Adorable Wishes For Their Dads
Ranveer Singh, Sonakshi Sinha, Sonam Kapoor, Anushka Sharma, Sanjay Dutt, Sara Ali Khan, Athiya Shetty, Soha Ali Khan, Akshara Hassan wished their dads "Happy Father's Day: with endearing posts on social media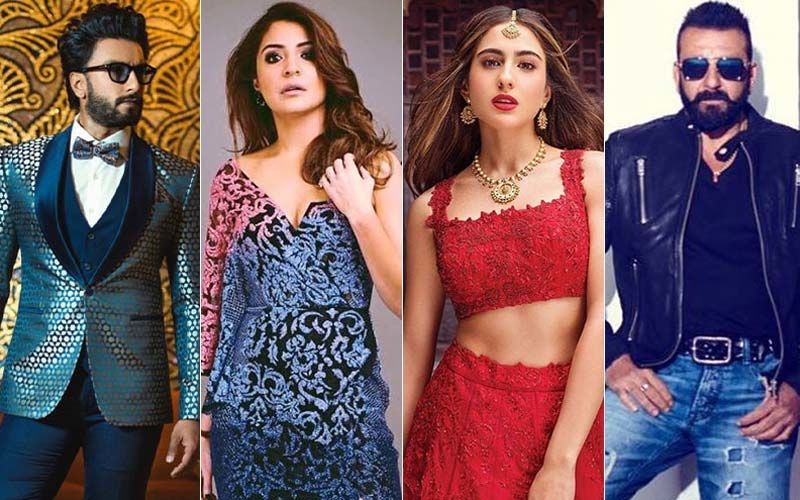 Bollywood Celebrities like Ranveer Singh, Sonakshi Sinha, Sonam Kapoor, Anushka Sharma, Sanjay Dutt, Sara Ali Khan, Athiya Shetty, Soha Ali Khan, Akshara Hassan Have The Most Adorable Wishes For Their Dads. These celebs took to their social media accounts to wish their Father's, a very Happy Father's Day, read below what the celebs have shared.
Ranveer Singh took to his Instagram to share a picture of his Father and wrote," well, now you Know .... 👨🏻‍🚀 #og #hypebeast#happyfathersday #iloveyoupapa".
By sharing a picture of her with father Shatrughan Sinha, actress Sonakshi Sinha wrote," Happy Fathers day to my handsome papa and all the other papas, dads, abbus, dadas, babas, bapus out there ❤️ @shatrughansinhaofficial".
Sonam Kapoor adorably shared her love towards both her Papa's, her post for Anil Kapoor was shared with a picture of Sonam's childhood with Anil," One day definitely isn't enough to celebrate how much you mean to me. Dad, you have always been my superhero.
Happy Father's Day!! Love you so much @anilskapoor ❤
#HappyFathersDay."
Sonam also shared a picture from her wedding with Anand Ahuja's father Harish Ahuja wishing him on Father's Day, where she wrote," To always spoiling me. Love you papa! Happy Father's Day to someone who has unending faith in me.. @priya.ahuja27#harishahuja".
Anushka Sharma sharing a cute picture with father with a Snap chat filter which beautifully wrote," From taking silly selfies like these to letting me make ponytails in your hair (while you still had them 😉) ... You are the coolest dad a girl can have and are THE best inspiration. Thank you for teaching me to always do the right thing no matter how hard it is or what the consequences may be... Love you Papa ❤️ #MyHeroForever".
Sanjay Dutt celebrates Father's Day on Instagram, where his post read," Grateful & proud to be blessed with these beautiful children who give my life so much meaning & purpose ♥ Everyday I try to be as good a father to them as my Dad was to me! #ProudDad #FathersDay".
Sara Ali Khan wished her dearest Abba Saif with pictures of the actor and her from her childhood bonding with each other, the post read," Happy Fathers' Day Abba ❤️🧸🤗👨‍👧🐥🐣🥇 Thank you for always being here for me, for being my partner on nerdy holidays, for teaching me how to read, for showing me my first rain and snow, for teaching me how to eat spaghetti and all the while remaining patient, loving and compassionate! #likefatherlikedaughter #daddysgirl#mymainman #handsomestman#partnerincrime".
Athiya Shetty shared a picture with Sunil Shetty ,the caption read,"twenty six years later and you still haven't failed to amuse me, spoil me & make me laugh most. thank you, for encouraging me to reach the stars while reminding me to keep my feet firmly on the ground. i love you papa, i'm so proud to be your baby girl for the rest of eternity. 🖤 #happyfathersday".
Soha Ali Khan wishes hubby Kunal Khemu on behalf of daughter by sharing a video of them both, her post wrote ,"The wind beneath my wings ❤️#happyfathersday@khemster2".
Kamal Hassan's daughter Akshara also posted a childhood picture with her father, her post read ,"Happiest father's day to my coolest , inspiring, extremely intelligent, kind, versaitile amazing father. A man who has taught me firstly to be a good person, bravery, strength, honesty, to be curious and so much more. Proud to be your daughter Bapuji. @ikamalhaasan".
The celebs shared all their love towards their Father's and celebrated Father's Day.
Image source: Instagram/aksharaa.haasan/sakpataudi/athiyashetty/saraalikhan95/duttsanjay/sonamkapoor/aslisona/ranveersingh/
anushkasharma