Has Amitabh Bachchan's Twitter Account Been Hacked By A BIGG BOSS Fan? What's happening?
From Bigg Boss contestants to their random fan pages, Amitabh Bachchan is now following a lot of accounts of social media. Now we aren't saying Big B couldn't be a fan of the show, but it seems quite strange to us. Has his account been hacked?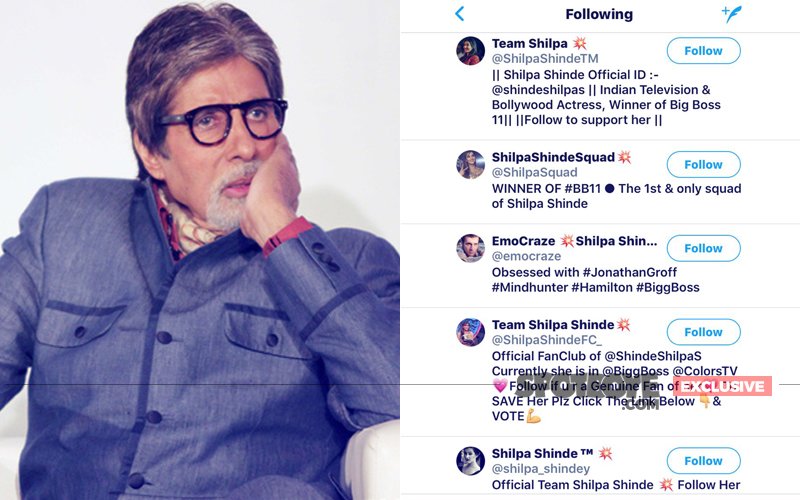 Amitabh Bachchan's tweets since yesterday have been making people all over go crazy with doubt.
T 2599 - TWITTER ..!!!?? you reduced my number of followers .. !!??HAHAHAHAHAHAHA .. !! thats a joke .. time to get off from you .. thank you for the ride .. 😠😠😠 .. there are many 'other' fish in the sea - and a lot more exciting !! pic.twitter.com/85c15pDif4

— Amitabh Bachchan (@SrBachchan) January 31, 2018
Later, there was his tweet talking about how social media is a delight.
HAHAHAHAHAHAHAHAHAHAHAHAHAHAHAHAHAHAHAHAHAHAHAHAHAHAHAHA ...social media - you are a delight !! Following Followers & Tweets - you are a delight .. who to follow, you are a delight .. India Trends - you are delight ..
Each human in World a delight .. coz' we are all TWITTERED pic.twitter.com/pvpeFiPfPY

— Amitabh Bachchan (@SrBachchan) February 2, 2018
These tweets seemed to be quite off from what Big B generally is known for. However, we didn't pay heed to the same after this.
Until, TV star Kanchi Singh posted on her Twitter that she was being followed by Amitabh. She was surprised as hell.

Someone pinch me ryt away! @SrBachchan sir following me🙈 don't think it's true though!May be his acnt is hacked i guess! Desperate to know

— Kanchi Singh (@SinghKanchiii) February 2, 2018
Now, we aren't saying that Kanchi could not have been followed by the superstar, but when we checked Big B's followers list we were shocked to bits.
Amitabh is following every TV star connected to Bigg Boss in the past two seasons – Rohan Mehra, Hina Khan, Shilpa Shinde.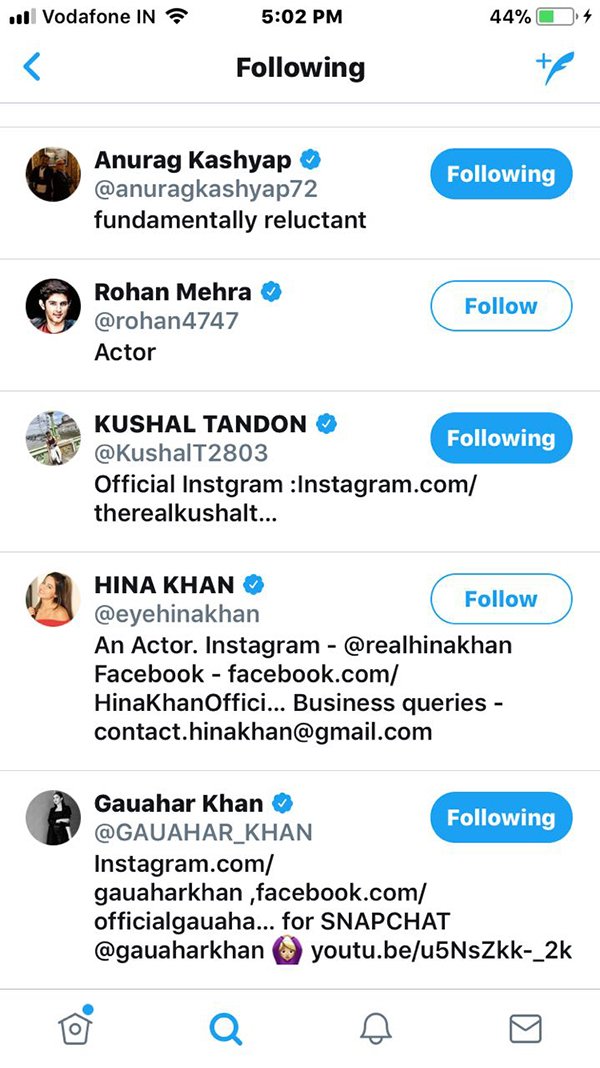 Amitabh Bachchan Follows Priyank Sharma, Benafsha, Kanchi Singh
We could still agree that this was possible, as these TV stars are quite popular in their respective fields.
But what we can't fathom is why would Amitabh be following their random fan pages which don't even have more than a 1000 followers.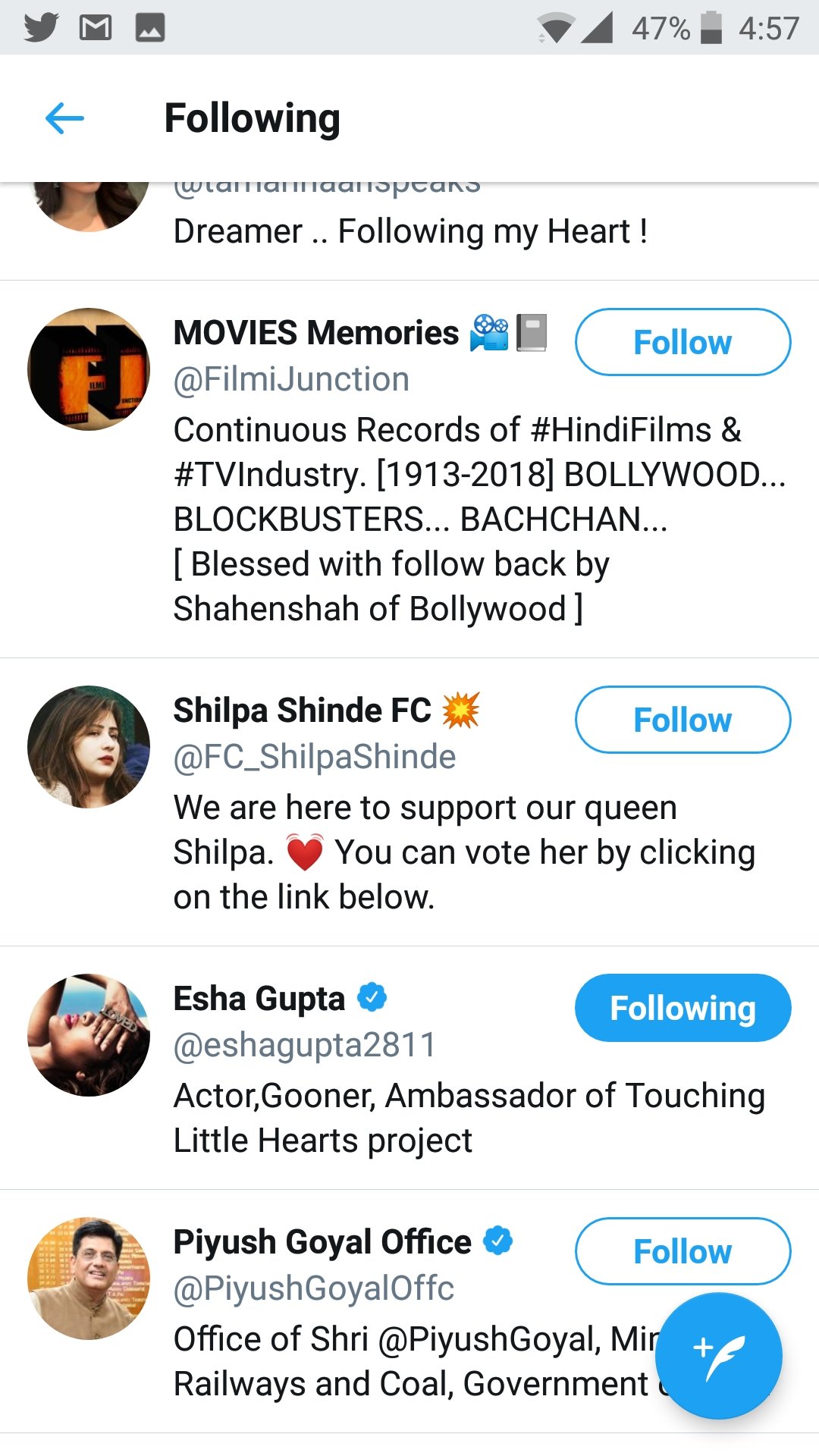 Yes, you read that right! Amitabh is following fan pages of Shilpa Shinde, Hina Khan and others, which is not just strange but alarming at the same time!! We all know how particular Big B is about his social media presence, and thus we find it quite odd that he is following such random fan pages.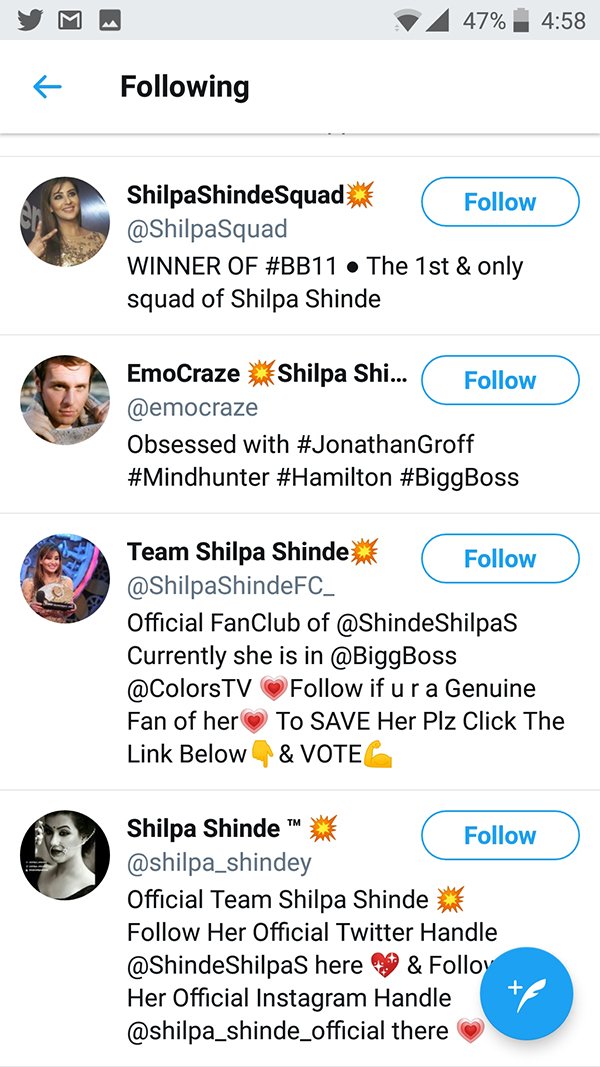 As all the random fan pages and TV celebs being followed are related to Bigg Boss in some way or the other, we think Big B's account might have been hacked by a serious fan of the reality TV show.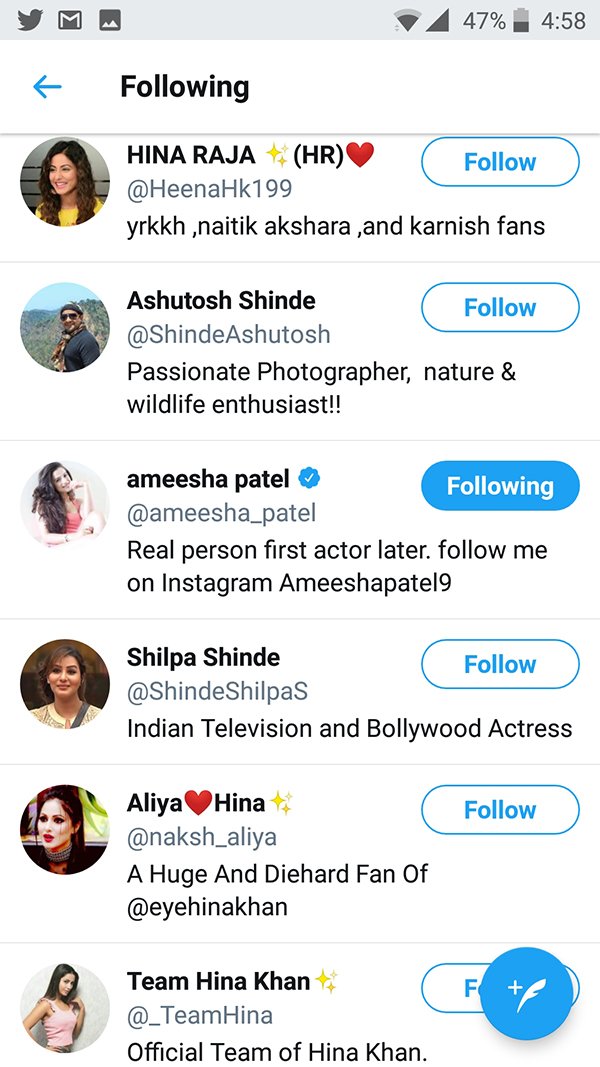 Another thing which is possible is that Big B is still in the dark about this whole happening, and is merrily going on in life.
Let's wait and watch what he has to say on this matter. We think he will. And soon!
Image Source: instagram/srbachchanfans