Here's Why Katrina Kaif & Anushka Sharma Are Thanking Priyanka Chopra...
Social media has definitely brought the world closer. Katrina Kaif and Anushka Sharma have expressed their gratitude to Priyanka Chopra for sharing a video where their fans have sent lots of love for them all the way from Jordan...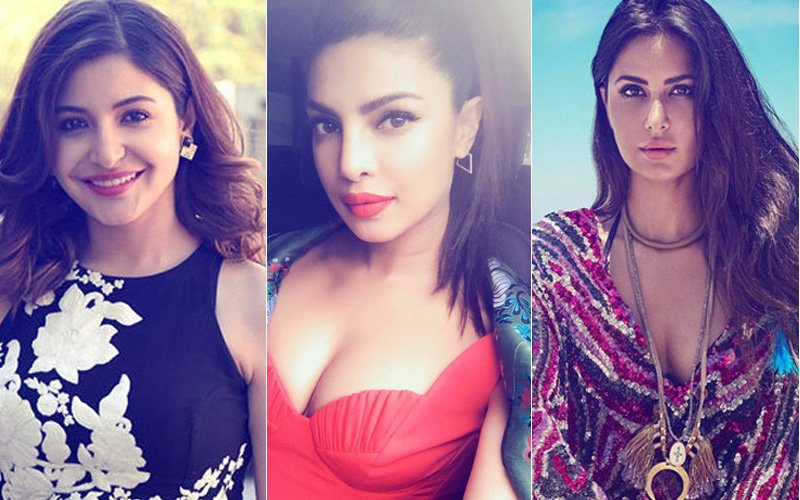 Priyanka Chopra who is currently in Jordan shared an emotional post saying that the kids, who have been uprooted in the Syrian crisis, love Hindi cinema and its actors. Thus, she is dedicated a post for the stars of Bollywood.

Giving a shout out to Katrina Kaif and Anushka Sharma, she wrote, "This is a special shout out to one of Indias biggest movie stars. @katrinakaif this video is just for you, all the way from Za'atari Refugee camp in Jordan.This is Wafaa, one of your biggest fans and her message roughly translated is "I love Katrina Kaif a lot and I am one of her fans. I have watched all her movies and never missed one, even if a movie is played more than once I watch it. I love you Katrina and love your beauty."


To this Katrina replied saying, "Thank you Priyanka for his video and the wonderful work u doing there...PL send all my love to Wafaa and give her the biggest hug from me, this was very special. I hope I get to visit there one day soon."

PeeCee in response said, "@katrinakaif I don't see myself seeing her again until I go back again but u truly brought so much joy to her and a lot of girls. It was lovely to see. I was very proud. Hope you are well... ."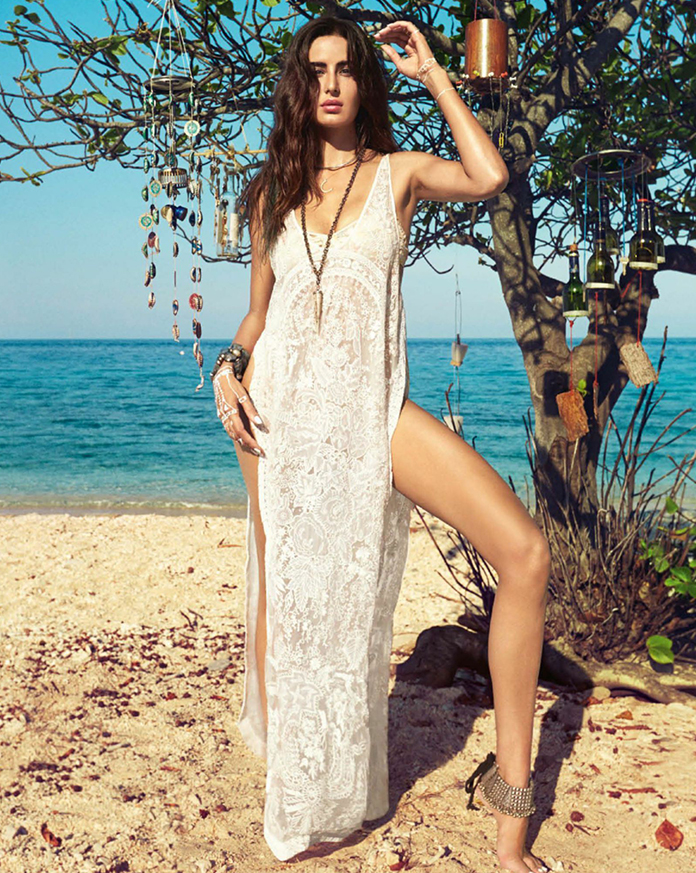 Katrina Kaif Poses For A Photo Shoot

Anushka Sharma also expressed her love and said, "This is such a sweet message all the way from Za'atari. Thanks @priyankachopra for sharing this."

Priyanka replied back, "@anushkasharma they loveeeee you there..especially the boys. I wish I spoke Arabic I would have been able to tell you exactly. But I got a lot of messages of hugs for you."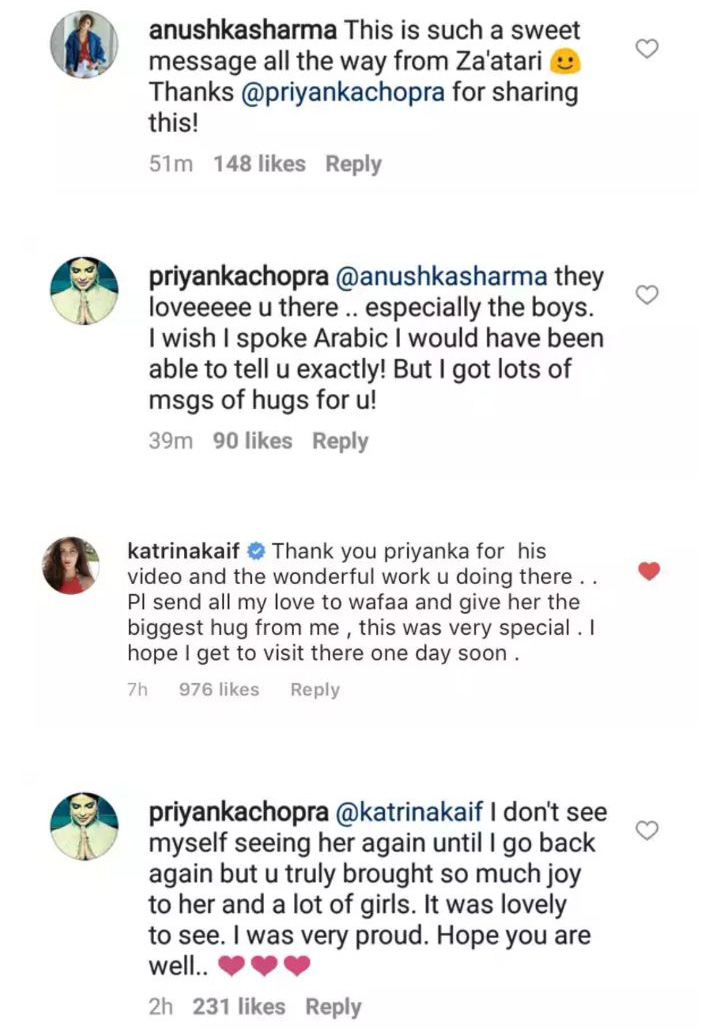 Anushka Sharma And Katrina Kaif Thank Priyanka Chopra

Just yesterday we told you how Priyanka also mentioned her exes - Shah Rukh Khan and Akshay Kumar in a shout out post.Priyanka has never taken their names in years and this definitely was a surprise.

Priyanka is spending as much time as possible interacting with kids and their families.The actress keeps fans updated about her whereabouts through her social media accounts.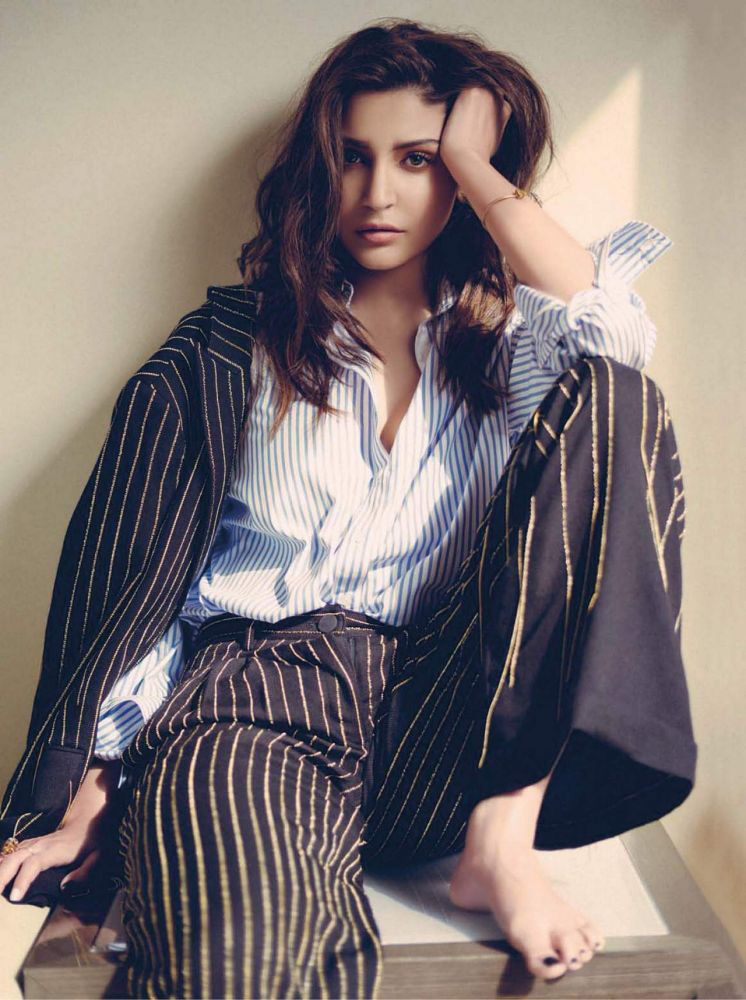 Anushka Sharma Poses For A Photoshoot


Image Source: songbaad, bblunt,reddit,hiamag & imgrum