Himansh Kohli On Wafa Na Raas Aayee Co-star Arushi Nishank: 'I Have Had People Calling Me, Saying Bahut Galat Kar Diya Usne Tere Saath'-EXCLUSIVE VIDEO
Himansh Kohli and Arushi Nishank, who recently featured together in the music video of Wafa Na Raas Aayee, get candid about their experience of shooting the song, their chemistry and the feeling of unrequited love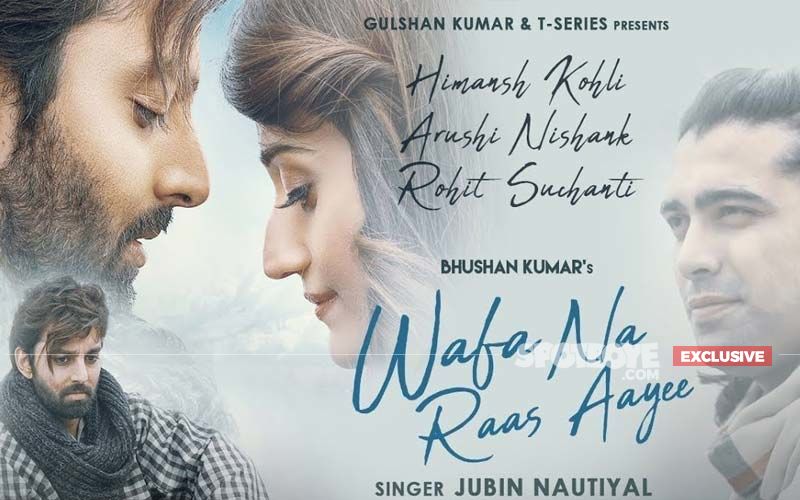 Recently, Himansh Kohli, Arushi Nishank and Rohit Suchanti featured in a beautiful track about unrequited love, Wafa Na Raas Aayee, crooned by the ever so melodious Jubin Nautiyal and the song is still trending on YouTube. In an exclusive conversation with Spotboye.com, Himansh and Arushi get candid about their experience of shooting the song, their chemistry and the feeling of unrequited love. Read excerpts from the interview:
How has the reception to the song been?
Arushi: We have been overwhelmed with the love that the song has been getting. I firstly want to thank all the fans, viewers and everyone who have showered love on us and we want more and more of it. The song is trending on YouTube, so the response has been wonderful.
Himansh: Our DOP Vishal Sinha and our director Ashish Panda have done some amazing job which is proven by just looking at the visuals of the song. Every member of the team has contributed to the song's success. People worldwide have been sharing the song and relating to its plot as the pain and the heartache has been a part of their lives as well.
Your chemistry with each other is one of the USPs of the song. While Himansh is used to it considering he has been in the industry for quite a while, it's your first project Arushi. How did you develop that chemistry?
Arushi: It's a big challenge for someone coming on TV for the first time and for me it was double challenging as I had to romance two guys on screen, one on screen husband and one onscreen lover. Me and Himansh had met once before. We had a trial shoot in Mumbai and we saw each other for a few minutes. There were certain apprehensions going in my mind since I wasn't from this industry. But I feel that it is always a big role of the co-actor, especially when it comes to females, that the male co-actor makes them feel comfortable. And my co-actors have been very gentle to me. Even in a few scenes where Himansh had to hold me rather tightly, he would keep saying sorry and these small gestures made me feel more comfortable. And for me, since I was just starting out, it really meant a lot.
Himansh: It happens with a lot of people that they are perceived differently by their work. I personally feel Arushi is very different from her character on screen. She is a really nice and warm person. When you meet her, you can see the values of her family. She takes some time to open up with a person, but once she does, she is amazing. It's so good that she got to play a character completely different from her in real life, that too in her debut. I started with a show Humse Hai Life, and there, my character was half fictional and half Himansh, that's why it turned out the way it did and people still recall that. I feel proud of the clarity Arushi has towards her work. There were times when I felt bad for her because it was -17 degree Celsius outside and while, as a guy, it is easy to wear a jacket, do lip sync and throw snow at the girl, for her it was so difficult as she was wearing such thin layers with little to no safeguard from the cold weather. Hats off to her for how confidently she has killed in the project, that too in her debut. I have had people calling me saying bahut galat kar diya usne tere saath, that's how convincing she was.
Music videos create on screen couples quite a few times, will this be one of those times?
Himansh: There is a scope of opportunity everywhere and this is the best possible way to show producers that they can bank on actors by seeing how people are loving them. So, Arushi, we should consider this next.
Arushi: This is the second or third time I am hearing about this and it has definitely something to do with the project. So, we should definitely talk to Bhushan ji now.
Himansh, you started your film career with Bhushan Kumar's T series in Yaariyan, now you are working with them in music videos. Does it feel like life has come a full circle for you?
Himansh: I am fortunate that Bhushan ji believes in me and keeps giving me such projects like Wafa Na Raas Aayee or the one before this, Main Jis Din Bhula Dun. All the work given by him to me is due to his faith in me as an actor and that's how he has been supporting me. It has been a good circle as it is not just about giving a project, but a good project keeping in mind the potential of an actor. Bhushan ji could have easily offered this video to anyone else and there is so much competition in this industry that the work keeps on shuffling. It has happened to me too. But there has to be that one person in that project to have that faith in you. Bhushan ji, our director Ashish and the rest of the team had that faith in me. They didn't even ask me if I wanted to do this music video, they just told me that we are going to Kashmir to shoot for this. I keep meeting them whenever I have time and we share a great rapport. It just feels good to see their faith in me as music videos are usually too lovey dovey and rarely a director attempts such a complex plot and they trusted me with it and could see me worthy of playing this character. Very few directors attempt such plots as it is difficult to make the audience emotional and hit them hard at the end of a music video. A salute to the whole team for attempting such a project.
Arushi, you are a trained classical dancer, do you plan to showcase that talent in some of your future work?
Arushi: Yeah, why not. That is the plan. It is indeed an upgrade for an artist to go on TV and movies and show your talent. I am currently doing a music video where we have planned some dance moves. In Kathak, there are special spins we take, so I am trying to take 100 turns with 300 ghungroos. But I also want to learn more and see all those areas that I haven't tried before. It's going to be exciting. I would love to take my craft and art at the next level but at the same time I also want to learn new things.
What are the projects that you have lined up in the near future?
Himansh: There is this film that was already announced last year. I was supposed to start shooting for it in Uttarakhand, but with the pandemic it has been on halt. With the current condition, it is not easy to shoot anywhere right now and even I won't ask any producer to do it in this situation.
Arushi: This song is doing miracles for us. We had some work before but after this song, people are showing more faith in us to try something new. I have one film announced with T Series, Tani, which is about six women Naval Officers and we intend to show woman empowerment in that. I have also signed on for a Hotstar show, a music video and a few more films but I will announce it in due time. As an actor, I would not like to believe in quantity but quality because I want to do some concrete subjects and content. I don't know how the audience would see me in different roles but I want to be remembered for my work and not any other aspect.
Your video of Wafa Na Raas Aayee, shows a story of unrequited love. Have you ever been in an unrequited love story before yourself?
Himansh: Any actor should be able to feel what their character is going through and they could totally give their 100 per cent only if they have experienced it personally. It's a different take if you have heard a story about someone else. Your personal experience provides a depth when you express it. It's very technical as artists when you think about your approach towards your character and how you execute it.
Arushi: Talking about what happened with the characters in this song, we have all been through that lane personally. While some experiences have been very intense, sometimes they are innocent like falling in love with your teacher or a film star. But I always say that it's the biggest sorrow of life when you love someone and they don't love you back. In this song, we have shown that love and it reminds us of those feelings that we have gone through in our life, be it betrayal or the innocence. We will all connect to it.
Himansh: In the end, these are all stories and people will connect to these emotions once they have gone through them. There is a good side, a bad side and also a scarred grey side that some people are able to get over while some are not. The song is touching everyone because there is an incompleteness in everyone's heart in some way and it appeals to that. I feel our director has the most pain in his heart as he woke this pain in our hearts too. It is a beautiful track for all those broken hearts and should be in every music lover's playlist.





Image source: fabentertain
They say the best things in life are free! India's favourite music channels 9XM, 9X Jalwa, 9X Jhakaas & 9X Tashan are available Free-To-Air. Make a request for these channels from your Cable, DTH or HITS operator.