Holi 2021: COVID-19 Wali Holi for Kartik Aaryan, Manoj Bajpayee, Aamir Khan, Vikrant Massey, R Madhavan, Milind Soman, Rohit Saraf And Paresh Rawal
While the rest of the industry is having quite the celebration with their families , Kartik Aaryan, Manoj Bajpayee, Aamir Khan, Vikrant Massey, R Madhavan, Milind Soman, Rohit Saraf and Paresh Rawal are battling Covid head on, on this colourful day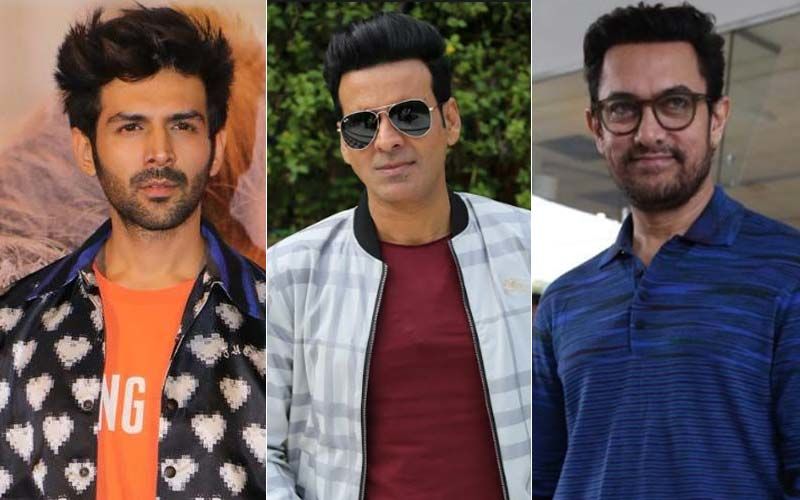 Holi in 2020 marked the last festival that the whole country celebrated together with much fervour amidst the company of loved ones and friends. And Bollywood wasn't far behind. Keeping up with the long running tradition of star-studded Holi parties, last year it was Isha Ambani that hosted a party to remember. With guest list comprising of Priyanka Chopra Jonas-Nick Jonas, Katrina Kaif, Vicky Kaushal, Rajkummar Rao and Jacqueline Fernandez, among others, it was Bollywood's last hurrah. That time, no one could have guessed that the same festival next year would be such a quite affair, that too amidst a surge in Covid-19 cases.
With rising cases amidst the industry as well, there are some actors like Siddhant Chaturvedi and Tara Sutaria, who got well just in the nick of time to celebrate Holi with their respective families at least, but here are some of our leading stars who are still battling Covid on this colourful day.
Kartik Aaryan
Kartik was one of the last actors to resume work after the Covid-induced lockdown as sources had said that he didn't want to risk the safety of his crew. Throughout the lockdown, the actor was adamant in following all protocols, with not even stepping out of his home. After resuming work in December, he completed Ram Madhvani's Dhamaka and was shooting for Bhool Bhulaiyaa 2 this month. However, one week ago, the actor announced to his fans on Instagram that he tested Covid positive. But going by his Insta game, seems like the actor hasn't let the virus affect his colourful sense of humour.
Manoj Bajpayee
Last year at this time, Manoj was isolated in Uttarakhand with his family, trying to stay away from the virus. However, he couldn't have imagined that just one year later, he would be battling it. Although, even in these worrying times, the actor got some good news with his third National Award win. He even promoted his latest release Silence… Can You Hear It? while in quarantine. So, all in all, not a bad Holi for the actor.
Vikrant Massey
Vikrant is the latest actor to join the list as just yesterday, he took to Instagram to announce that he has tested Covid positive, even after taking all necessary precautions. The actor is currently in self-quarantine and seems like it will be a lonely Holi for Vikrant.
Rohit Saraf
With his stint in Ludo and Mismatched in November 2020, Rohit became the heartthrob of the nation. But seems like all the love and wishes weren't enough to protect the young actor from the virus, who on March 24 announced that he tested Covid positive. While his latest post might be in black and white, we just hope that the actor recovers soon and all the colours come back along with his lovely smile.
Aamir Khan
Aamir has been hard at work to complete the work on his next release, Laal Singh Chadha. However, Covid played spoilsport as Aamir's team released a statement informing that the actor is down with Covid. While the actor was able to win over Virus in his film 3 Idiots, we hope the same to happen soon in real life too.
R Madhavan
Seems like the bond of Rancho and Farhan goes way beyond screen and in real life as well since within a few days of Aamir testing Covid positive, it was Madhavan who caught the virus. Recognising the humour in the situation, Madhavan pointed out that this is something they don't want Raju aka Sharman Joshi to follow them too. This Holi all we can say is "All is well".
Milind Soman
Milind is the prime example that the Covid virus can affect even the healthiest and fittest of human beings too. While the actor's hair game is on point even in quarantine, we just wish that next year's Holi turns out way better for the actor.
Paresh Rawal
Paresh became the first actor in Bollywood to catch the virus after getting the first dose of vaccination. The actor is currently quarantining at home and hopefully will be back to his colourful life in no time.

Image source: SpotboyEarchives