Hrithik Roshan's legal counsel, Mahesh Jethmalani, had filed a police complaint on his superstar client's behalf to the Joint Commissioner of Crime Department, Mumbai Police in April this year. The complaint has now been made public by the news channel Republic which reports that Hrithik has deposited all his phones and laptops with the police too.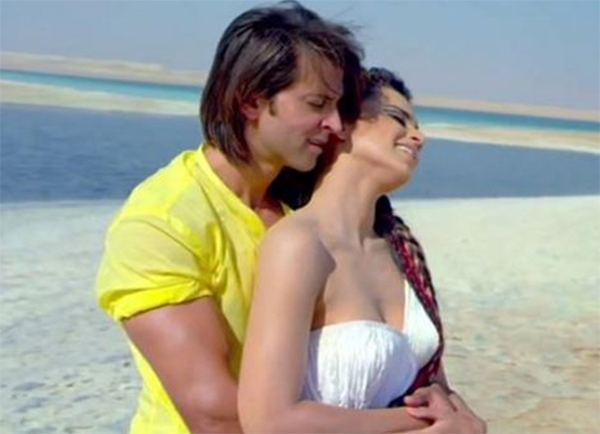 Hrithik Roshan & Kangana Ranaut

In the complaint
Hrithik
alleges that
Kangana
"stalked" him and he was "repulsed" but out of decency ignored "sexually explicit" emails she sent him.
We are reproducing the contents of the complaint here:

Date: April 8, 2017
To,
Cyber Crime Cell,
Bandra Kurla Complex Road,
Opposite ICICI Bank,
Bandra East, Mumbai - 400051
Dear Sir/Madam,
Sub: Letter to put on record facts pertaining to illicit conduct of Ms. Kangana Ranaut vis-a-vis Mr Hrithik Roshan.
We are concerned for Our Client - Mr. Hrithik Roshan residing at (-------------------address in Mumbai------------------) aged 42 years, and would request you to kindly take on record the facts pertaining to the illicit and objectionable conduct of Ms. Kangana Ranaut (he-reinafter referred to as "Ms. Ranaut") aged 29 years, residing at (--------------------address in Mumbai---------------). The untoward conduct of Ms. Ranaut has caused immense damage to the reputation of Our Client and in the interest of justice we request you to kindly take note of the facts and circumstances as set out hereinafter.
-> In January 2009, Our Client was introduced for the very first time to Ms. Ranaut on the sets of the movie "Kites". Our Client had no association whatsoever with Ms. Ranaut prior to this introduction. During the production and promotion of the said movie the relationship between Our Client and Ms. Ranaut was strictly professional. The said movie was released on 21st May 2010.
-> In January 2011, Our Client invited Ms. Ranaut to attend his birthday party out of professional courtesy. The party was attended by approximately 100 people who were from the film fraternity and also other friends of Our Client.
-> Sometime at the end of 2011, Our Client and Ms. Ranaut signed an agreement for the lead male and female roles respectively for a movie titled 'Krrish 3'. The production of said movie commenced in December 2011 and on completion, the movie was released on 1st November 2013. Throughout the period of production and release of the said movie, viz. "Krrish 3" the relationship between Our Client and Ms. Ranaut was strictly professional.
-> In January 2012, Our Client hosted a party to celebrate his elder sister's birthday; an invitation was extended to Ms. Ranaut purely out of professional courtesy and many members of the film fraternity were invited to the celebration.
-> In March 2013, our Client along with his family was invited by Ms. Ranaut to attend her birthday party. Our Client, along with his wife, sister, parents and several other guests from the film fraternity attended the said party.
-> Lastly in September 2013, a birthday celebration was held for Our Client's father Mr. Rakesh Roshan. The birthday celebration was coupled with the launch of a book titled "To Dad, with Love". Ms. Ranaut was among over a hundred invitees from the film world and she attended the said function.
In sum, during the period January 2009 to September 2013, Our Client's contact with Ms. Ranaut was restricted to the production of the said films and the celebratory occasions mentioned hereinabove.
-> Thereafter, Our Client had no contact with Ms. Ranaut for a period of almost one and a half years, Our Client met Ms. Ranaut at the well known producer Mr. Karan Johar's birthday party. Our client congratulated Ms. Ranaut on her success for the movie "Queen", which Our Client had not seen at that time, but whose rave reviews he had heard and read about. Our Client informed her of the same, and also expressed his desire to watch the film as soon as possible. Ms. Ranaut displayed apparent surprise at this comment and contradicted Our Client by saying that he had already seen the movie and infact praised her performance in it in an email of that very day. On this statement, it was Our Client's turn to be taken aback as he had not sent any such email either on that date or any date prior thereto and he intimated this fact to Ms. Ranaut. Ms. Ranaut on her part repeatedly asserted that such an email had been sent and on Our Client's dissent, abruptly turned and walked away from Our CLient. Our Client was bemused by the exchange. However, Ms. Ranaut looked perturbed and out of sheet concern he pursued her and inquired if all was well with her. Strangely, his concern evoked no response from Ms. Ranaut and Our Client let the matter rest there; surmising that Ms. Ranaut had perhaps made an error of identity on the issue of the email.
-> The very next day i.e. 25th May 2014, Our Client woke up to a series of abusive text messages (in Hindi) sent between 2 A.M. and 4 A.M.from Ms Ranaut's number on his mobile number (----Number----). Our Client was understandably horrified at the tone and tenor of the said text messages.
At around 3:30 P.M., on the same day Our Client received an email from Ms. Ranaut's sister, Rangoli on his email id - hroshan@mac.com. It is pertinent to note here that the said email was addressed to an email bearing id - hroshan@email.com and was marked to our Client's id - hroshan@mac.com. In this email, not only did she (Ms. Rangoli) accuse Our Client of having a relationship with her sister but also of hacking into Ms. Ranaut's account and forcing her to take pictures and videos of herself. At the same time, she referred to the barrage of abusive text messages sent by Ms. Ranaut and asked for forgiveness on account of her sister's childishness. She also enclosed a copy of an email that was allegedly sent by Our Client to Ms. Ranaut on 5th May 2014 (this is an email from id hrosha@email.com).
Our Client had not noticed at that time that the attached email dated 5th May 2014, was not from his email id. At around 3:57 PM, he replied to Ms. Rangoli's email, and categorically stated that he had no idea about what Ms. Rangoli was referring to and even requested her to come and meet him in order to sort out the issue.
At around 4.07 P.M., Ms. Rangoli replied to this email and said that they were incredibly stressed as they now believed that Ms. Ranaut had been communicating with an imposter for the past 6 months and also that Ms. Ranaut's account was hacked. She further stated that a joint complaint should be filed, as Our Client's name would inevitably be dragged into the matter.
-> After receiving the said email from Ms. Rangoli, Our Client forwarded these emails to his manager Mr. Afsar and explained the bizarre situation to him. Mr. Afsar was quick to notice that it was not Our Clients email account from which the email dated 5th May 2014, had been received by Ms. Kangana Ranaut. Thus, at around 4.20 PM, Our Client sent an email to Ms. Rangoli Ranaut conveying the same fact and informed her that his correct email id was hroshan@mac.com
-> Our Client then approached his IT staff member one Mr. Lamba with the help of Mr. Afsar and the Cyber Cell Department, proceeded to work out how best to go about the issue. He was advised to not communicate via his genuine email account viz. hroahsn@mac.com, in case there was a hacker and to get in touch with Ms. Ranaut and inform her that the impostor could be caught using the original emails received/sent on/from her laptop. Our Client immediately sent a text message to Ms. Ranaut and informed her about the advice of the Cyber Cell and further requested her to submit her laptop and phone to the Cyber Sell.
-> Our Client then received a surprising email from Ms. Rangoli Ranaut, accusing him of "emotionally and psychologically raping" Ms. Ranaut. Our Client, out of sheer concern for his colleague, had done his best in order to help the situation. Not only had he offered to personally meet and discuss the matter, but also contacted the Cyber Cell for advice. On receiving such an absurd and misconceived email, replete with false allegations, Our Client decided that it was not worth his while to deal with such an unreasonable person and decided to ignore the entire issue.
-> Our Client received the last email from Ms. Rangoli Ranaut on 26th May 2014. In this email she stated that she had no idea od the situation at hand. She also stated that Ms. Kangana had refused to speak to her and would not allow Ms. Rangoli to meet her, inspite of her illness. She further stated that Ms. Ranaut was upset with her because of the emails she had addressed to Our Client and also described her sister's behaviour to be erratic- sometimes that of a 50-year-old and sometimes of a 5-year-old. Moreover she stated that even in the past few years of Our Clients professional association with Ms. Ranaut, during which Ms. Ranaut seems to have harbored an obsession over Our CLient, she knew that as far as Our Client was concerned his relation with Ms. Ranaut was strictly professional. Finally, she stated that she wished to put an end to the matter and on that note, Our Client decided to close the entire unfortunate episode.


After we went online with the news, Kangana Ranaut's lawyer Rizwan Siddiquee sent us a message which read: "It is quite surprising to note that an electronic news channel is trying to create a media feeding frenzy, concerning an old police complaint which was filed by Mr. Hrithik Roshan sometime early in the year 2016, to miserably create a fresh story and get TRP's for their channel.

Be as it may, I want to clarify to other electronic media channels and other print publications that the said old police complaint concerning an imposter which was filed by Mr. Hrithik Roshan has been dealt with by my client, as per the legal procedure provided.

Also all others should not get confused by the random and out of context questions that may be miserably raised by the channel for obvious reasons. All answers to the questions are available on public platform since early 2016 and it is not prudent on the part of my client to repeat the same things all over again.

If Mr. Hrithik really wants to clear his name then he has to simply answer the questions which were publicly put to him at that stage. The said unanswered questions are also available on public domain since April 2016."


Image Source: twitter/rangoli_chandel & hdpics