It's been 4 years since Hrithik Roshan and Sussanne Khan parted ways but they continue to be each other's source of strength.
They are perfect parents for their sons --Hrehaan and Hridaan
and the family is often spotted together in the city and also takes vacations, pictures of which talk about their enriching experiences. Now, the superstar has shared a heartfelt post for his ex-wife and best friend which talks about how two people can remain 'undivided' despite being desiring different things in life.
Alongside a few holiday pictures which has Sussanne capturing the boys, he wrote, "Here is Sussanne , my closest friend ( also my ex wife) capturing a moment with me and our boys. A moment in itself.
It tells a story to our kids. That in a world separated by lines and ideas, it is still possible to be united. And that you can want different things as people and yet stay undivided. Here's to a more united, tolerant, brave, open and loving world. It all starts at home. #beOpen #bebrave #artoflove #tolerance#courage #abundance#loveisgreaterthanfear # explorersforever #childrenarethefuture # harmony."
After reading the sensitive post from ex-husband, Sussanne replied saying, "This is Us... always and beyond forever." Earlier this month, Sanjay Khan had spoken to Hindustan Times about how Hrithik and Sussanne have never let their separation impact the kids. He had said, "Divorce is a very heartbreaking exercise. I have never asked my daughter [Sussanne] the reason for her parting [with her husband Hrithik Roshan]. I love Hrithik still and I love my daughter. They must have their reasons. Fine. But the good part is, they're still very good friends. And the children don't feel the negative impact of their separation because of the combined efforts of both to keep it working. They holiday together, they take care of the children from time to time, babysitting and stuff."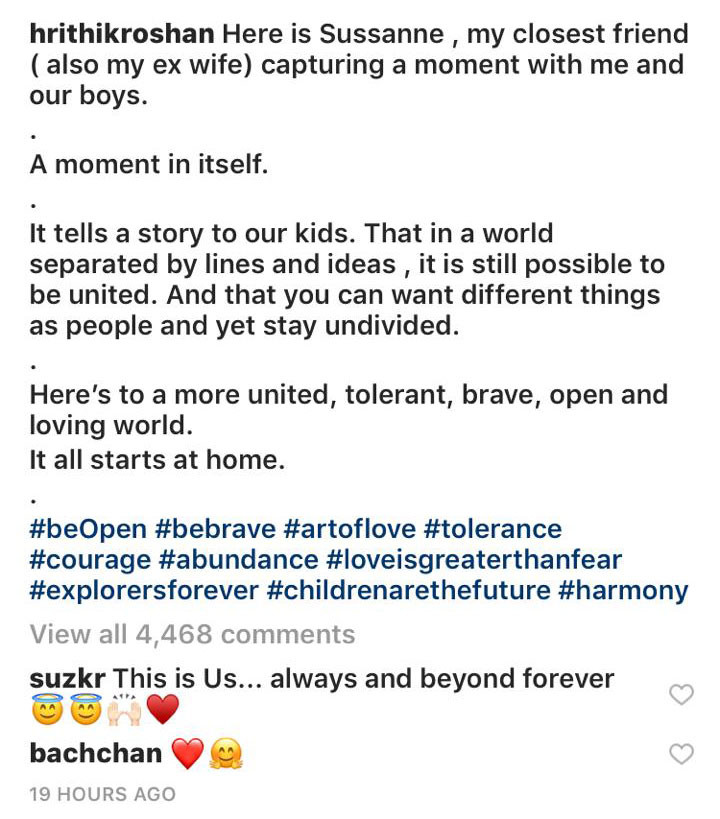 He had added, "When people say that Hrithik is no longer my son-in-law, I say I have a relationship with him: he is the father of my grandchildren, and that can never be erased! So umm. I still hope they get back together. Umm That's it!"


Image Source: instagram/sussannehrithik & instagram/hrithikroshan