IN PICS: Priyanka Chopra Shoots With Liam Hemsworth For Isn't It Romantic?
Priyanka Chopra is back in the United States and has resumed work on her Hollywood movie, Isn't It Romantic? Check out a few pictures from the sets as she shoots with Rebel Wilson, Adam Devine and Liam Hemsworth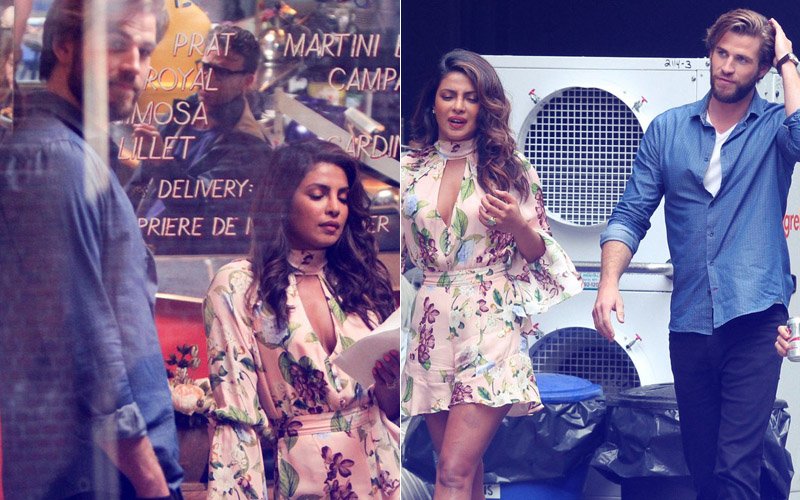 Priyanka Chopra,
who recently celebrated her birthday in India, is back in USA to resume work. We stumbled upon some pictures from the sets of her upcoming flick, Isn't It Romantic, where she is seen with Liam Hemsworth:
While Priyanka looks gorgeous in Nicholas's Evie floral fell sleeve dress, Liam Hemsworth is slaying it in a denim shirt & a white tee with black jeans

Isn't It Romantic is a topsy-turvy love and laughs rom-com made under the direction of Todd Strauss-Schulson, production of New Line Cinema and it will be distributed by Hollywood's biggest studio Warner Brothers.

Coming to the plot of the film, it revolves around a New York city based architect Natalie (Rebel Wilson), who works hard to get noticed at her job, but is more likely to be asked to deliver coffee and bagels than to design the city's next skyscraper. And if things weren't bad enough, Natalie, a lifelong cynic when it comes to love, has an encounter with a mugger that renders her unconscious, waking to discover that her life has suddenly become her worst nightmare—a romantic comedy—and she is the leading lady.
Principal photography has begun on the film earlier this month in and around New York city.
Thumbnail Image Source: twitter/ibhupendra