INSIDE Kangana Ranaut's Sister Rangoli Chandel's Home In Kullu; Actress Helped Her Give Her 'Dream Home' Final Touches
Rangoli Chandel took to her Instagram account to share the glimpse of her new beautiful house for which sister Kangana Ranaut is helping her to set the final touches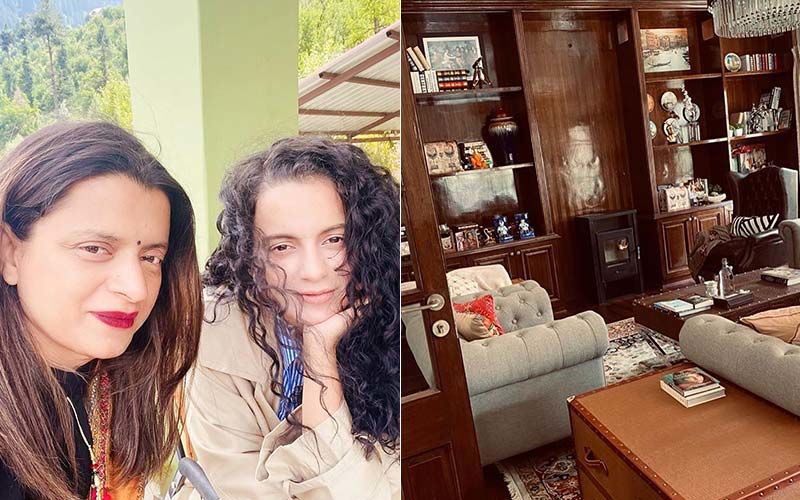 Kangana Ranaut is currently in revamp mode, it seems. Just some days back, the actress built a plush bungalow located in Pali Hill in Mumbai and it is something that Kangana has been dreaming of for ten years. Kangana spent Rs 48 Crore on her beautiful office space and also said that her family felt it was a huge risk. Her team also gave few glimpses of her workspace in the BTS video, showcasing her stellar taste. The Manikarnika actress is now helping her sister Rangoli Chandel, putting final touches on her new house.
For the same, Rangoli shared pictures of her new home in Kullu on Instagram where we see Kangana helping her out and also ensuring that she makes her place a beautifully. She is setting up everything with her own hands. While sharing it, Rangoli captioned the pictures as, "When she asked me what kind of interiors do I like, I said I don't like torn, worn out, vintage, old looking stuff, I don't know what I like but I want new things to look new, I remember her face, that's her style vintage, rustic, worn out and totally purana looking things"
Rangoli further wrote, "It was out of her comfort zone, she has been incessantly working on this and today when I saw her put finishing touches I was stunned, I can say one thing, this is not a house to me it's heaven it's a blessing ... P.S walls are waiting for paintings, heaters needs to be fixed, we don't have much help she is setting up everything with her own hands but I just couldn't wait, will post more when it's all ready." As you swipe right, Chandel takes you through her house where we also see Kangana arranging the pillows. Watch it below:
On the work front, Kangana Ranaut is gearing up for the release of the biopic of CM of Tamil Nadu J Jayalalithaa which is titled as Thalaivi. The retelling of J Jayalalithaa's life will also see the late actor-politician MG Ramachandran or MGR's character in the film who is said to have had played an integral role in Jayalalithaa political innings.
Image source: Instagram/ rangoli_r_chandel