Is It Ranbir Kapoor's Foot Photobombing Alia Bhatt's Latest Picture? Netizens Think So!
Alia Bhatt shared a picture of herself sitting in a balcony in a bathrobe. While the actress looks stunning, fans are curious to know if the mysterious foot in the picture belongs to beau Ranbir Kapoor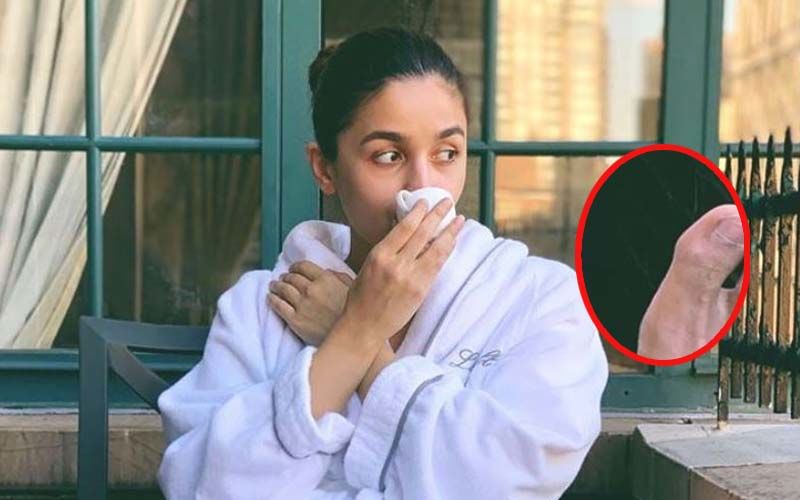 Kalank star Alia Bhatt's picture is receiving quite the attention, but for several other reasons apart from her adorable looks. The actress shared a post on her social media which shows her sitting in a white bathrobe, and the picture is hogging limelight for a man's foot visible in the right-hand corner. Netizens seem to believe that it is indeed her boyfriend Ranbir Kapoor's foot photbombing the frame.
Alia toom to her Instagram account to share a picture of her sitting in a balcony in white bathrobe looking cozy as she comforts herself with a small cup of drink. The actress' post read, "मूड ☕," which is MOOD in English.
In a matter of hours, the post got 'liked' over 1.2 million times. While the fans have bee speculating about the foot on the right corner of the picture, many expressed their thoughts and comments on the same. Several fans asked Alia in the comments, "That Ranbir's leg?". While others said,"Someone cool is in 'toe' of you," "Are kapoor sahab chodd diye kya?" asked a fan. "Ranbir Kapoor's foot (on the right) isn't as attractive it seems," said another.
According to a report in TOI, Alia spoke about her relationship with Ranbir, "No. It's not a relationship. It's a friendship. I'm saying this with all genuineness and honesty. It's beautiful. I'm walking on stars and clouds right now. The best part is that we're two individuals who are living our own professional lives in its full form right now. He's shooting continuously. So am I. It's not a situation where you'll see us constantly together. That's the true mark of a comfortable relationship. Nazar na lage."
Alia added, "He's not difficult. He's a gem. But he's had a troubled past… How does it matter? It's part of someone's life. Aur main thodi na kam hoon."

Ranbir and Alia were recently spotted visiting Ranbir's father Rishi Kapoor, Neetu Kapoor in New York, as they took a break from the shoot of Ayan Mukherjee's Brahmastra.


Image Source: Instagram/aliaabhatt