Janhvi On Arjun & Anshula Kapoor: Couldn't Have Asked For A Better Brother & Sister
Janhvi and Khushi Kapoor have been getting a lot of love from Arjun Kapoor and Anshula Kapoor. During a promotional interview for her debut film Dhadak, Janhvi opened up about her bond with Arjun and Anshula....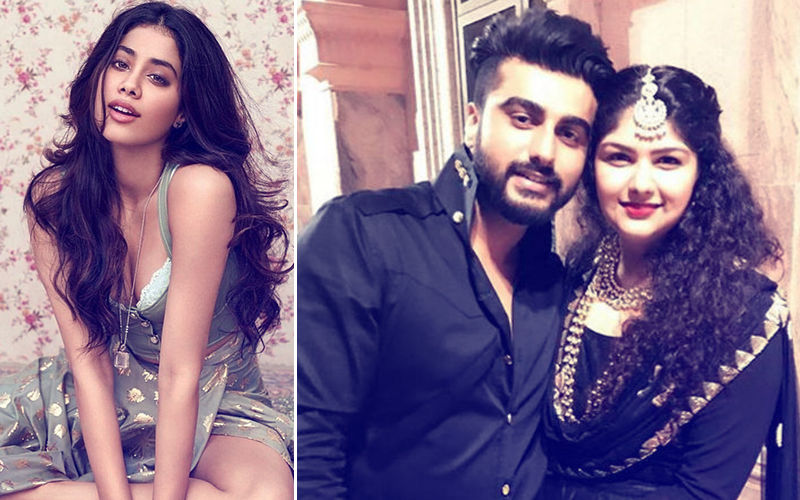 After Sridevi's untimely demise, the Kapoors have come really close as a family. Arjun Kapoor and Anshula Kapoor stood like a rock beside father Boney Kapoor and also comforted sisters Khushi and Janhvi Kapoor at every juncture. Soon enough the family started having dinners together at Arjun's house, go out for movies, attend parties and express their feelings on social media too.

So, when during a promotional interview for her upcoming flick Dhadak, Janhvi was asked about her bond with the two, she was all smiles and said, "The only reason we can stand strong after whatever happened is because of the kind of love and support Arjun bhaiyya and Anshula didi have been giving us [she and her younger sister, Khushi]. It's a family dynamic that I relish. I am very thankful to them. I couldn't have asked for a better brother and a better sister. They have given us a lot of strength. He is a very wise man and has given tips like, 'just be honest, be yourself and be respectful towards people.' Somehow, when he says it, I take it like the gospel truth."

When the trailer of Janhvi-Ishaan starrer Dhadak was about to release, one of the first persons to wish her was Arjun Kapoor. He welcomed her to Bollywood with open arms, and wished her all the success. He wrote , "Tomorrow you will be part of the audience forever @janhvikapoor cause your trailer comes out... Firstly, sorry I'm not there in mumbai but I'm by your side, don't worry. I just wanted you to know this profession is amazing if you work hard, be honest, learn to take the accolades with the brickbats, respect opinions, yet follow ur own path & instinct. It's not gonna be easy but I know your are ready for all the madness that will ensue. All the best for #dhadak! I'm certain my friends @shashankkhaitan & @karanjohar have presented you & @ishaan95 as the modern Romeo & Juliet with elan !!! (sic)."
Anshula too wasn't far behind. She was one of the first ones to see the trailer and share it on social media with a fabulous note. She had written, "Aaaaaaah My cutie @janhvikapoor's trailer is out now for the world to see and I cannot be more proud, or more excited! My mind has officially been blown away by both my Jaanu & @ishaan95! How phenomenal is the trailer and how fantastic are both of them?? Hit it out of the park and how! 20th July, why you so far away? Super duper excited for this one!! (link in my bio). (sic)."
Speaking to a leading daily, a couple of days back, Arjun too opened his heart out about the relationship he shares with Janhvi and Khushi. He had said, "It's difficult for me to give a one-off reply, or in a 'by the way' manner. I actually need a lot of time to process what has happened. But I just did what I felt impulsively at that point. Between me and my sister (Anshula), we felt that it was the right thing to do. Also, it all happened after we consulted my maasi (maternal aunt), because I'll always need her consent [for certain things] for her to be fine about our actions."


Image Source:- Instagram/@anshulakapoor/@arjunkapoor,eyeni,lopscoop