Kaneez Surka Blasts Aditi Mittal For Kissing Her Without Permission On-Stage
After Utsav Chakraborty, Tanmay Bhat, Gursimran Khamba, Jeeveshu Ahluwalia, now, Aditi Mittal's name has also appeared in the list of offenders. Kaneez Surka has accused the comedienne of forcibly kissing her on-stage. Here's her full statement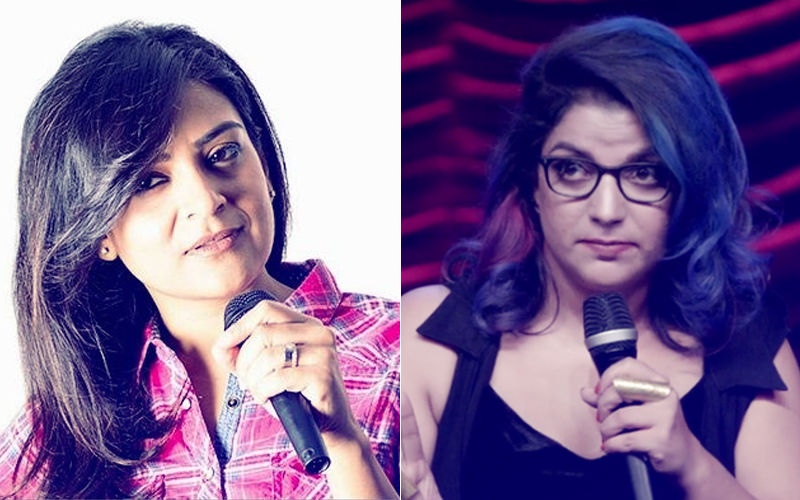 The #MeToo movement is getting stronger by the minute in India. Every now and then someone or the other comes out in the open and speaks up about having faced sexual harassment in some or the other way. Not just the film industry, but even the stand-up comedy field has got a lot of comedians who have been accused of harassment.

Now, two of India's most popular female comics have gotten embroiled in this movement. Kaneez Surka and Aditi Mittal, two of the funniest comediennes we have in India these days, are now added to the long list of people whose names have been joined to the controversy. Kaneez has posted a long message stating that she was forcibly kissed on stage without her permission by Aditi Mittal. Here's what her post reads as:

I need to tell my story as it happened to me. Two years ago, at a comedy show I was hosting at Andheri Base, in the presence of an audience of 100 and many comedians, Aditi Mittal walked up on stage and forcefully kissed me on my mouth out of the blue and put her tongue in my mouth, while I was still on stage and without my consent. It left me humiliated, shocked and completely stripped of choice. Every person is entitled to choice and boundaries and she violated mine. While I mustered the courage to reach out to her a year ago, she first apologised but soon turned hostile towards me, leaving me confused and hurt.
Seeing her name all over Twitter as a champion of the cause has been triggering me immensely. Out of my belief that the opportunity to reform is the only way forward, yesterday, once again, I spoke to her through a mutual friend and requested her to come out with a public apology and save me the pain of having to reveal my identity. Despite having acknowledged it earlier, she denied kissing me on the mouth, gaslighted me and asked me to cross check. I have proof but I thought we believe the victim. Her actions yesterday have hurt me further and burdened me with the task of having to do this but I don't want to be silent anymore. A public apology for violating my consent will be my closure.

To all the men reading this, this is not about you or an opportunity for you to use this for your own agendas. This is not retribution but for personal closure. Please respect this.

Aditi Mittal is yet to revert on the allegations. Let's wait and watch what she has to say about Kaneez's long post.


Image Source:- Starsunfolded,wasthatfunny ,twitter/@kaneezsurka