Kangana can get Hrithik jailed for 10 years
SpotboyE was the first to break the news that the once-upon-a-time-lovebirds Hrithik Roshan and Kangana Ranaut have slapped legal notices on each other (Exes Hrithik-Kangana slap legal notices on each other, Threats galore, March 14), several hours before the other sections of the media fanned the story.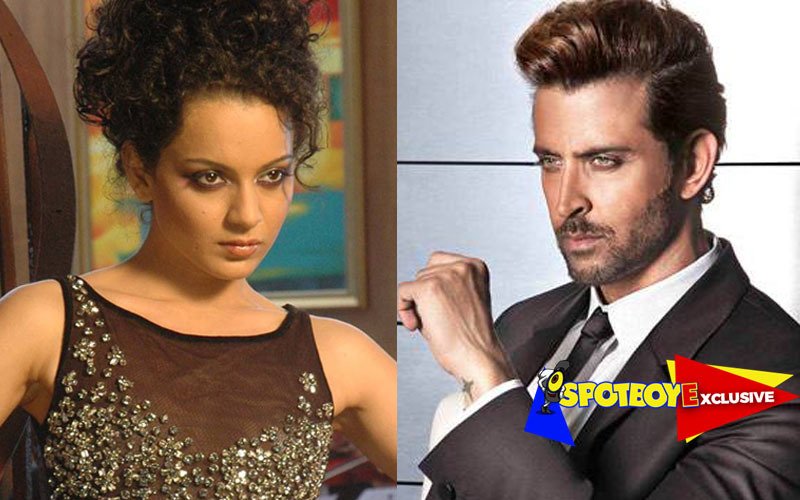 Image Source: hdimages
We are once again the first to tell you that if Hrithik carries out his threat of making Kangana's correspondence to him public, he can be put behind bars for 10 years. Yes, 10 full years!

We are in possession of the 21-page legal notice which Kangana sent Hrithik in response to his 6-page legal notice.


To quote from page 21 of the actress' reply through her lawyer Rizwan Siddiquee:

Section 67- Publishing of Information which is obscene in electronic form:
Whoever publishes or transmits information which is obscene in electronic form, any material which is lascivious or appeals to the prurient interest, shall be punished on first conviction with imprisonment of a term which may extend up to 5 years and a fine of Rs 1 lakh and in the event of a second or subsequent conviction with imprisonment of a term which may extend up to 10 years and a fine of Rs 2 lakh


The legal notice also warns Hrithik that he comes under the purview of a couple of other sections of the Indian Penal Code (IPC) as well:

Image Source:idolbin

Hrithik can be also charged with:

Section 499 and 500 of IPC- Defamation and the subsequent Punishment:
Jail term of 2 years with fine or both


Section 506- Punishment of Criminal Intimidation to impute unchastity to a woman:
Jail term of 7 years with fine or both


Not over yet!
Siddiquee writes: My client left Mr Karan Johar's party not because she felt that she was being taken for a ride by an impostor but because she felt cheated and hurt by your client's behaviour (Hrithik's).
In his legal notice, Hrithik had alleged that Kangana suffers from Asperger's syndrome, suggesting she imagines things, claiming she was in touch with an imposter till May 2014 as she had the wrong email ID, that she sent him 1439 emails till date and stalked him online.
Another moot point raised by Kangana's lawyer is that if indeed there was an impostor pretending to be Hrithik, then he should have lodged a criminal complaint forthwith and pursued the matter with the police till the impostor was found and punished--- but instead he waited for a good 7 months and then only informally complained to the police.
Image Source: wow
Siddiquee
questions why Hrithik claims that he did an obligation of sorts by not revealing Kangana's name to the Cyber Cell, when it was a person who was impersonating HIM and not Kangana.
A question has also been raised on Hrithik's math. If Hrithik's claim that Kangana sent him 50 emails a day is true, Hrithik should have received 30,000 emails from the date she learnt his true email (24.5.2014) till the date of Hrithik's legal notice (16.2.2016).


The big salvo fired is: How could Hrithik go on receiving Kangana's emails for 2 years "without any good reasons" and "without his consent and participation." Siddiquee adds boldly: Kangana's communication with Hrithik was purely on personal level with reasons best known to Hrithik, and if it was one-sided, wouldn't he have objected to the same and blocked her?

And now for the Asperger's syndrome. The scathing reply further spells out: Kangana says that she has never suffered from any such ailment and is not even aware of its symptoms. Hrithik has hacked into Kangana's account and from her email, sent a mail to himself saying: I am suffering from Asperger's syndrome.

All said and done, Kangana will not give any statement to the press clearing Hrithik's name as demanded by him in his legal notice.

Image Source: toptrendten


So Hrithik can go ahead and do what he wants, which implies he can make 'her' correspondence to him public. Aur phir imply hoga Section 67, and the other sections as mentioned above if Hrithik does not withdraw his legal notice
within 7 days
of receiving Kangana's legal notice.
7 days are over. Kangana's legal notice was dated March 1.

Who is in a mess? Obviously Roshan Jr.


So now you know why SpotboyE told you in yesterday's story that Hrithik has been so anxious and uptight these days.


Hell hath no fury like a woman scorned.

Thumbnail Image Source: fanshare & glamorhub