Kangana Ranaut Asks "Karni Sena To Not Play Ego Card With Her, She Will Not Say Sorry To Anyone"
Karni Sena protested outside Kangana's house, last evening, demanding an apology for her comment where the actress had said she will destroy each and everyone who comes in the way of Manikarnika's release, and now Kangana has refused to say sorry to the fringe group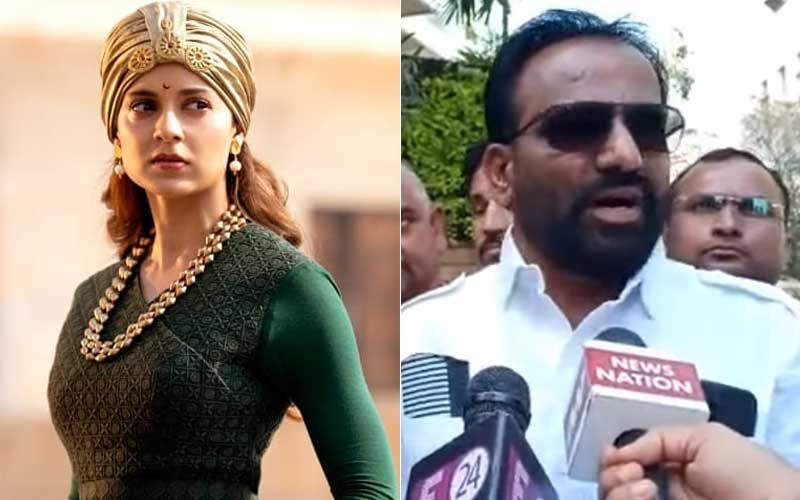 Less than 24 hours are left for Kangana Ranaut's Manikarnika: The Queen Of Jhansi to hit theatres, but the war between Karni Sena and the actress is still hot.
Members from the fringe group were seen protesting outside the actress' house
, last evening, demanding an apology for her comment where the Manikarnika actress in response to the earlier reports suggesting Karni Sena has apprehensions with her film, had said, "Four historians have certified Manikarnika, we have got censor certificate as well, Karni Sena has been conveyed this but they are continuing to harass me if they don't stop then they should know I am also a Rajput and I will destroy each one of them."
Yesterday, we had brought to you a few videos of Karni Sena President Aditya Singh Tok, asking Kangana to apologise for her comment. Another video saw the members of Karni Sena saying, "Kangana Ranaut maafi mango," Kangana Ranaut hay hay," aloud.
Soon after their protest, the actress was given police protection. Later in the evening, Kangana was spotted at an event where she was asked about their demand. The actress told the media, "I will not apologize to anybody. I have never apologized whenever I haven't made a mistake. We have promised that we haven't shown anything wrong about Rani Laxmibai in the film so, they should support us. Rani Laxmibai is not my relative and I feel she is daughter of the entire country so, we all should support the film. Shri Rajput Karni Sena should not play their ego card with me because I am not here to say sorry to anyone."

A few days back, according to Mid-day Karni Sena had issued a letter against the makers, to hold the release of the film as they felt makers have shown Rani Laxmibai's relationship with a British officer in the film. Interestingly, after Kangana's reaction, Dr Himanshu- Karni Sena All India spokesperson refuted these claims and said that they never had a problem with the film. However, demanded an apology from Kangana for making an offending statement against the group for no reason.
Images Source: Instagram/team_kangana_ranaut