Kangana Ranaut Claims Ranbir Kapoor-Alia Bhatt's Daughter Raha Was A 'Trick' To Promote Their Movie!- SHOCKING Details Inside
Kangana Ranaut has yet again spoken about a 'womaniser superstar' and his fake marriage to a 'papa ki pari,' she has also dragged her alleged ex-boyfriend Hrithik Roshan's name again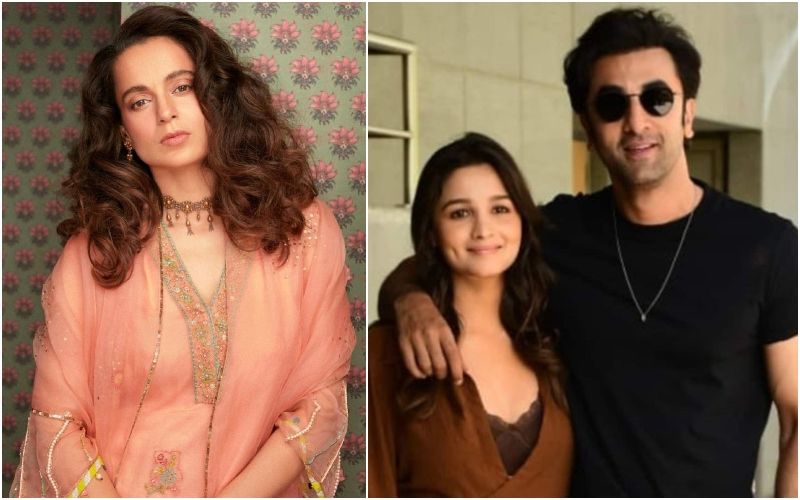 Filmmaker and actor Kangana Ranaut enjoys a huge fanbase on social media. While she often leaves the audience mesmerised with her versatile performances, she is often on the receiving end of criticism for slamming certain people of Bollywood. After having taken digs at Ranbir Kapoor and Alia Bhatt's fake marriage, she has now claimed that their daughter Raha Kapoor was a 'trick' to promote their trilogy movie. As usual she mentioned the 'womanise superstar married to a papa ki pari,' without taking any names but the netizens were quick to catch on.
It all started when she took to her Instagram stories and sent screenshots of the messages she had received from her fans stating that one of her representatives was trying to contact them. Calling out the scammer for trying to hack others' accounts, Kangana recalled being allegedly scammed by a "superstar who I dated later claimed that I was dating his imposter." She yet again took a dig at her alleged ex-boyfriend Hrithik Roshan. She claimed that he used various means to contact her like using different phone numbers and hacking her devices, even keeping an eye on her WhatsApp.
ALSO READ: Kangana Ranaut Says 'Shame On You Karan Johar'! Blasts Rocky Aur Rani Kii Prem Kahaani Director For Making Daily Soap With ₹250 Crore-READ BELOW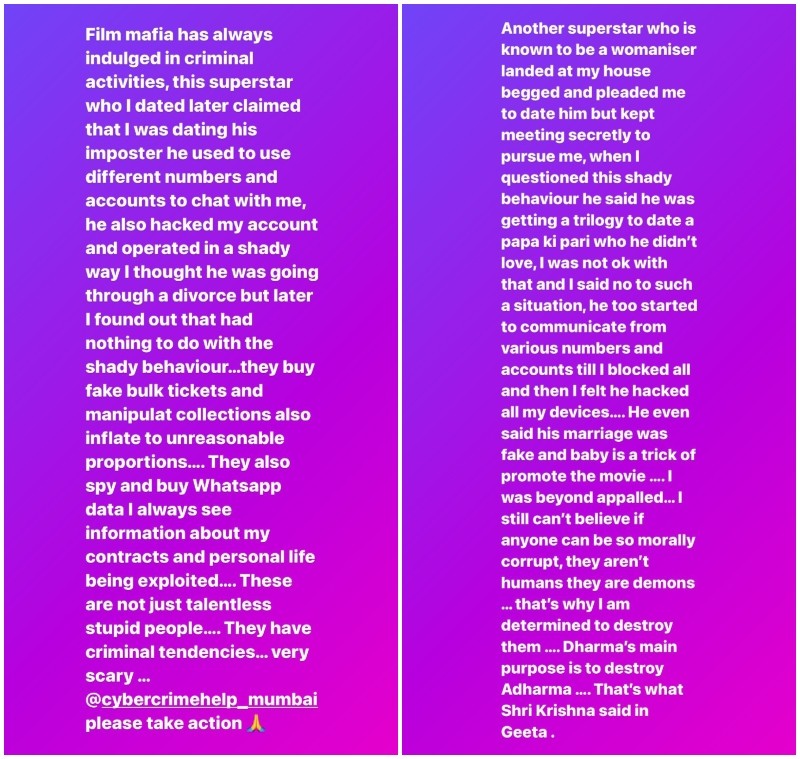 Talking about another superstar who is well-known for being a 'womaniser,' she shared that she often questioned his shady behaviour. She wrote, "He was getting a trilogy to date a papa ki pari who he didn't love, I was not ok with that and I said no to such a situation, he too started to communicate from various numbers and accounts till I blocked all and then I felt he hacked all my devices.... He even said his marriage was fake and baby is a trick of promote the movie .... I was beyond appalled... I still can't believe if anyone can be so morally corrupt, they aren't humans they are demons."
ALSO READ: Kangana Ranaut Claims She Was Always Dumped By Her Ex-Boyfriends; Netizens Say, 'She Used To Be Very Funny, Went Bonkers During Hrithik Fiasco'
She concluded her rant by stating that she is determined to destroy them all. Despite her repeated attacks on them, Ranbir and Alia have never responded to any of her attacks on them.
On the work front, Kangana Ranaut will be next seen in Emergency. Not only is the movie her first solo directorial, but she will also be essaying the role of India's late Prime Minister Indira Gandhi. Apart from that, She has projects like Tejas, Chandramukhi 2 and Manikarnika Returns: The Legend Of Didda in her pipeline.